Are you eager to use your nails to make a bold statement? Say goodbye to the mundane and hello to the magnificent! Sweet and Sour Lacquer is that brand to be seen wearing. The ultimate destination for nail enthusiasts who crave exceptional quality, vibrant colors, and limitless self-expression.
The Sweet and Sour Lacquer mission is a simple one; to empower individuals like you to unleash their creativity and showcase their unique style through the magic of nail polish. With carefully crafted formulas and an irresistible range of shades, Sweet and Sour Lacquer is here to help you transform your nails into stunning works of art.
At every step, the comprehensive range of nail care products from Sweet and Sour Lacquer like the Cuticle Oil or Acetone Additive is here to pamper and perfect your nails, ensuring they dazzle with elegance and radiate with health.  From nurturing treatments to vibrant polishes, the Sweet and Sour Lacquer collection is designed to elevate your nail game to new heights.
Whether you are a trendsetter, a daring diva, or a classic beauty, we have the perfect hue to match your personality and elevate your every look. From dazzling glitters to sophisticated neutrals, from playful pastels to seductive dark tones, the extensive collection offered by Sweet and Sour Lacquers will inspire your imagination and let you curate your very own nail story.
But Sweet and Sour Lacquer don't stop at extraordinary colors alone. They believe in nurturing healthy, strong nails, which is why their formulations are meticulously designed to be long-lasting, chip-resistant, and enriched with nourishing ingredients. Experience the joy of flawless nails that not only catch the eye but also stand the test of time.
Join the Sweet and Lacquer revolution today and let your fingertips do the talking. Embrace your individuality, make a bold fashion statement, and express yourself without limits. Your nails deserve nothing less than the best, and we're here to provide them.
Explore the captivating shades offered by Sweet and Sour Lacquer and let your nail journey begin. Remember, life is too short for boring nails. It is time to embrace your inner artist and paint the world in your colors with Sweet and Sour Lacquer. Unleash your unique style and let your creativity shine!
Are you eager to improve the quality of your nails? Join Sweet and Sour Lacquer now and let's redefine the beauty of self-expression together.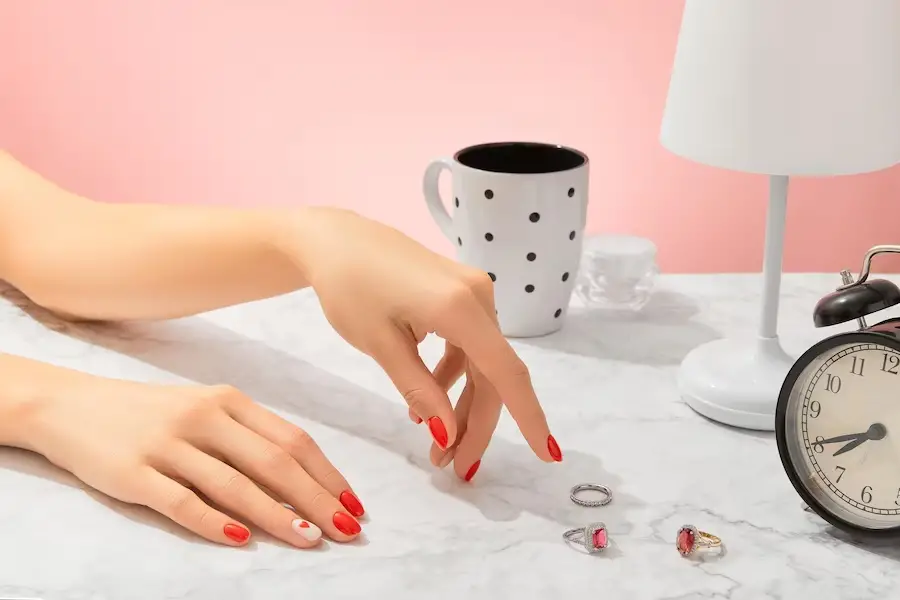 Creative Brilliance is Born
Darlene Cavazos founded, owns, and runs Sweet & Sour Lacquer, an independent company situated in Houston, Texas, since 2015. The firm primarily focuses on handcrafted nail paint, but it also offers essential healthcare items for maintaining healthy nails and cuticles.
Acetone ingredients and cuticle oil are two crucial items that Sweet & Sour Lacquer offers. These products are vegan and free of animal testing, and they contain substances that are well-known for moisturizing and preventing dry, brittle, and flaking nails.
Over the past several years, at-home manicures and nail care have grown in popularity. Many of us keep a bottle of nail paint remover or acetone in our homes for when we get bored with our current manicures. While pure acetone can make it simple to remove old or damaged nail paint, you might notice that it also makes your nails feel dryer because it removes their natural oils. An Acetone Additive, such as those available on Sweet & Sour Lacquer's website, can ensure the replenishment of that moisture to help maintain your nails strong and healthy if you are prone to hangnails or other sensitivities around your nail and cuticle area. Ingredients that quickly sink into the skin and penetrate the nail plate, such as jojoba oil, grapeseed oil, and glycerin, lessen dryness and redness. The 1 FL oz vial of acetone additive is available and is meant to be used with acetone in amounts up to 8 FL oz. Additionally, you can alter the ratio of additive to acetone until you achieve the desired moisturizing effect. The addition of scent to acetone is another. The addition of this fragrance isn't necessary for maintaining healthy nails and cuticles, it is a pleasant way to soften the strong acetone smell when using it. Currently, a variety of scents are available, including sweet, citrus, and occasionally floral scents.
Cuticle oils from Sweet & Sour Lacquer contain jojoba oil, grapeseed oil, avocado oil, rosehip seed oil, and vitamin E to support strength and growth. The combination of oils easily absorbs into the skin and penetrates the nail plate, providing benefits for enhanced moisture, anti-inflammatory properties, and anti-fungal properties. Applying cuticle oil frequently throughout the day is recommended. The cuticle oils from Sweet & Sour Lacquer are designed to swiftly absorb into the skin without leaving a greasy film behind. They come in easy-to-use click pen packaging. You can choose how many times to click the pen to release the desired amount of oil from the.3 Fl. oz. capacity. Once the oil has been applied to your cuticles and nails, carefully massage the substance into the cuticle area and over and under the nailbed. You can also massage your hands with any extra. This cuticle oil is available in both scented and unscented varieties. The unscented version has the added advantage of being safe to use on other body parts, such as the face or feet. The combination of oils can help cure dry, cracked feet as well as lessen the appearance of dark circles and puffiness around the eyes.
We must keep in mind that taking adequate care of our cuticles and nails can help prevent infections and other health issues. We occasionally neglect these parts of our bodies. Healthy cuticles guard against bacteria and encourage nail growth. Nails that are strong and healthy as a result.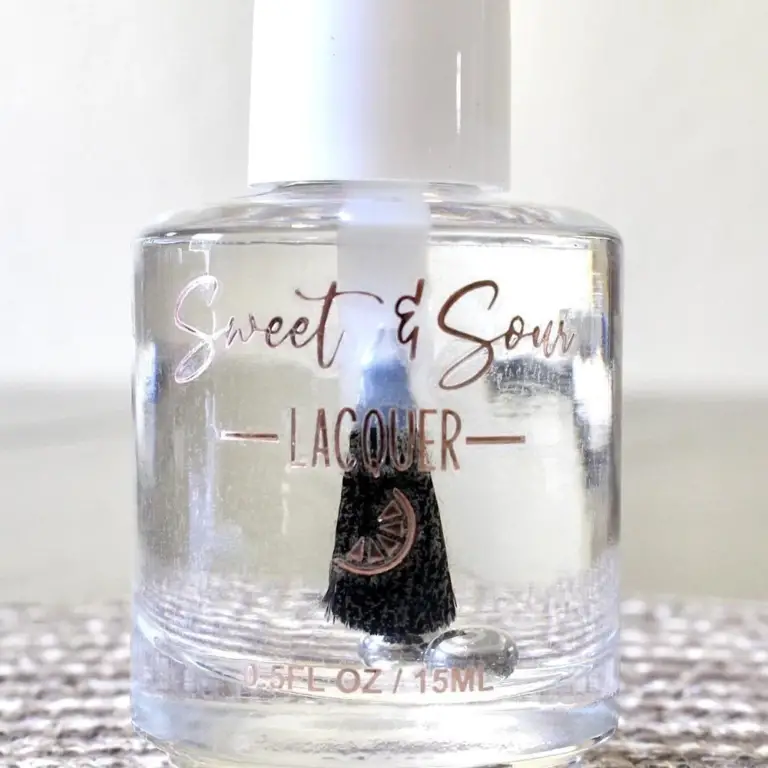 The Effects of the Ingredients on the Cuticles and Nails
Jojoba oil, grapeseed oil, avocado oil, rosehip seed oil, and vitamin E are commonly used natural oils and ingredients in skincare products. While they have various beneficial properties for the skin, they also have amazing positive effects on the cuticles and nails.
Jojoba oil is known for its moisturizing properties. It closely resembles the natural sebum softer and less prone to cracking or peeling.
Avocado oil is rich in vitamins A, D, and E, as well as essential fatty acids. It has excellent moisturizing properties, which can benefit the cuticles and nails by hydrating and nourishing them. Avocado oil also contains antioxidants that can help protect the cuticles and nails from damage caused by environmental factors.
Rosehip seed oil is derived from the seeds of rosehip fruit and is known for its production by our skin, making it an effective emollient. When applied to the cuticles and nails, jojoba oil helps to soften and nourish them, preventing dryness and promoting healthy, hydrated cuticles.
Grapeseed oil is easily absorbed by the skin and is lightweight. It contains antioxidants and fatty acids that can help protect and strengthen the cuticles and nails. Regular application of grapeseed oil can improve the overall health and appearance of the cuticles and nails, giving them regenerative properties.  It is a good source of antioxidants, vital fatty acids, and vitamins A and C. When applied to the cuticles and nails, rosehip seed oil can help promote cell regeneration and repair damaged cuticles and nails, making them stronger and healthier.
Vitamin E is a powerful antioxidant that can help protect the cuticles and nails from oxidative stress and damage. It also has moisturizing properties that can help keep the cuticles and nails hydrated and prevent dryness. Regular application of vitamin E oil or products containing vitamin E can improve the overall condition of the cuticles and nails and promote healthy nail growth.
Glycerin can have a moisturizing and softening effect on the cuticles, which are the thin, delicate skin surrounding the base of your nails.
Glycerin is a humectant, meaning it attracts moisture from the surrounding environment and helps to retain it. When applied to the cuticles, glycerin can draw in moisture, keeping the skin hydrated and preventing dryness. Well-hydrated cuticles are less likely to become brittle, crack, or peel.
Dry or hardened cuticles can be problematic, as they may cause discomfort, snag on clothing or other objects, or impede nail growth. Glycerin can help soften the cuticles by penetrating the skin and increasing its flexibility. Softened cuticles are easier to manage and can be gently pushed back during nail care routines.
Glycerin can also provide nourishment to the cuticles. It helps in retaining the natural oils present in the skin, keeping the cuticles healthy and supple, Well-nourished cuticles are less prone to damage and can support healthier nail growth.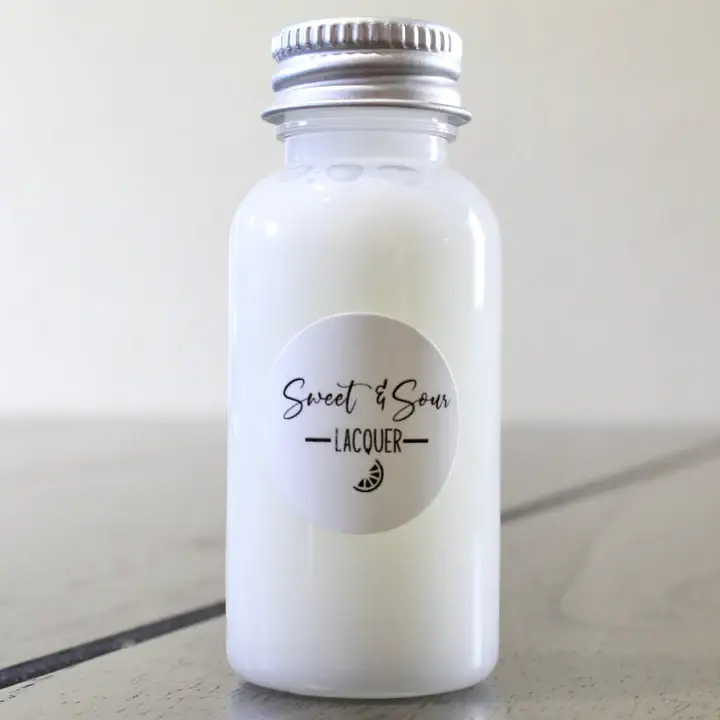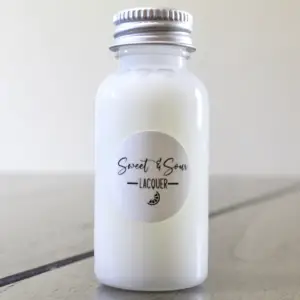 In general, these oils and vitamin E can provide hydration, nourishment, and protection to the cuticles, helping to maintain their health and appearance.
Discover the ultimate in nail care with the meticulously crafted lineup of products from Sweet and Sour Lacquer. The range includes a nourishing Cuticle Oil and an Acetone Additive that is gentler on your nails and cuticles. The Sweet and Sour Lacquer range is carefully formulated using the latest advancements in the industry, combining innovative ingredients with proven techniques to deliver exceptional results. Sweet and Sour Lacquer understand that each nail has unique needs, and their products are tailored to address specific concerns, whether it is strengthening brittle nails, nourishing dry cuticles, or enhancing natural nail growth.
Indulge in the luxurious nail treatments from Sweet and Sour Lacquer, meticulously curated to provide a spa-like experience in the comfort of your own home. Immerse your nails in nourishing oils, and serums that work in harmony to restore vitality and promote healthy growth. Our treatments are designed to be both effective and indulgent, leaving your nails looking and feeling their best.
Express your individuality and unleash your creativity with our wide array of stunning nail polishes. Whether you prefer classic shades that exude sophistication or bold, vibrant colors that make a statement, the extensive range from Sweet and Sour Lacquer offers endless possibilities.
Embrace the art of nail care with the Sweet and Sour Lacquer range of essential products like the nourishing Cuticle Oil and less harsh Acetone Additives. Sweet and Sour Lacquers believes that every manicure is a work of art, and their range is designed to empower you to express your creativity with precision and ease.
Whether you are a nail care enthusiast, a professional manicurist, or someone seeking to elevate their self-care routine, the comprehensive range of nail care products from Sweet and Sour Lacquer is here to transform your nail care regime. Join Sweet and Sour Lacquer on this exciting journey and experience the transformative power of healthy, beautiful nails. Get ready to unlock a world of endless possibilities and express your unique style, one nail at a time.