Erin's story is a testament to the power of transformation. From her teenage years on she took her clear skin for granted. It was a shock, then, to look in the mirror one day when in her forties and realize her skin had changed and was beginning to show age. Her balanced and healthy skin became prone to breakouts and rough patches of dryness. She embarked on a campaign to find affordable products made with naturally based ingredients that were gentle on her skin, and was surprised to find that few existed. Further research led her to understand the science behind how natural ingredients can benefit and sometimes harm the skin and the importance of consciously sourced ingredients.
Thus began a mission to create skincare that not only met Erin's high standards for natural and effective ingredients but would also include sustainable packaging that protected the delicate integrity of the products. She built a lab and went to work. The result was No. 19, a proven skincare regimen that not only revitalized Erin's complexion but gave her a renewed sense of purpose—to honor her daughter by offering girls and women the opportunity to maintain their youthful glow through adulthood, and to help heal the damage that had already occurred.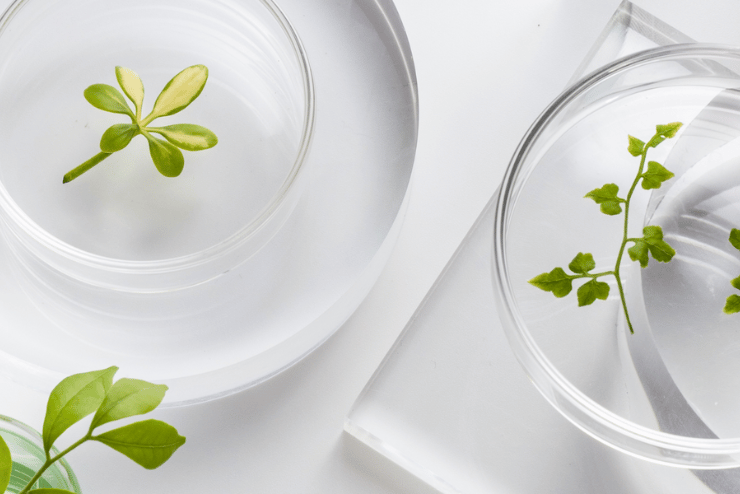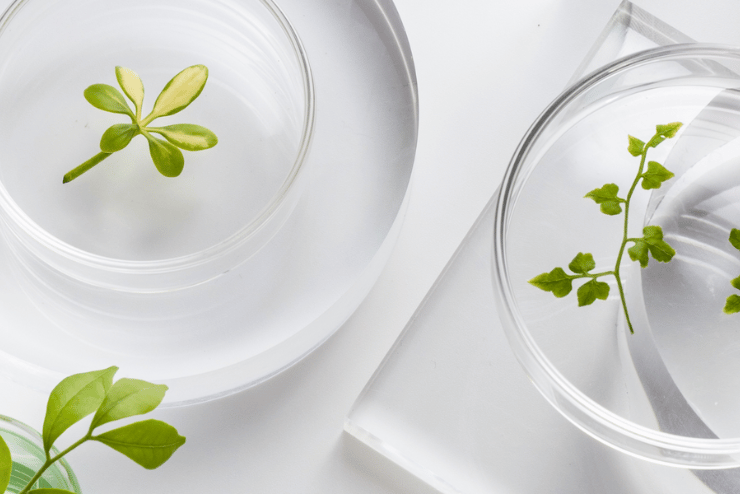 Erin's story is proof how a seemingly small change can have a profound impact on one's life. Curious to uncover the secret to her transformation? Continue reading to discover Erin's inspiring journey to self-discovery. Learn how a simple shift in her daily routine not only rejuvenated her complexion but also transformed her outlook on life.
Embracing Self-Care as a Daily Ritual
"Self-care" is not a dirty word; it is not about being selfish. Self-care is vital for your wellbeing. Understanding this concept can take some time. While life runs ahead, it is often easy to become complacent. As with Erin's story, your life may be continuously busy, filled with taking care of work and other responsibilities. Which means, looking after yourself can take a back seat.
Your skincare regime does not have to be a lengthy process and taking time out can be quick yet enjoyable. Not only will it benefit your skin and rejuvenate your complexion, but you will also revamp your confidence. If it's been a while since you've felt good about yourself, now is the time to start.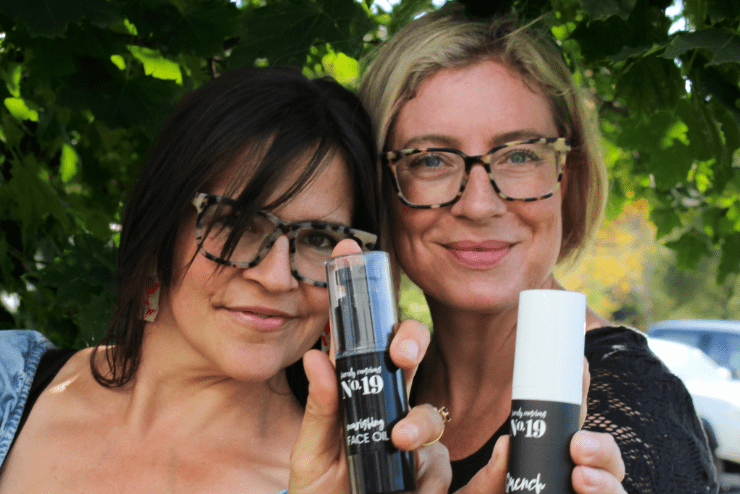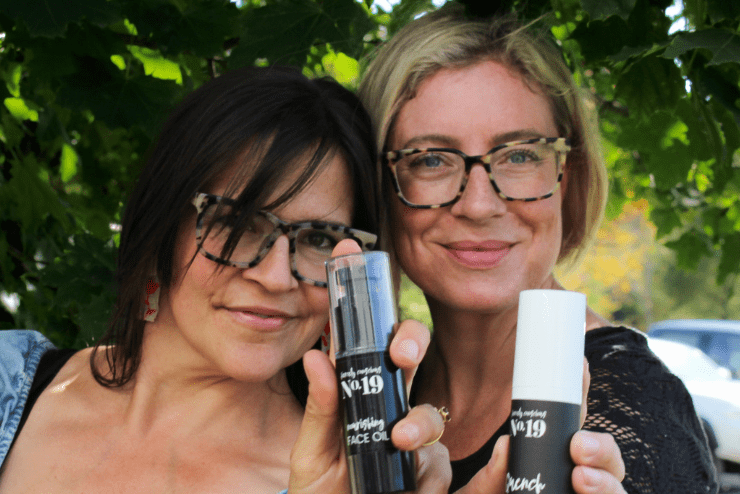 Like Erin, taking ten minutes out a day morning and evening can be the game changer you need to be waking up feeling your best self. The skincare routine she adopted was so simple and yet so effective! Her skin changed in a matter of weeks and has looked its best since.
Erin embarked on a journey to develop products that catered not only to her skin but also to the diverse needs of countless others. She crafted a set of products that simplified skincare routines, offering comprehensive solutions with just moisturizing and applying a serum. This quest was driven by her desire to make skincare accessible and effective, a reflection of her commitment to self-care and empowering others to do the same.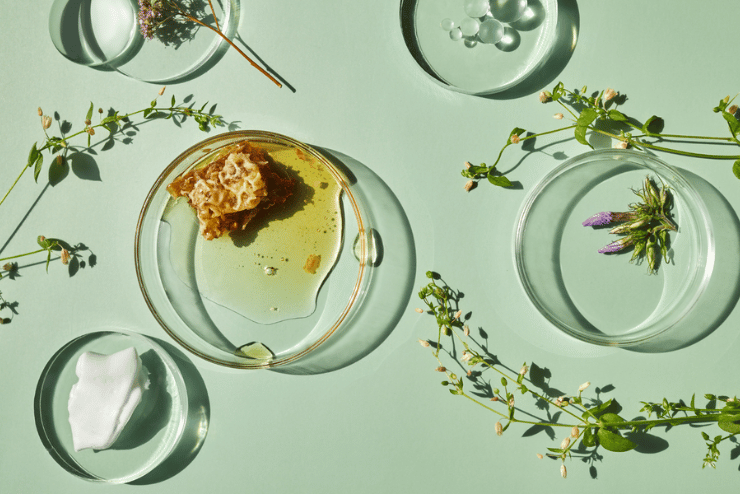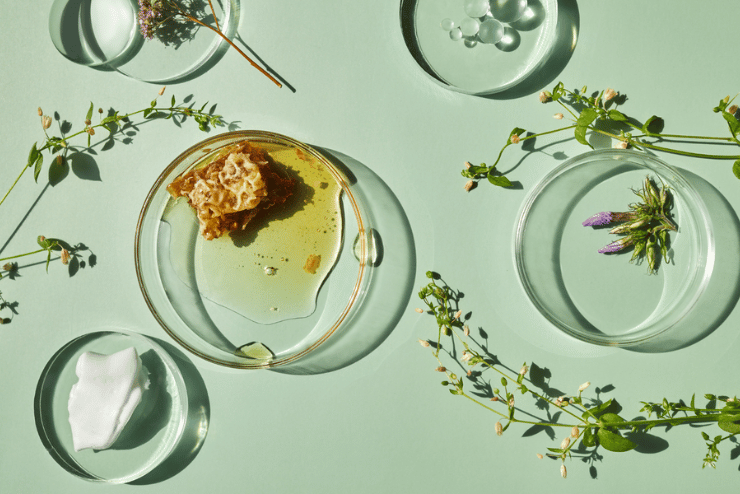 So, Why Is healthy skin so important?
Think of your skin as your body's natural armor, a protective barrier that shields you from harmful elements in the environment. This shield not only safeguards you from germs and chemicals but also helps maintain your skin's moisture, leaving it soft, smooth, and supple. It's like your skin's way of staying hydrated and glowing.
This protective barrier also acts as a defender, warding off potential skin issues like sensitivity and irritation caused by the outside world. When this shield is in good shape, your skin not only looks better but feels better too.
However, there are times when this natural armor may weaken, leading to problems like dryness, discomfort, and increased sensitivity. To address these concerns, it's crucial to focus on rejuvenating your skin's protective barrier. Think of it as giving your skin the support it needs to stay strong, resilient, and happy.
Now, here's where self-care comes into play. Taking care of your skin is not just about looking good but also about feeling good. It's about nurturing your body's armor and ensuring it continues to do its job effectively. By prioritizing self-care and using the right products, you're not only pampering yourself but also investing in your skin's health and overall well-being. So, make self-care a part of your daily routine and empower your skin to be the best it can be.
No.19 – Nourishing Skin and Self-Esteem
Erin's creation – No.19 Skincare. Erin's transformative journey from minimal self-care to radiant self-confidence is a testament to the profound impact of nurturing one's well-being. She passionately conveys the message that self-care isn't just an act of kindness to oneself; it's a legacy of empowerment she seeks to pass on from her daughter to inspire in others.
Quench Face Serum & Revive Oil Serum – these products not only enhance skin health but also encourage a daily self-care ritual, something that Erin found transformative.
Quench Face Serum is your ally against dryness. Dryness and dehydration are signs of a weakened skin barrier, and the Quench Face Serum helps to counteract these issues by providing intensive hydration.
Enriched with Snow Mushroom, phyto-peptides, polysaccharides, and phospholipids, it's a super quenching serum that hydrates and retains moisture. It leaves your skin smooth, soft, and plump. This serum goes beyond the surface, drawing moisture deep into your skin. Combined with ingredients like Hydrolyzed Sacha Inchi Seed and Beet Root, it enhances cell renewal, providing a hydrating experience like no other.
Revive Oil Serum Bakuchiol+C+E takes your skincare routine to the next level. Packed with phyto-nutrients, it supports a healthy skin barrier and shields your skin from free radical damage. Bakuchiol, a plant-derived retinol alternative, works synergistically with Tetrahexyldecyl Ascorbate (Vitamin C) and Tocopheryl Acetate (Vitamin E) to reduce skin discoloration, stimulate collagen synthesis, and improve skin tone.
Perfect Duo: Quench Face Serum & Revive Oil Serum
Experience the transformative power of self-care with No.19's Quench Face Serum and Revive Oil Serum. No.19 understands that a healthy skin barrier is essential for aging skin, and that's why Erin carefully crafted these products. They not only nourish your skin but also protect it from the challenges of daily life.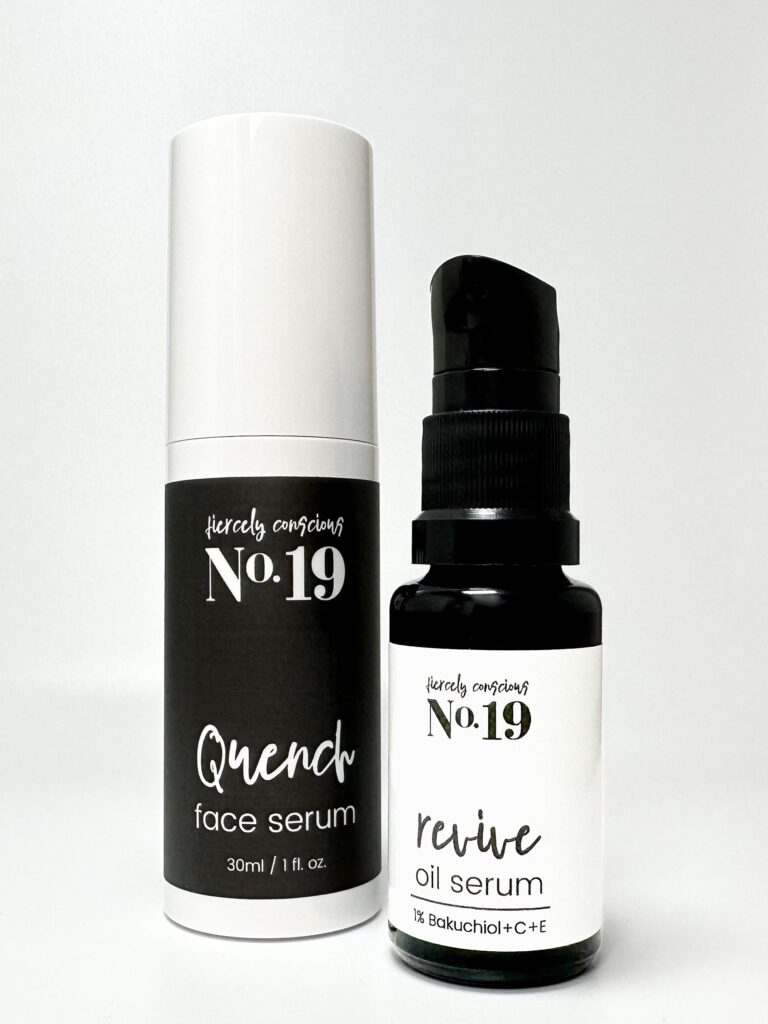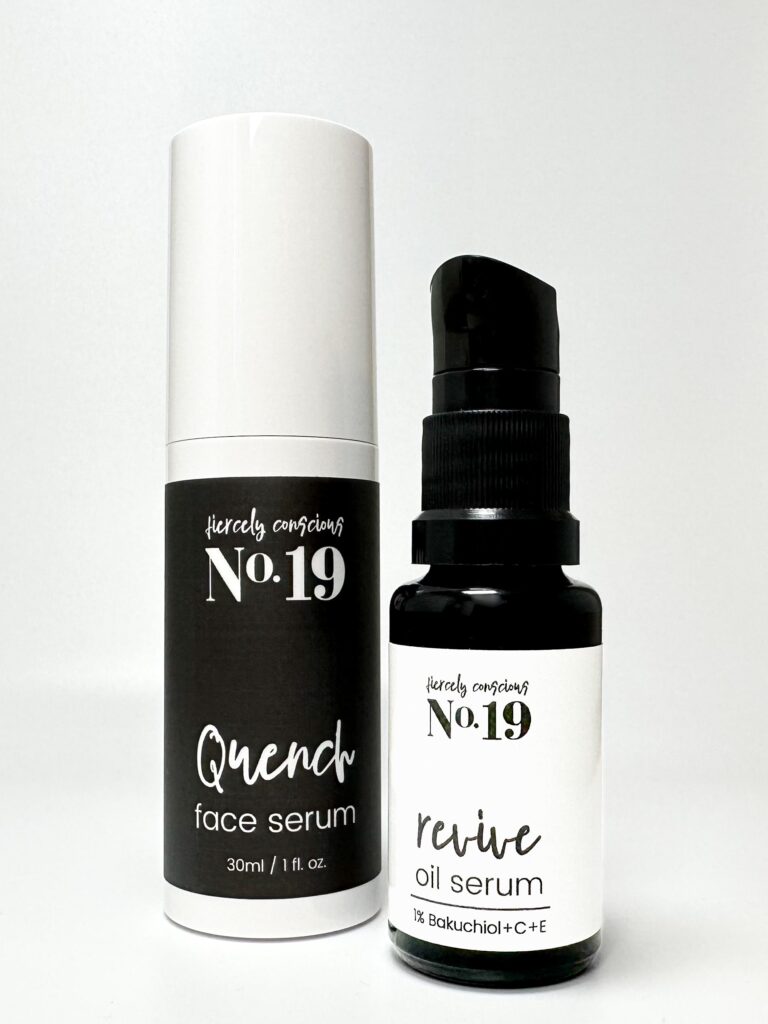 In essence, Quench Face Serum hydrates and plumps the skin, while Revive Oil Serum strengthens the skin's natural protective barrier. Together, they create a synergistic effect, promoting skin that is not only well-moisturized but also better equipped to withstand the effects of aging and external aggressors. This combination ensures a holistic approach to skincare, addressing both hydration and barrier repair, making them the perfect duo for maintaining healthy and radiant skin.
The Ripple Effect of Empowering Others
No.19 isn't just another skincare brand; it's a beacon of hope and empowerment. Founded in loving memory of Erin's daughter Janie, a young woman full of confidence and love, No.19 embodies the values of self-care and self-empowerment. The brand's mission is to encourage girls to thrive and honor their individuality, just as Janie did.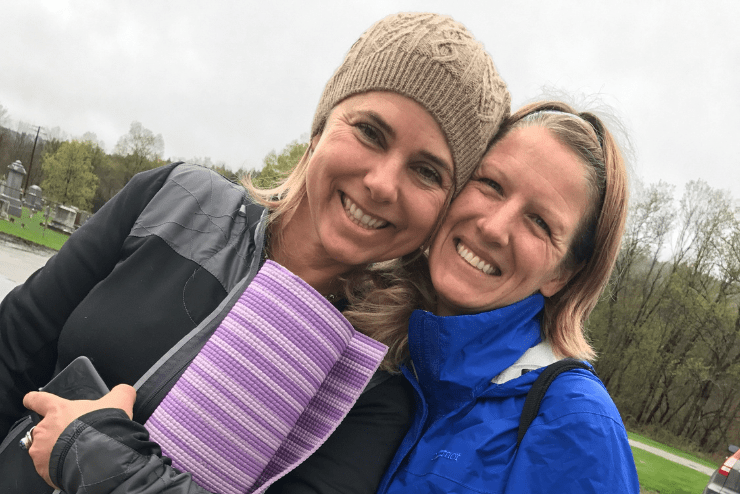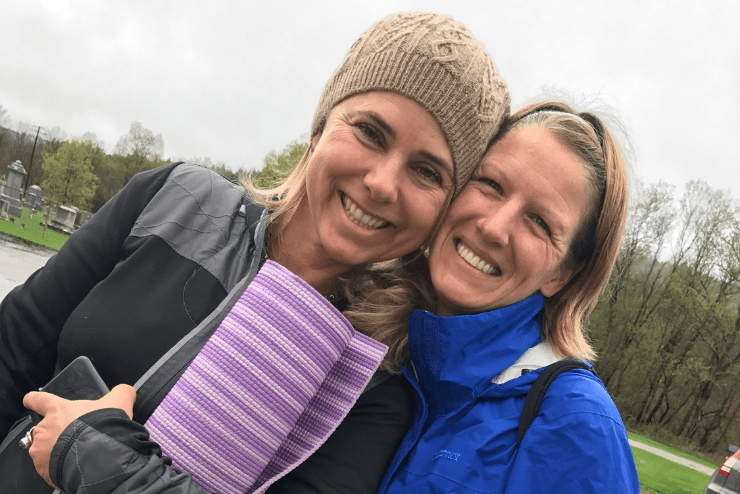 Confidence radiates, impacting on those around you–a belief that drives the core meaning of No.19.
No.19's commitment doesn't end with your skin. By choosing No.19 products, you're also contributing to a meaningful cause. A portion of all proceeds goes to The Janie Chase Cozzi Foundation, empowering middle and high school girls to thrive.
With No.19, self-care isn't just skincare; it's a message of empowerment, a legacy you pass on, and a radiant confidence you embrace. Discover the beauty of self-care with No.19 today.
Your Solution To Looking Your Best At Any Age
In the hustle and bustle of life, it's easy to overlook the silent hero that protects us day in and day out – our skin. This remarkable natural armor, known as the skin barrier, shields us from harm, keeps our skin hydrated, and defends against environmental stressors. It's our body's first line of defense, and it deserves a little TLC.
By caring for your skin, you're not just investing in your appearance; you're nurturing your overall well-being. Our Quench Face Serum and Revive Oil Serum, crafted with natural, organic ingredients, are here to help you on this self-care journey. They're more than just skincare products; they're your allies in fortifying your skin's defense mechanism and maintaining that coveted glow.
So, take those precious moments each morning and evening to indulge in self-care. Not only will your complexion thank you, but you'll also be reminding yourself of the importance of self-love and self-care. In this fast-paced world, it's a chance to pause, rejuvenate, and empower yourself.
Remember, self-care isn't selfish; it's essential. It's about honoring your body as it ages and teaching your loved ones the same. Start this journey today and embrace a healthier, more radiant you, both inside and out.
Why wait? Take a moment for yourself, a revolutionary act of self- love. Start your self-care journey today with our Quench Face Serum and Revive Oil Serum. Rediscover the beauty of your skin, nurture your self-care rituals, and inspire those around you. Your skin, your confidence, and your well-being are worth every precious drop. Embrace self-love and experience the transformation. Your radiant self is just a click away.
* In partnership with our friends at No.19 L3C..* Photo courtesy of No.19 L3C.
* These statements have not been evaluated by the Food and Drug Administration. These products are not intended to diagnose, treat, cure or prevent any disease.
* The information available on ewellnessmag.com, including text, graphics, and other materials is for informational purposes only. Reliance on any information in ewellnessmag.com is at the user's own risk. Sponsored product placement may appear in the article. The visitor of this website acknowledges that the information available on or through ewellnessmag.com is not and is not intended to be a substitute for professional medical advice. Copyright © 2023 Brawo Press, Inc. All rights reserved.