If you've noticed more brittleness in your hair strands than before, more thinning or more grays, you're not alone. These are common and completely normal signs of aging hair that we all experience. One of the first signs that our body shows us that we're getting older is through our hair; whether its the few streaks of silver you notice when you look closely in the mirror, or the fact that it lost the volume it used to have – seeing the signs of aging in your hair can be a disheartening experience for many. We know inevitably that we're going to get old someday, but we want to preserve our healthy looks as much as possible. While hair does change as we age, the state of our hair is a reflection of our overall health. There are many things we can do to improve and maintain the appearance of thick, smooth, healthy hair that don't involve toxic hair dyes or extensions. We want to age healthily and gracefully, using hair care products that are clean and truly benefit our bodies from the inside out.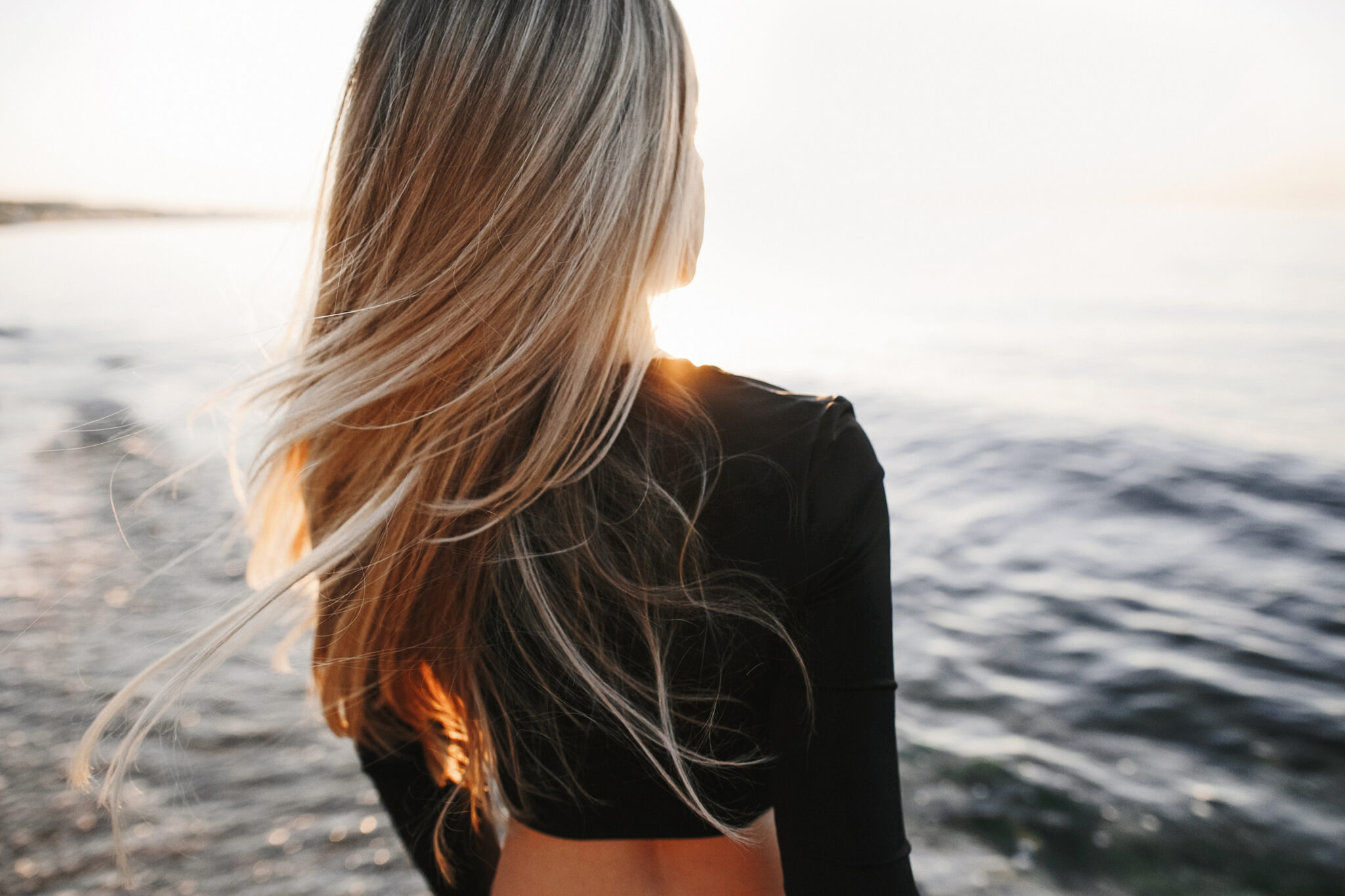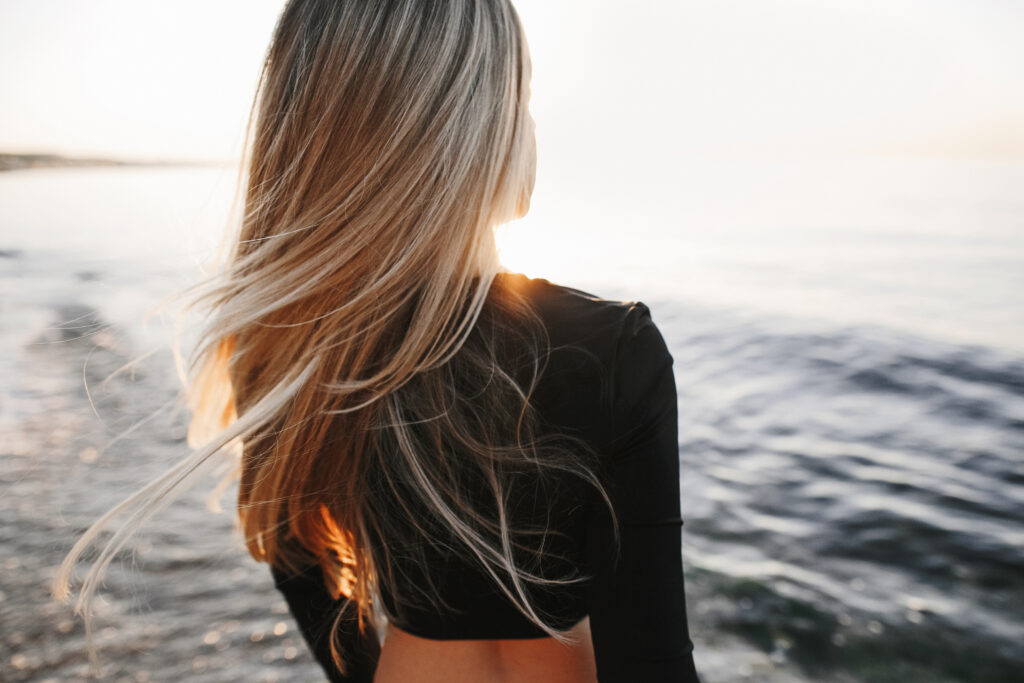 Simply watching while your hair continues to lose its volume, shine and color doesn't have to be your only option – thankfully, there are healthy and natural remedies and solutions to aging hair. While aging itself is an inevitable process, nutrients can be restored to preserve youthfulness and boost vitality, and provide nutrition to the hair to look and feel its best.
Better Not Younger's Lift Me Up Hair Thickener and Super Power Scalp + serum are designed to provide your scalp and hair strands with the nutrients they need to stay strong and healthy, and help your locks return to the smooth, luscious volume they once had. Using plant-powered, unique ingredient blends formulated for maximum effect on aging hair, Better Not Younger is the solution to feeling great about your hair again, and providing your scalp and hair with the nourishment that becomes harder for them to receive with age. Giving them this extra boost of care and nutrients will allow your scalp and hair follicles to do their job – grow more hair and keep it looking healthy!
Why Better Not Younger is the best solution for aging Hair
Better Not Younger products are vegan, cruelty-free, sulphate and paraben free and also keratin-safe. Ingredients derived from plants give your hair a boost of nutrients it needs to grow thicker. Not only do the products have an instant effect, but they have good long-term impacts on your hair as well. Better Not Younger products are made for women by women, and with the health of your hair as the utmost priority.
The Woman Behind the Business
As a woman in her 50s, Sonsoles Gonzalez worked for several high-end haircare brands but struggled to find the perfect solution to her own aging hair. She was sick of the messages sent to women her age by the media and wished that she could somehow change the narrative around women and aging. This is when the idea of Better Not Younger was planted. Gonzalez left her corporate career after 25 years working on haircare brands for Procter & Gamble and L'Oréal to launch her small business. The idea of leaving a cushy job when she was cruising toward retirement to start her own small brand was almost unheard of, and Sonsoles questioned whether it was a crazy idea. Her eventual success with Better Not Younger is proof that her idea was a much-needed one. It turns out, she wasn't the only woman who wanted to taint her hair with toxins and unhealthy ingredients just for the purpose of looking 'younger.'
Not only is Gonzalez an inspiration to follow your dreams regardless of your age, but she has created a product for women just like herself – wanting to look beautiful at any age while using clean, healthy products specifically designed for aging hair. At Better Not Younger, Sonsoles set out to create the first range of products that address the fact that your hair does change with age, but more importantly, redefine what aging hair has to mean.When we think of aging, our youth-obsessed society tells us to think of the loss of youthfulness and beauty. We are constantly being told by messages in the media that we need to try to look younger – than our wrinkles, loss of colour, volume and lift make us less attractive. And that doesn't have to be the case. Women can be beautiful at any age – beauty isn't defined by the number of years you've lived.
"I see aging as a way of unlocking potential, a daily opportunity to look better and I wanted to launch a brand that spoke to an empowered woman that believes you can look better without looking younger," says Sonsoles. "I was amazed that there was still so little out there for women like me."
Gonzalez wanted to create options for women in mid-life like herself who wanted to preserve and refuel their hair with the nutrition they'd been missing out on, rather than bandaid solutions that weren't ultimately healthy for the hair.
Younger does not mean better. We are not aiming to look "younger" by these treatments, we're seeking to look and be healthier. Better. That's the difference.
The Better Not Younger Products You Need to Try:
Lift me Up Hair Thickener: Spray 6fl.oz. Volumizing Hair Thickening Spray for Women Over 40
This unique lightweight spray is an evolution in hair thickening designed to lift hair at the root, providing weightless volume instantly. This product works right away, and continued use has a long-term impact on the volume and health of your hair. At the same time, essential vitamins and nourishing ingredients help support the scalp and follicles, paving the way for healthier hair over time.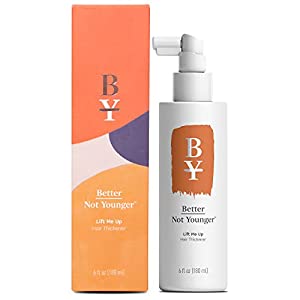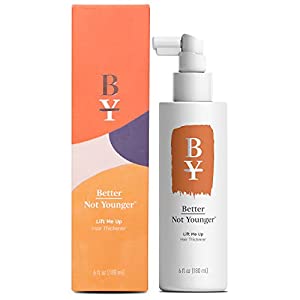 Lifts, Thickens and Nourishes
This double-award-winning lightweight spray wraps around thinning hair strands, lifting hair at the root and nourishing the scalp and follicles for healthier and thicker-looking hair instantly and over time. Hailed 'Best Hair Thickener' at Harper's Bazaar 2020 Anti-Aging Awards and 'Best Hair Thickening Spray' at the 2020 Beauty Awards by New Beauty
Key Benefits:
Gain the appearance of 1.75x more hair! 84% of women said their scalp was less visible after eight weeks of use. *Independent consumer trials with daily usage. Individual results may vary.
The precision nozzle directs the formula exactly where your hair needs it most.
Skin-nurturing ingredients like ceramide, biotin and niacinamide nourish and support the scalp and follicles while instantly thickening the appearance of hair
Adds volume and fullness without stripping or drying hair out.
Paraben, Sodium Laurel Sulphate free
Vegan and cruelty-free
Superpower ™ Hair & Scalp Duo 2fl.oz. Leave-in Hair Serum with Scalp Massaging Applicator for Stronger, Thicker, Fuller Hair – for Women Over 40
As we age, our hair strands become finer, drier, duller and more brittle. To address the early signs of hair aging, we packed our best-selling scalp serum with our proprietary Superpower™ blend and powerful ingredients such as Ginger and Centella Asiatica Extract to nourish the scalp for hair that looks smoother, stronger and healthier with time. An award-winning scalp serum and massaging applicator designed to address the early signs of aging hair. Our proprietary Superpower™ blend of proven plant-derived ingredients with Ginger and Centella Asiatica Extracts adds fuel to your fullness so hair looks healthier and stronger by the day.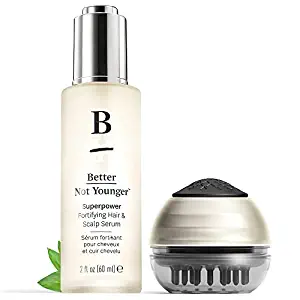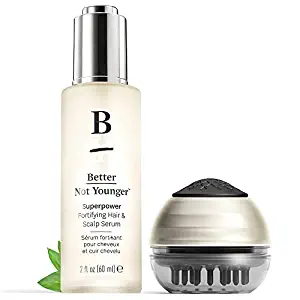 Nourishes, Massages, and Revitalizes
Lightweight and non-greasy, our fast-absorbing Superpower Fortifying Hair & Scalp Serum nourishes follicles and replenishes and reenergizes everything you need to reach your hair's fullest potential without leaving it oily between washes. Treat your scalp to this relaxing, feel-good treatment that will leave your scalp and hair looking and feeling magnificent. The applicator can also be used without the serum as a relaxing scalp massage tool.
Key Benefits:
90% of women see visible improvement in the fullness of their hair after eight weeks. *Independent consumer trials with daily usage. Individual results may vary.
The applicator's smooth, retractable aluminum ball-tipped dispenser naturally parts hair and massages the scalp to evenly distribute serum at roots and help energize the scalp and follicles.
Paraben, Sodium Laurel Sulphate free
Vegan and cruelty-free
The science behind why the Superpower ™ Hair & Scalp Duo works
The scalp is often underestimated in the role it plays in healthy hair. Many people have skincare regimens, but your scalp is an extension of the skin on your face and it also determines the health of your hair. The skin on your scalp is more delicate than the rest of your body, and it has more sebaceous glands (which help seal in moisture and prevent desiccation of the skin) and sweat glands. Also, due to the scalp being covered by lots of hair, your scalp also has a Lower Barrier Function than the skin on your face. Why would it need a barrier function with all that hair, right? Your scalp is home to over a million hair follicles, which are responsible for growing your hair and producing melanin, which gives our hair its color. As we age, the follicles lose their melanin production, which results in grays. If the follicles weaken or get damaged, they may stop producing hair altogether. Several things can cause our follicles to weaken faster, such as unhealthy diet, smoking and alcohol consumption – but as we get older, this process happens gradually regardless, without the use of products to strengthen the follicles.
The touch brought to the scalp via an effective massage tool, such as the one included with the Superpower Hair & Scalp duo, revives hair growth by activating blood circulation around these follicles. The more blood that moves toward the scalp, the more oxygen and vitamins the hair receives. This means healthier, thicker, fuller hair. This is why we recommend making daily scalp care an essential step in any aging hair-care routine. Hair health starts at the root!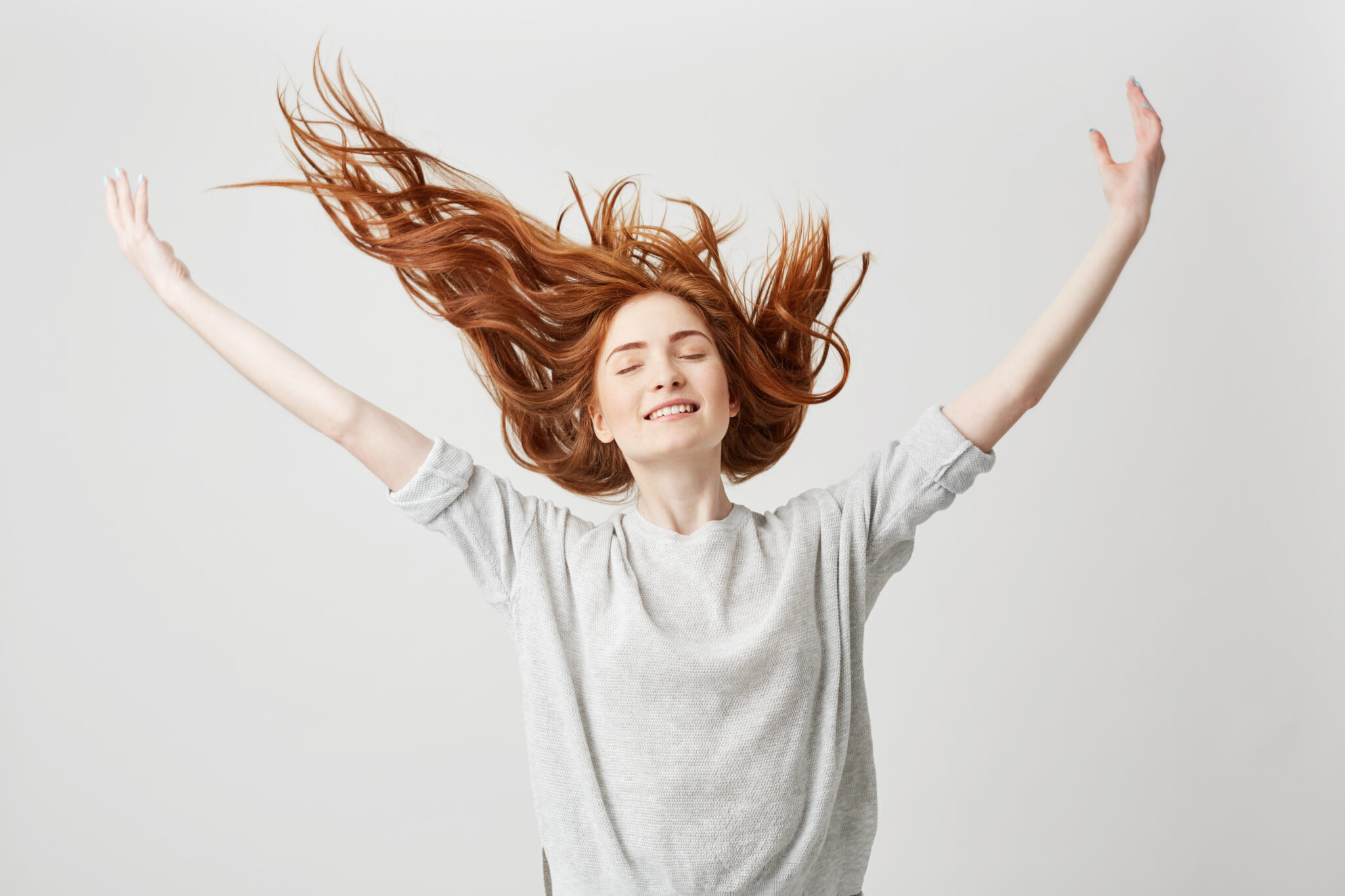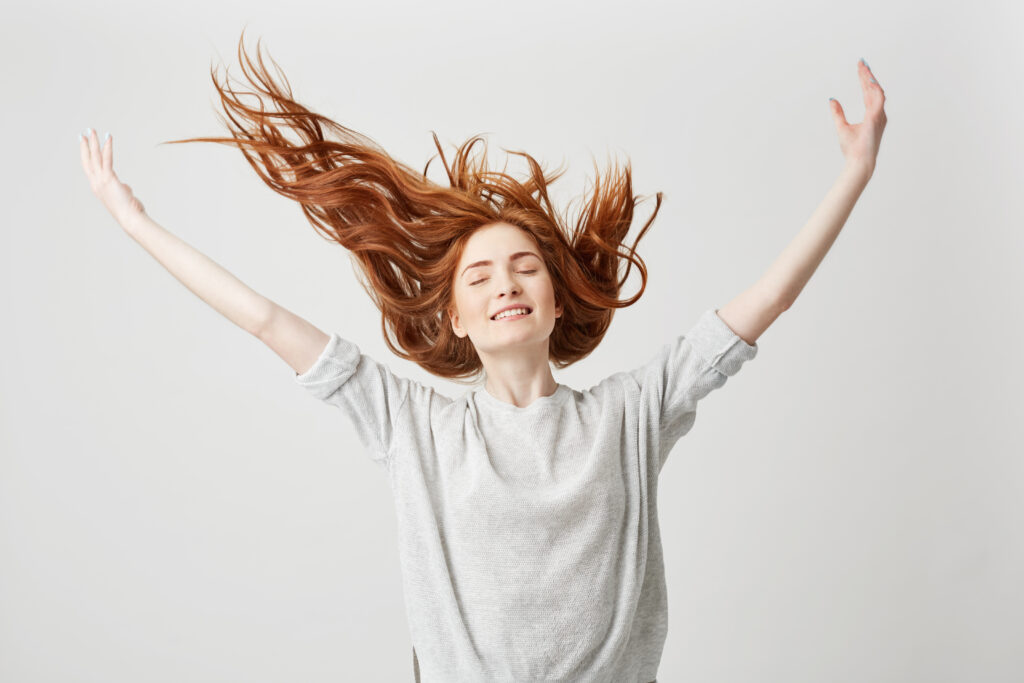 If you want to do your hair and scalp a favor, look no further than Better Not Younger products, specifically designed for hair that has lost some of its vigor. Use the Lift Me Up Hair Thickener to provide instant lift and long-term nourishment, or the Superpower ™ Hair & Scalp Duo to restore vitality and treat your scalp and hair follicles to the TLC they've been missing out on.
While some hair care myths thrive on telling women that their aging hair is adequate and needs toxic ingredients to change its look, Better Not Younger is all about a holistic approach to caring for your hair as it ages. By using these products, you are nourishing your hair from the hair follicles and roots to the end of the strands. You see results soon and are paving the way for your hair to grow healthier in the long run.