There is a mighty quote by Hippocrates that states "Let food be thy medicine, and medicine be thy food"…there is the ability or the possibility to remedy our aches, pains, twinges, and twists through the most abundant and fertile resource we have at hand… and she is mother nature! Opting to use the power of natural remedies to encourage and promote a healthy lifestyle is something worthy to aspire to, there may be instances where a more conventional approach is needed but generally, we have what we need literally all around us…and garlic is a wonderful contender for the top prize in the natural healing awards! Hippocrates was himself a physician and was actually well known for prescribing garlic to his patients…well…if it's good enough for Hippocrates, read on to see how the power of garlic may help you on your wellness journey! 
Firstly… a brief glance at the impressive history of garlic! Garlic was one of the first documented plant-based remedies to be used for health, daily life and maintenance, and treating certain diseases.
•    Garlic surfaces in many ancient Greek, Egyptian, Indian, and Chinese medical texts where it was prescribed for medical applications and was frequently found in Egyptian pyramids and Ancient Greek temples.
•    In Ancient Greece, soldiers were fed garlic daily for strength, resolve and courage, and in the first Olympics, the athletes took garlic pre-performance to give them a boost!
•    In Ancient China and Japan, garlic was often taken as a remedy to relieve or lift depression and in Ancient India it was used to treat heart disease and arthritis.
•    American natives often used garlic in their tea to treat cold and flu symptoms and to aid in an all important immune system hike!
•    In ancient cultures, it was often used to reduce fatigue and enhance the work capacity and endurance of laborers.
Some uses for garlic…other than in your food!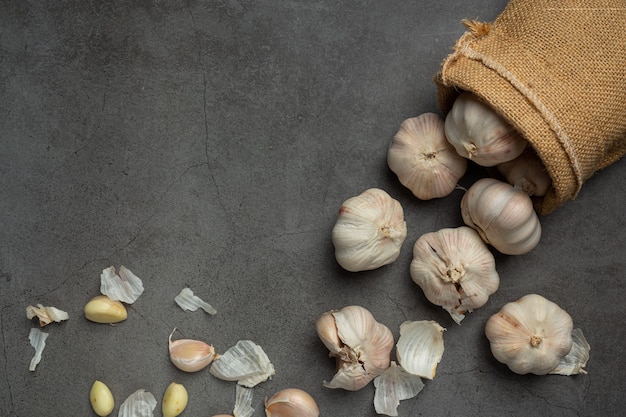 Garlic is a plant from the onion family and is famous for use on a wide range of health-related and household tasks- and these include: 
Treatment for acne- when used it can potentially lessen the appearance of acne, this may be largely due to its anti-bacterial properties (it may not make skin smell very nice though and I would imagine may sting a little!).
Mosquito Repellent- Yay…! Garlic scented oil can be used to fend off the little mites…and no toxic or harmful chemicals involved…Super! A spray can be made up with a few cloves of garlic infused in a little mineral oil, add some water in a spray bottle and a touch of freshly squeezed lemon… well, it may be worth a try?!
As an aphrodisiac- added to food since ancient times garlic was used to arouse romantic encounters of the close kind…☺ it may be a cheeky (yet totally natural) way to bring more love into your life! The reason may be due to garlic's notoriety for increasing circulation and pumping blood to your extremities and other certain areas! Ok… next! 
How garlic can help you to live healthier and happier- Here are a few documented benefits to having more garlic in your life!
•    It hosts a range of nutrients including Vitamin B1 and B6, C, Selenium, Manganese and Fiber- it also very light on calories!
•    A daily dose of garlic or a supplement can reduce colds by as much as 60% or more and can heavily reduce the duration of cold/flu-like symptoms to as little as 2 days rather than the average 5-7 days.
•    Heart disease is one of the world's biggest killers, quite often caused or exacerbated by hypertension (high blood pressure) but garlic or garlic supplement can help by reducing blood pressure! Garlic can also combat high cholesterol by lowering total and LDL (Low-density lipoprotein) cholesterol.
•    Garlic was shown to reduce the levels of lead toxicity in the body, this may be due to the sulfur compounds prevalent in garlic; it was also shown to reduce headaches.
Wow, and there you have it… A small and (hopefully!) educational glimpse at the power and potency of garlic, has this given you food for thought?
Black Garlic North America fully appreciates the wonder and natural wisdom of garlic to potentially heal and serve as a remedy; here is their story! 
Wisconsin Fermentation Company (WFC) was founded on the principles of sustainability, creating healthful foods, and hard work. Craig Dunek, president of WFC, embodies these principles within the company and within his daily life. He believes in growing and harvesting the food that he eats, innovation, and always working hard.  Craig Dunek studied at the University of Wisconsin-La Crosse (UW-L) where he double majored in Microbiology and Biochemistry. 
After graduate school, Craig moved along with his wife to Wisconsin where he worked for Organic Valley.  He managed research and development for Organic Valley and worked on creating and improving products, however, he was drawn again to integrate his passion of the outdoors into his career. While preparing for his first child, Craig bought some garlic at a local farmer's market.  He planted the garlic in the fall and was pleasantly surprised when it was harvested how well it had grown in his garden. He came across black garlic and was drawn to the health aspects and the challenge of how it was made.  Craig quickly devised a plan on how he could produce black garlic both at the quantity that he wanted and also was able to create black garlic in a sustainable way…how is that for great vision!
Craig is always striving to improve the company and provide a product that people will enjoy and that is healthy; he prides himself on the following: 
•    Craig built the chambers where the garlic is fermented with his own hands and traveled to many farmers markets throughout the area. 
•    This company was founded in 2012 at Craig's home and has grown from a small shop to a GFSI (global food safety initiative) certified production facility that has the capability to produce both organic and conventional black garlic.  
•    All garlic that is fermented at WFC comes from garlic from North America and is fermented and aged in Wisconsin. 
•    Black garlic is surprisingly sweet and characterizes the umami flavor profile giving recipes a savory flavor.  The flavor profile is characterized by balsamic, fig, date notes, with a hint of garlic.  
•    WFC sells black garlic in many different forms: whole bulbs, peeled cloves, puree, and powder.  They have grown to a company who has distributer's nationwide in the United States and Canada, supplies the industrial food service, and commercial food manufacturers.  
Wisconsin Fermentation Company has been built on the principles of creating a healthy, sustainable product through hard work and dedication… very much like the hard working laborers in times gone by that combated their fatigue by complementing their diets with garlic…Craig believes in unleashing garlic power where he can! 
Photo courtesy of Black Garlic North America
*The information available on ewellnessmag.com, including text, graphics, and other materials are for informational purposes only. Reliance on any information in ewellnessmag.com is at the user's own risk. Sponsored product placement may appear in the article. The visitor of this website acknowledges that the information available on or through ewellnessmag.com is not and is not intended to be a substitute for professional medical advice. Copyright © 2022 Brawo Press, Inc. All rights reserved.