What was your motivation in wanting to produce a series of mobile phone applications?
I have always enjoyed motivating people and the Motiv8 app allows me to do just that through a medium that people can use at anytime and when I am not there with them.  It is the perfect way to track your fitness, set fitness goals, and stay motivated to train.
Another generation of young people that communicate through a very different medium. Engaging with a younger market by entertaining and educating. Mobile is a brilliant way to get my message out to millions of potential people, to help with their fitness and wellbeing. Use a contemporary medium to re-engage individuals with sport and health. A perfect way to keep running and fitness with them at all times. The running app is perfect to have in your pocket, you can't take a computer, and I'm not always available to run alongside you!
Focusing on the Motiv8 app, personal fitness is a booming industry, what makes your product stand out in the crowded marketplace?
The Motiv8 is different because no other fitness app has me motivating you while you run and giving you tips to improve your running and fitness.
Two reasons, first it has been built to use me as the motivational element. Running and maintaining a fitness regime that includes running does require commitment, the aim of the app is to provide inspiration and motivation from me. The second reason is that once you have used the App once, I can run your previous time, we have called this Time Splicing. So I'm either running in front of you or behind you at your previous routes time. Plenty of opportunity for some encouragement either way and the App knows how to provide that encouragement and support.
Who is Michael Johnson's Motiv8 aimed at? Can anybody start running?
This is an App for the beginner who may walk a course right through to the professional runner who needs a new thought process to mix up their running routine. Anyone has the ability to start running, it's not all about speed its about personal goal and wellbeing.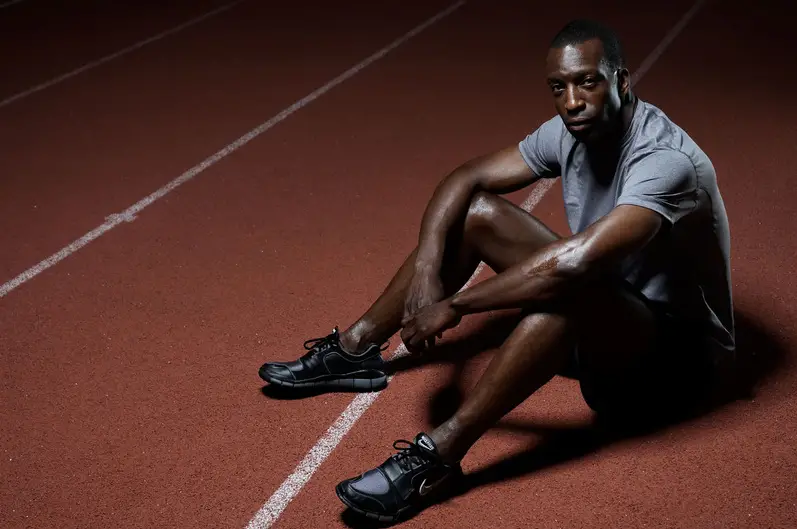 What role do apps such as Motiv8 play in keeping people active?
Motiv8 structures your thought process into running courses and then competing against me on those courses. The App provides social media postings of certificates sent by me through the App based on the achievements within. I speak nicely and encourage you. I also speak more assertively; I pull your leg and even comment occasionally on your music. It's about repetition and the reinforcement of routine so that exercise becomes a part of your life for the first time or again after an absence, that is the aim of the app.
What handsets does the Motiv8 App run on?
Motiv8 is available on iPhone and Android devices. The App uses GPS to track your run, so the phone and the area you run in has to have mobile signal. We are also going to produce the App in the Blackberry format too.
This app is all about motivating individuals and making them want to better themselves, why is this important?
One of the most important elements to fitness and well-being, is consistency.  It's difficult to achieve that consistency but this app has me providing the motivation that is sometimes difficult for one to do for themselves. People are living much busier lives these days and like me, many individuals work hard and play hard and that takes energy and it can take a toll on your body.  I feel better and I am more productive when I train on a regular and consistent basis.
Your voice provides the motivation in Motiv8, who provided the voices of motivation during your track and field career?
I provided the motivation for myself during my track and field career.  Some of the same things I suggest on the Motiv8 app are the same things that helped me win medals and break records.
Are you still active, do you still run regularly? What motivates you to want to go out and run?
I am very active.  Some days I go for a bike ride, some days I run.  I try to mix it up and do different type of exercise but with my schedule the quickest think for me is to go for a run.  I am motivated by my desire to stay fit and it helps me to clear my mind and relax a bit from working so much.
There's a good mix of motivational audio from yourself on Motiv8, some encouraging, some a little critical. Everyone responds differently, but what worked best for you in your career, a pat on the back or somebody saying you could have done better?
I always motivated myself by demanding the best from myself and being critical of myself if I didn't give what I felt was my best.  That's what was best for me.  Each person is different and it's important to understand what type of motivation you respond best to.
Users can add their own Power Songs to the running experience within the app, what are the songs and music that gets your blood pumping? 
I like upbeat music with a good strong bass beat.  When I was competing I always listened to Tupac before I competed.  Now when I'm running I'll listen to Cee Lo, Justin Timberlake, Dr. Dre, Q-Tip, Amy Winehouse, pretty much anything with a Soul or R&B beat.
Having tested the app yourself, how was the experience of having yourself talk you through a run?                                         I was critiquing my voice at first! But once I got into it, it was really cool to get that motivation every now and the while running.                                                                                                    
Michael Johnson's Fun Run focuses on promoting healthy eating habits for youngsters. Why do you feel that this is important?
Child obesity is a huge problem around the world particularly in the US and the UK.  Exercise and healthy eating are the keys to combating this problem and this app will hopefully get kids interesting in running and also teach them about the harmful affects of a poor diet in a fun way.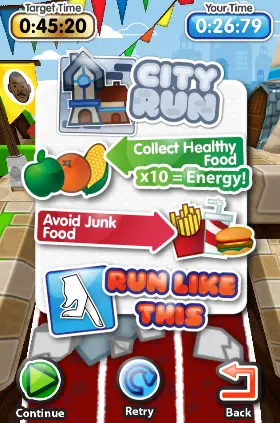 Getting children and adults out to exercise is a noble effort, isn't asking them buy an App adding to their lack of physical activity?
Kids are going to play games and that is a given.  I'm hoping to provide a game that is fun but also reminds them of the importance of healthy eating and hopefully motivates them to get active and maybe take up actual running!
It's about using technology to re-engage with people young or old. The Fun Run App was built specifically to remind people that you can go out and run. That running can involve winning and winning is enjoyable. Put that alongside healthy eating comments and the game reinforcement that picking up a burger or a fizzy drink is bad and slows you down but eating fruit is good and can speed you up are basic facts that have gotten lost in a sedentary consumer lifestyle.
What handsets does the Motiv8 App run on?
The App is available on iPhone and Android devices.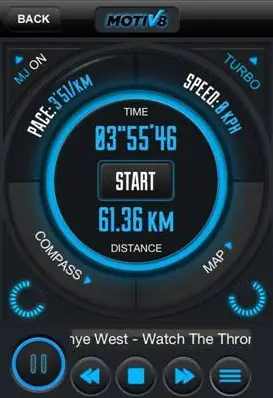 How big an issue is childhood obesity? Why has it become such a problem? Is it up to governments to tackle the issue or should parents take more responsibility?
It's a huge problem because it causes all types of health issues, some of which can be terminal.  I believe that with the fast paced life we live now fast, quick food is preferable and much of it is not healthy.  It is also a problem when healthy food is more expensive than food that isn't healthy. Also lack of exercise is a problem and in many places physical education has been cut because of budgets. 
You're taking on the might of the fast food industry and their huge marketing budgets; do you really feel that you can make a difference with this app?
It's going to take a collective effort from governments, schools, media, communities, and the fast food industry itself.  I'm hoping this app will be my small part to help.
Who made sure that you ate the right things as a youngster?
My mother started me off with healthy eating habits that put me on a good path to healthy eating.
These apps are coming in what is a big Olympic year, what impact can London 2012 have on motivating individuals to think about their personal wellbeing?
I think the Olympics are a great motivator to get people active.  Hopefully people will be inspired by the superior athleticism of the Olympic athletes and as well the determination to achieve their goals.
'Legacy' is a word often connected with the Olympics, what does the word 'legacy' mean to you?                                      Legacy in the context of the Olympics has become extremely important.  In the past many host cities have been left with huge debt and underused facilities after the Games have left.  London's hope is to have the Olympics leave a positive mark on the city and the community long after the Games have left, by hopefully motivating youngsters to take up sport, with great facilities and also leave a community better than before the Games.                                                                
What excites you most about the forthcoming Olympic games?
I'm always excited about the competition.  The Olympic format guarantees that you see the best athletes competing at their best for the ultimate prize.
Which athletes are you looking forward to seeing compete? Are there any which may have slipped under the radar which might surprise us?
There are of course Usain Bolt and Michael Phelps, the stars of the last Olympics. But the great thing about the Games is that it will produce new stars as well that we don't know so well yet.
You made a huge impact on the Atlanta games in 1996, how important is 'home advantage' for the athletes of Team GB?
The home advantage is really only in affect in the years and months leading up to the Games as a constant reminder of what you're training for and also the increased sponsorship and funding available to home Games athletes.  But once the Games start, there's really no advantage.  That stadium, or field, or court could be anywhere in the world.
You will be working for the BBC during the Olympics; do you feel that you have become something of an adopted Brit? Why do you choose to work for the BBC over some of the larger US networks?                                                                        This will be my third Olympics for BBC.  BBC gave me my first opportunity to do more than sit in the stadium and comment on the replay of races.  They recognized my ability to be a pundit who can help educate the audience on what they are watching.  American sports television is different and the American television format doesn't suit me.  In American television I would be stuck covering on athletics and there actually isn't much coverage of athletics in America because there are so many sports to cover.                                                                                                                                                                                                   
Sydney was deemed a successful Olympics, Athens not so. What are the factors which make for a successful Olympic games and who decides, the athletes, the spectators, the IOC, the media?
I had a great time at both Sydney and Athens but I think in the end a successful Olympics is determined by how the local organizing committee organizes the Games and how difficult or easy it is for spectators, media, and athletes to get to where they want to go and what they want to do.  Of course the media are the ones telling the story.
How will we determine whether London has been a success? 
It will be determined based on the same criteria above but now legacy is also a big part of it, and especially during these tough economic times. So we maybe still judging these Games years from now based on the legacy that was left.