Necessity is the mother of all invention. The most useful advances in our lives are the things that help solve a need. A problem is identified – and a solution is created.
That solution is often radically different than what you had been taught. Or, it's beyond what you thought possible. Cindy found this out firsthand.
She had a problem. And because of that problem, she worked hard to create a solution. This solution not only solved the problem – it sparked a business. Now, Cindy enjoys helping others get the results they want, naturally.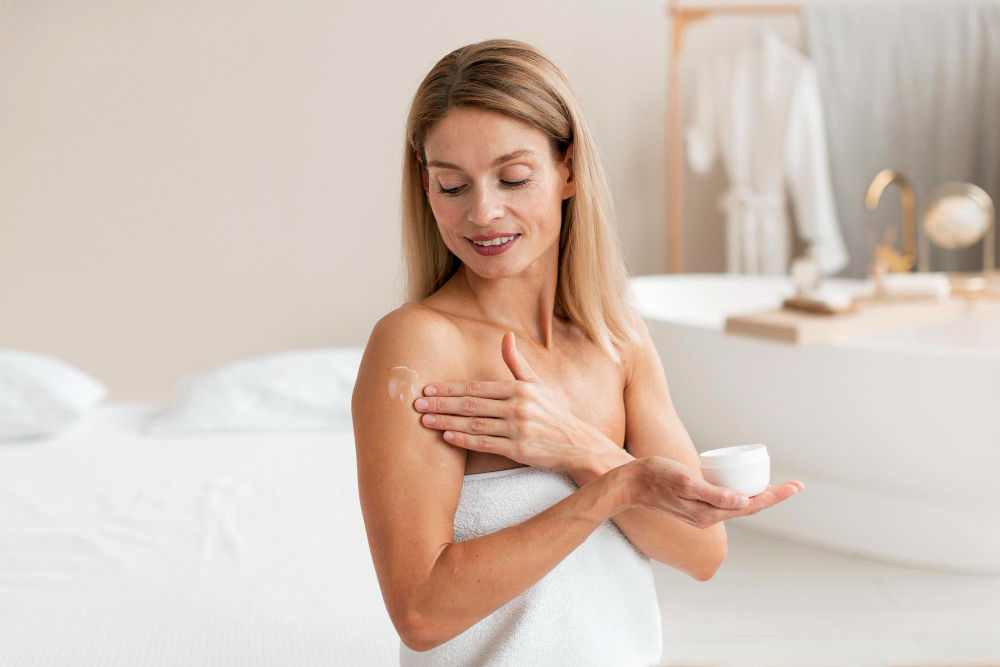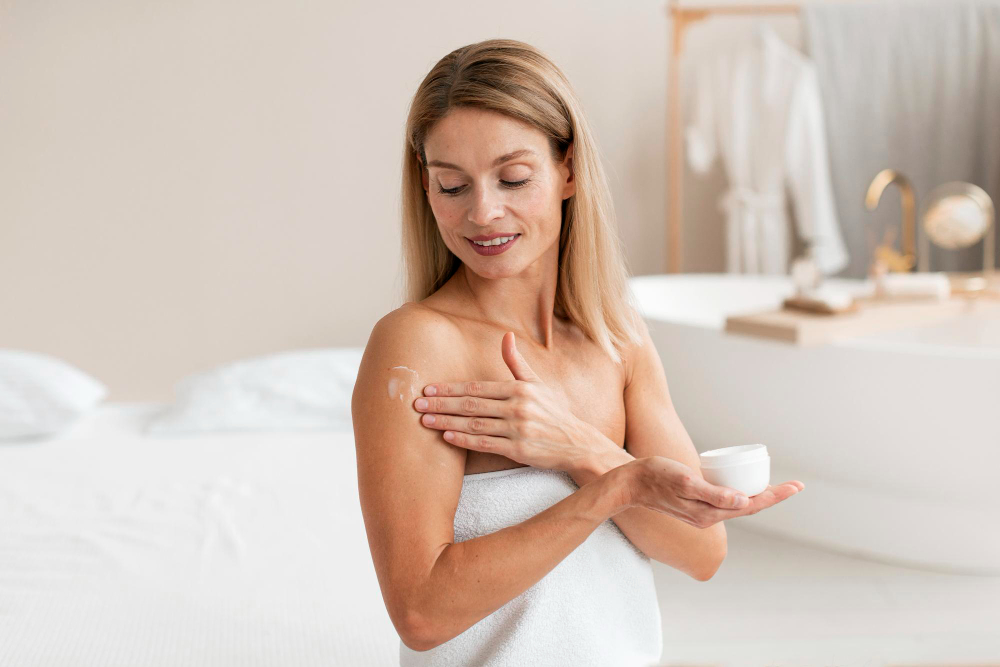 The most significant milestone in most people's lives is the day they become a parent. It changes your perspective on life. And it focuses your attention outside of yourself.
This was a major turning point in Cindy's life as well. Life before children was simple. She and her husband could make or break plans on a whim. They could eat at this restaurant or hop up and watch a movie. Other than their working lives, decisions were very easy to make.
All that changed when Cindy had her first child in January of 2000. Now, decisions had to be thought over. These precious lives she had been entrusted with had to be factored into every choice she and her husband made.
Life sped along, sometimes in a blur. While Cindy was pregnant with her third child, her son (who was almost one) developed severe eczema. Cindy knew the recommended treatment after studying Western medicine and working as a Physician's Assistant.
And she didn't like it.
Steroid creams were the normal course of action. Her son's skin was already sensitive, and Cindy knew steroids would not treat the underlying problem. So, in Cindy's mind, that option was no option at all.
Her son scratched at the itchy, dry spots so often that he would have bloody spots on his legs in the morning. Something had to be done. With her child suffering, Cindy set to work, determined to find a solution.
Cindy began researching natural solutions to her problem. Being medically trained, she initially thought there was no answer in nature. But the more she researched, the more she came across organic compounds that showed promise in helping her son.
Nature's products that can heal your skin.
For Cindy to uncover the secret of healing her son's skin, she needed to find natural products that benefited the skin. As a keen researcher, Cindy dug deep into her child's needs and what products could help.
This list isn't all-inclusive, but these powerful ingredients from the Earth can help heal and protect your skin without harsh man-made chemicals.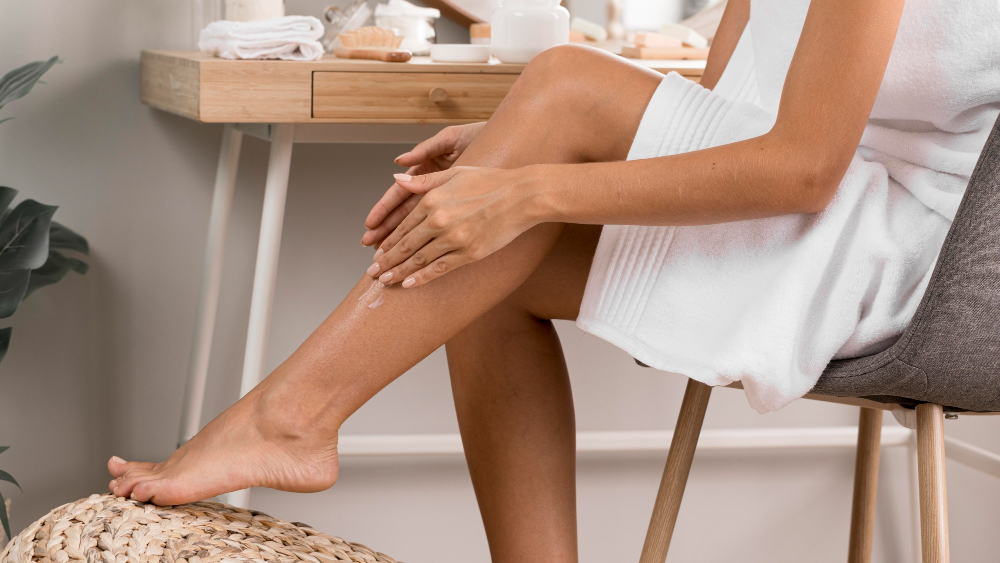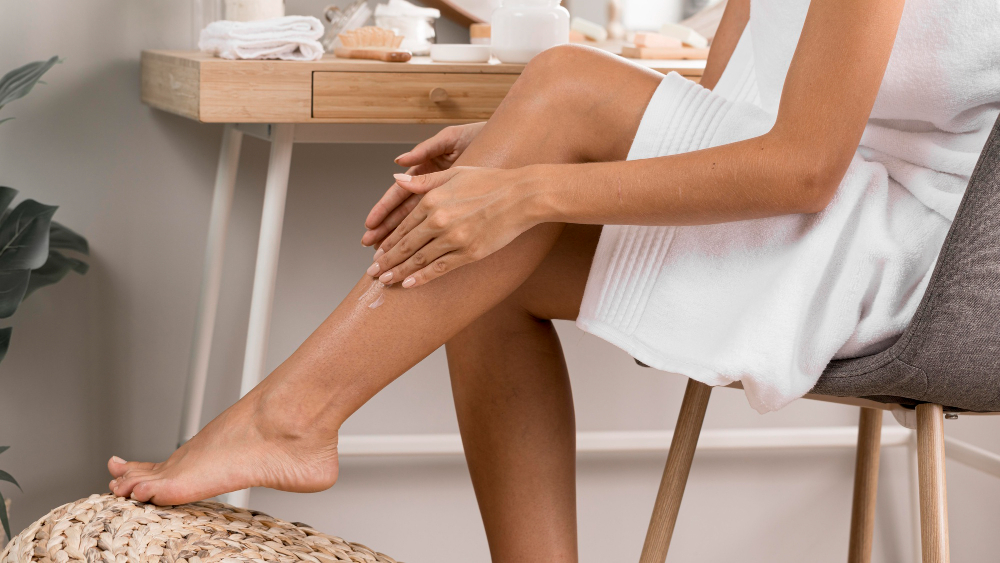 Beeswax 
Created from the tiny bee's collective force, beeswax has been used for thousands of years. This wonderful stuff attracts and retains moisture. That also makes it great for skincare today. The skincare benefits of using beeswax include:
Preventing water loss
Softening and lubricating the skin
Provides antiseptic properties (protecting the skin from pathogens)
Creates a protective barrier on the skin.
Loaded with vitamin A, which helps skin cells renew.
Coconut oil 
Loaded with medium-chain fatty acids that are health-promoting for your skin. Coconut oil's fatty acids are antimicrobial (helping protect you from microorganisms).
Those with acne-prone skin can benefit from coconut's rich, skin-soothing linoleic acid. This acid has been found lacking in the skin of people who suffer from acne. Other great benefits include:
Relieves inflammation
Speeds up wound healing
Moisturizes and protects your skin
Antibacterial, antifungal and antiviral properties
Shea Butter 
It's been a staple ingredient in skin care for centuries. Originating in Africa, shea butter protects the skin from sun, wind, and heat. Shea butter comes from the Shea Nut Tree and is grown in western Africa. Now, it can be found in products worldwide. And there's a good reason for this.
Shea butter is rich in the fatty acids that your skin craves. These acids help seal in moisture and hydrate the skin, leaving it soft and smooth. Due in part to its anti-inflammatory properties, Shea butter has been proven effective in alleviating the signs and symptoms of eczema.
This wonderful rich cream also provides many other nutrients, including cinnamic acid, minerals, carotenes, and vitamins A and E. Its benefits include:
Eases irritation – Due to its anti-inflammatory properties, it reduces swelling and redness on the skin.
Relieves dry skin – The fatty acids found in Shea butter lubricate the skin and create a barrier that keeps moisture locked in.
Anti-aging – Shea butter contains age-defying antioxidants that prevent skin cell damage.
Protects from the sun – The cinnamic acid found in Shea butter absorbs UV radiation.
Safe – Very few documented allergic reactions to Shea butter in those with sensitive skin have been reported.
Aloe Vera 
The use of Aloe Vera predates recorded history. It was first noted on 6,000-year-old carvings in Egypt. The plant was placed in the tombs of the Pharaohs and became a common burial offering. You've undoubtedly heard of Aloe Vera and may have even used it. But what makes it so special?
Aloe grows in tropical, semi-tropical, and arid regions worldwide. It's probably the most widely known and used natural skin treatment. You may have used it for cuts, sunburns, or other minor skin irritations. It's loaded with vitamins and minerals that are good for your skin.
Aloe also contains antioxidants and a wonderful compound called glucomannan. This compound improves the healing of your skin by boosting collagen production. The many benefits of Aloe for the skin are:
Burns and sunburn – You can apply Aloe three times daily on the affected area.
Scrapes and abrasions – Similar to burns, Aloe will help relieve the stinging and reduce inflammation.
Cuts – forget about the "triple antibiotic ointment and grab some Aloe instead. Its collagen-boosting properties will help your cut heal faster, and its antibacterial properties will keep the cut infection-free.
Moisturizes – Aloe locks moisture into your skin. Consider it after your bath instead of your moisturizer.
Almond Oil
Another ingredient in many skin products, almond oil, is good for your skin for the same reason the previous products are – it's loaded with things your skin needs.
Almond oil is generally safe for sensitive skin because it's light and non-irritating. It provides hydration and can also reduce the appearance of scarring and wrinkles. This is largely due to almond oil being high in skin-repairing antioxidants.
Whatever your skincare needs, a natural product or combination of natural products could probably be the relief you seek. And that's just what Cindy discovered as her experiments began.
The Time For Healing
While studying traditional medicine, Cindy hadn't learned about any of these natural remedies. Now familiar with nature's power – she began experimenting. It was time to head to the kitchen.
Cindy began combining natural compounds in her kitchen, many above and some not listed. Trial after error, and one attempt after another, she labored. Remember, this was a labor of love, so it was easy for her to keep going.
Finally, she hit on a winner. Her Healing Salve was applied to her son's eczema. Lo and behold, within a few days, her son's skin began to heal without harsh pharmaceuticals or chemicals.
This Healing Salve became Cindy's first product. However, she still wasn't interested in having a business making products. What happened was that she began looking around her house. She looked at the chemicals they used daily—especially products labeled safe for babies.
She began making soaps and shampoos, lotions, and creams. One by one, she replaced the harsh chemicals with natural remedies.
Naturally, she ended up with a bunch of surplus products. One family can only use so much, so fast. Cindy began gifting surplus soap, creams, and Healing Salve to friends and family.
With each gift, she received another testimonial about how great her products were. And another call from a friend or relative about how she needed to sell these products. It was time for Cindy to take a leap of faith.
So, over 15 years ago, Cindy's Suds was started. Cindy has held to her roots and still crafts all her products in small batches. This gives her complete control over the quality she produces.
Her products now cover many needs, from bath and body to cleaning and laundry. Cindy probably has a solution if you need a replacement for store-bought chemical-laden care products. She is proud of her track record and thousands of satisfied customers.
Her creation, Cindy's Suds, is here to help with your personal care needs. And she's proud to introduce you to the ultimate replacement for your body lotion.
Body Butter – Almond
Leave your skin soft and nourished with a wonderful light almond scent.
You'll toss your store-bought lotion after using this body butter. It's safe for all skin types and only contains seven natural ingredients.
Aloe Vera
Almond oil
Coconut Oil
Shea butter
Beeswax
Vitamin E oil
Bitter almond essential oil
It's true, natural ingredients can replace man-made chemicals.
This body butter will restore, smooth, and hydrate your skin. Just like it did for Gail:
ALWAYS use the body butter! Leaves my skin so soft and not dried out!! Also love the scent;not too strong!!! Enjoy using every product i have ordered from cindys suds!!!
If you are more of a citrus fan, Cindy also has you covered there.
Body Butter – Bergamot Citrus
This will leave your skin soft and smooth with a refreshing citrus scent.
Pull your skin away from being dry and flaky. Rehydrate and nourish it with this lovely butter that includes the essence of lemons, limes, bergamot, and oranges.
The other natural ingredients will sound familiar:
Almond Oil
Coconut Oil
Aloe Vera
Shea butter
Beeswax
Vitamin E oil
Antioxidant and fatty acid-rich oils and natural scents combine to give you smooth, soft skin that you may not have thought possible. Mary is convinced, here's what she said in her reluctant review:
shhhhh
I really don't want to share a review because then everyone will be buying Cindy's products and they will be harder to get 🙂 super fast shipping ( I think 6 days from order to arrival) and the products … not putting chemicals on my skin, smells great, and one of the few products that I've found to work in our dry environment.
If you've ever thought about ditching the chemicals in your life and trying the healing power of nature, click the link and check out all the offerings from Cindy's Suds. You have nothing to lose and only naturally healthy skin to gain.
* In partnership with our friends at Cindy's Suds* Photo courtesy of Cindy's Suds
* These statements have not been evaluated by the Food and Drug Administration. These products are not intended to diagnose, treat, cure or prevent any disease.
* The information available on ewellnessmag.com, including text, graphics, and other materials is for informational purposes only. Reliance on any information in ewellnessmag.com is at the user's own risk. Sponsored product placement may appear in the article. The visitor of this website acknowledges that the information available on or through ewellnessmag.com is not and is not intended to be a substitute for professional medical advice. Copyright © 2023 Brawo Press, Inc. All rights reserved.