The early kings of the Jews were anointed with olive oil. Mohammed, Prophet of Islam, counseled his followers to apply olive oil to their bodies. Christians use holy oil, often that of the olive, in baptisms. Olives are more than just a food–they're considered holy by the three major religions of the West. The olive is one of the world's oldest cultivated trees, dating back some 6,000 years, before the invention of written language. Native to Asia Minor, the olive branched out from Iran, Syria, and Palestine to the rest of the Mediterranean. In Greece, according to legend, the goddess Athena graced humanity with a gift of the olive. Since olives are an integral part of the Mediterranean diet, maybe they should play a role in your healthy diet, too.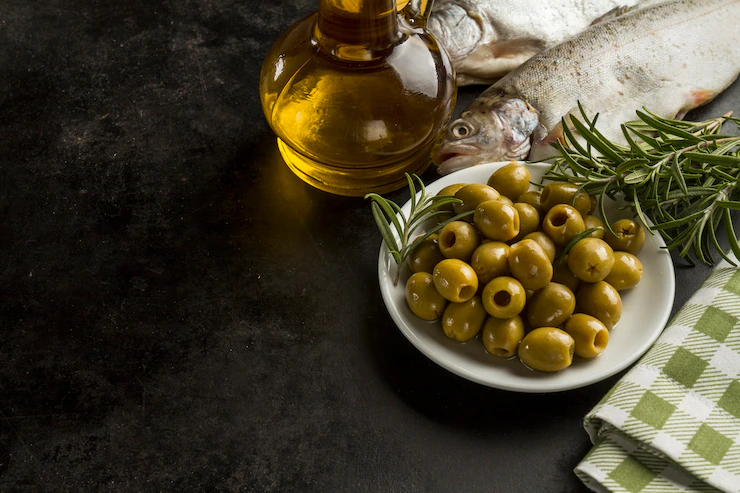 From the family Oleaceae, the tree is subtropical and contains about 900 species. The olive tree doesn't bear fruit for four to eight years or achieve full potential for about 15 to 20 years. Thousand-year-old trees can still be found in the Mediterranean region, and olives have existed in the wild for some 14,000 years.
Christian missionaries carried the olive tree to California, where they used the fruit for food and ceremonial purposes. The Olive in California: History of an Immigrant Tree by Judith Taylor, MD, provides a detailed account of a ruined mission with a producing olive grove in 1842, but one source indicates that the olive appeared in California as early as 1769.
NUTRITIOUS AND DELICIOUS
Olives are so tasty that some people find it hard to believe they're healthy, but even the ancient Greek physician Hippocrates referred to olive oil as "the great therapeutic." A nutritional powerhouse, olives are a good source of iron, dietary fiber, and copper. These juicy bites contain a good dose of phytonutrient compounds known as polyphenols and flavonoids that boast anti-inflammatory activities. Olives are rich in monounsaturated fats, and eating them may help reduce the intensity of a number of health problems, including asthma, osteoarthritis, rheumatoid arthritis, and hot flashes in menopausal women.
Don't let their fat content alarm you. Monounsaturated fats
are considered downright healthy and may even improve blood cholesterol levels. According to the Harvard School of Public Health, "In studies in which polyunsaturated and monounsaturated fats were eaten in place of carbohydrates, these good fats decreased LDL [low-density lipoprotein] levels [bad cholesterol] and increased HDL [high-density lipoprotein] levels [good cholesterol]."
"Olives are a great way to change the type of fat in your diet," says Susan Mitchell, PhD, RD, FADA, coauthor of Fat is Not Your
Fate. "Since the majority of fat in olives is monounsaturated, (the more heart-healthy type) you can replace or decrease the amount of saturated fat in your diet by including olives."
An average jumbo olive has about seven calories and one half gram of fat, while the larger colossal olive has about 12 calories and one gram of fat. Approximately 75 percent of the fat is monounsaturated. Small olives average four to five calories and less than half a gram of fat per olive, the majority being from monounsaturated fat.
"They also contain a small amount of vitamin E as well as 75 [for jumbo] to 135 [for colossal] milligrams of sodium per olive—an important thing to keep in mind for those watching their sodium intake," says Mitchell. Even better, "both olives and olive oil contain substantial amounts of other compounds deemed to be anticancer agents…" according to a 2004 study in the European Journal of Cancer Prevention.
THE PROCESS
It's hard to believe these little fruits cannot be eaten straight off the tree. Olives must undergo various processing to reduce bitterness before ready to be eaten. Fermentation, brine-curing, dry-curing, oil-curing, water-curing, and lye-curing are methods to do so. Green olives are soaked in a lye solution before preserved in salt water. A large amount of the olive crop is used to make olive oil, a process during which olives are pitted, ground to a pulp, and pressed to remove juices.
KNOW THY OLIVE
Olives are grown commercially around the globe, but Mediterranean countries produce most of the world's crop. Myriad varieties differ in size, shape, looks, and taste–ranging from bitter to sharp to sweet. Today, five important varieties are grown in the United States, predominately in California where almost all American olives are produced. To become better acquainted with the variety of olives, experiment with these top five easy-to-find picks:
ASCOLANO
This big, light green olive is native to Italy. When ripe, the fruit is tender with a slight bitter flavor. It is brine-cured and may have a salty bite. The Ascolano is served as an hors d'oeuvre to arouse the appetite and added to pasta and antipasto dishes for gusto.
BAROUNI
Initially from Tunisia, the Barouni is the most versatile olive in the world. These round, large green olives with a fruity flavor are commonly shipped to those who make home- cured olives.
MANZANILLO
Produced in Spain and California, Manzanillo is also known as the Spanish olive. The oval-shaped fruit is greenish-brown and changes to a bluish-black when ripe. The pitted olive is brine- cured. The firm meaty texture offers an unforgettable flavor similar to that of an almond and can be bitter or smoky. It's delicious stuffed with pimento or garlic and is perfect for scrumptious appetizers and salty garnishes for alcoholic beverages. This one is traditionally plunged into a martini. Manzanillos are enjoyed in breads as well.
MISSION
A common olive, the Mission is medium-sized, bitter, and deep purple but turns black when it ripens. It's enticing served with table cheeses and is used for cold-pressed olive oil.
SEVILLANO
A large, bright green olive from Spain, the Sevillano is known as Spanish Queen, Queen, and Gordal. It's a purple to blue-black color when it's ripe, it's processed as a pleasant table olive, and it has a good meaty texture. The Sevillano, used to Sicilian-style salt-brined cured olives, is the type most often canned.
Don't miss out on an alluring assortment: Think Alphonso (Chile), Botilla (Peru), Kalamata (Greece), Nicoise (France) when writing out your shopping list. They're available year-round, and you can find a wide variety at gourmet shops, supermarkets, and from growers. You can also purchase them online at http://greatolives.com, www.dibruno.com, and www.oliveshoppe.com.
A CULINARY DELIGHT
Olives add flair to almost any meal when used in tapenade, pate, sauce, pizza, salad, and with poultry and fish. The ten- der morsels make perfect fret-free appetizers, ready to place on the table to enjoy in a flash. Pick Ascolano or Manzanillo green olives and Kalamata or Mission black olives.
Many experts agree it's better to add olives to a dish at the last minute since they can turn bitter if cooked too long.
Celebrity Chef Carlo Cavallo opened Sonoma-Meritage Martini Oyster Bar & Grill in the heart of Sonoma County, California, so he could take advantage of year-round abundance of locally grown fresh products, artisan food producers, superior wines, and, of course, olives. He shares a tip you won't want to for- get: "When cooking with cured olives, be sure not to season with salt until the very end of the cooking process." Olives, he explains, release salt as they cook, so you'll probably need less salt. Try these tempting olive recipes and you'll soon be looking for more and more ways to enjoy the taste and reap the nutritional benefits of this ancient fruit.
The recipes are a click away in our Eat Well section : www.ewellnessmag.com/article/recipes-for-cooking-with-olives