Hungry? Well if so, soup is a great choice if you are trying to eat healthier – especially if you are make it yourself. For everyone and every season a bowl of soup can be a healthy way to start off a meal, as it tends to be high in vegetables and will also help keep you fuller for longer (if made with protein-rich ingredients).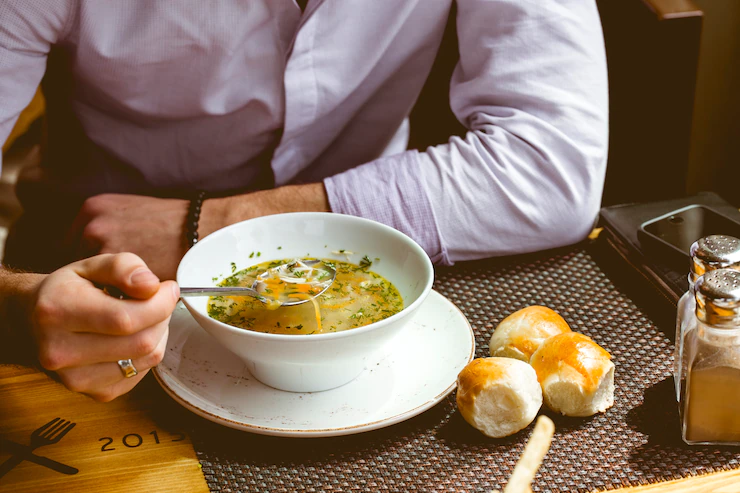 If you never made soup before Rill's Specialty Food Company can give you a hand. All you need to do is boil your ready to go ingredients and enjoy. Let's try St. Marie's Wild Chicken Soup (only 90 calories per servings)
All you will need:
a) 1 Fresh chicken breast or 4.5 oz of canned chicken
b) A package of: St. Marie's Wild Chicken Soup                                
Package Includes:
Rice Mixture
1 Spice Packet
1 Chicken Base Packet
Directions: In 4-quart saucepan add 8 cups water, the complete soup package and your choice of diced cooked chicken. Bring to a boil; reduce to simmer for 1 hour or until the wild rice is tender. Salt and pepper to taste.
Cooking Variations: Reduce water by 1 cup. Add 1 cup of cream, milk or evaporated milk for a creamier soup. You may also substitute pork in place of chicken. This soup is excellent with broccoli or adds summer squash 10 minutes before the wild rice is tender.
Vegetarian: Prepare without meat; discard yellow chicken base packet. Use 15 oz. vegetable broth and reduce water by 2 cups. Add any/all of your favorite vegetables.
And if you like it … Spice up your soup. Try Whole Wheat Bread Bowls recipes.
Bread bowls are delicious, plain and simple. Like many things in life though they are even better when you make them yourself. Attached is the recipe from Rills Specialty foods on how to do just that. Once prepared you can fill them up with a chili then pile cheese and chives on top or even better fill them to the brim with the St. Marie's Wild Chicken sup. Leftover bread bowls are equally good a few days later sliced, toasted and slathered with butter or jam.
Ingredients:
3 Tbsp honey or sugar
2 cups wheat flour
2 cups white unbleached flour
2 Tbsp salt
2 Tbsp instant yeast
Add ingredients to mixing bowl and mix thoroughly. Continue adding whole wheat flour until the mixture cleans the sides of the mixing bowl. Knead with a kneading hook on low for 6-8 minutes or by hand for 10. Let the dough rise for 15 minutes and add 4 cups warm water. Knock the dough down and knead the dough once or twice. Let the dough rise for another 15 minutes then knock it down and knead once or twice again.
Once you have let the dough rise twice shape the dough into rounds and place on a parchment lined cookie sheet. Slash the tops of the bowls. Let rise until doubled. Brush with eggs (optional) Bake in preheated 350° oven for 25-30 minutes.
Cut small pieces off the top of the bread bowls then use a fork to hollow out the insides. Be careful not to punch through the sides or bottom.
Makes approx. 6 bread bowls.
About Rill's Specialty Food
Rill Foods is a 2nd generation family run business located in the heart of Central Washington. It began as a rural café and grocery in 1985. Every day Ninon the founder of Rill Company made hearty soups from scratch that drew people from miles away. Finally after countless requests for her recipes she decided to put her soups in a package and Rill's Specialty Foods was born. Rill's has been selling soup mixes ever since with a commitment to preserving the made-from-scratch flavor that drew in our customers from the very beginning. To ensure the best flavor their soups have only the highest quality ingredients sourced from around the Northwest and each is individually hand packaged.
If your hungry and looking for a healthy solutions that will leave your taste buds feeling happy and belly full of healthiness visit www.rillfoods.com and find your favorite soup today.