Envision for a moment, your perfect morning. What it would look like and how you would feel. How would it be different from most of your current mornings?  Now imagine if there was a way to make that beautiful morning of your dreams, a reality. If most of your mornings looked more like that, how would it transform your days, and make your life even better?
We all dream of those idyllic mornings when the soft sunbeams dance across our bedrooms, slowly rousing us from our slumber. Birds melodically chirp in the trees outside our windows, and a light refreshing breeze sweeps through the room and cools our cheeks. We open our eyes to the morning light, stretch our rested bodies, and let our renewed energy start to surge. We are overcome with a bright and genuinely positive outlook on what remarkable things the new day ahead has in store for us.
We follow the tantalizing aroma of our morning brew to our softly lit kitchen, knowing that nothing tastes as good as that first cup of the day. Each sip fills us with joy and enhances our zest for the day to come. It is the start of a limitless new day, a new beginning. We are ready for anything.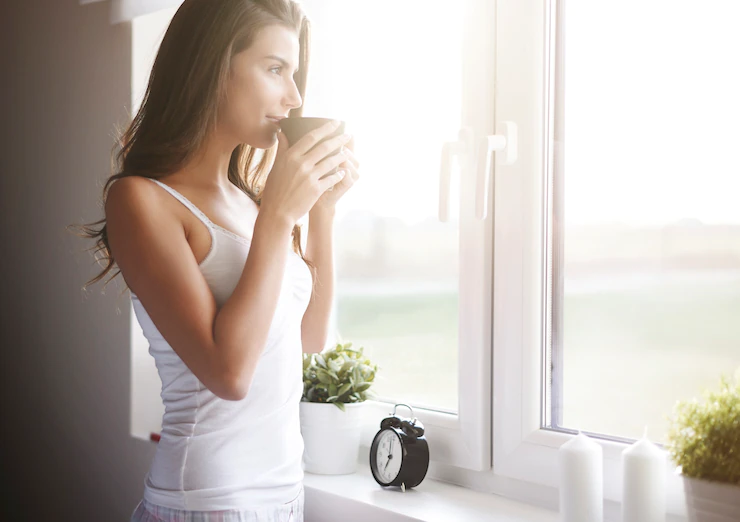 The reality – Mornings like this are few and far between, and for some of us, even unimaginable. In our real lives, we are often ripped from our mediocre sleep by screaming alarm clocks or babies. Deadlines and chaotic schedules abruptly tear us out of our beds while we are still in a half-asleep stupor.
The precious little time we had to sleep feels almost as though it did more harm than good, as we wake up in a tangle, our body bent and twisted. Everything seems to ache so much that we wonder if we may be coming down with something, only to be hit by the realization that this is just one in a string of countless mornings that we have felt this way.
We scramble to escape our bed, feeling increasingly stiff, and with one ambush of an unforeseen sneeze our neck seizes up and we cry out in pain. We resign ourselves to the reality that for the rest of our foreseeable future we will only be able to turn to the right or left by swiveling our entire upper body as if we have no neck altogether.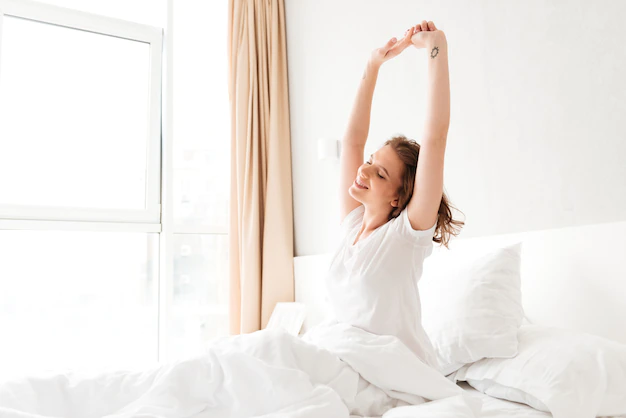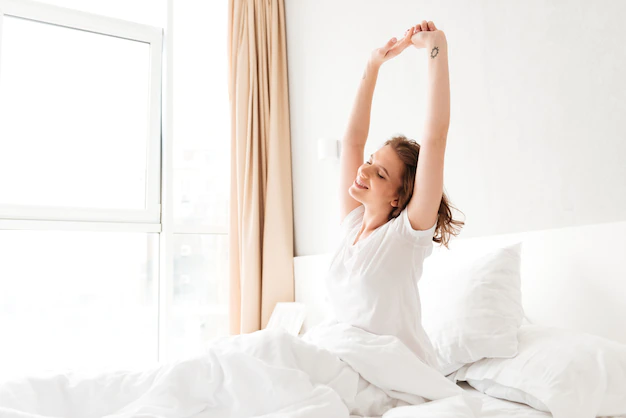 We stumble to the kitchen at warp speed and suck down a scalding cup of black coffee in record time. We can't even stop for a second to contemplate what the day has in store for us -we are just so exhausted, the very thought of this is overwhelming.
Does this sound familiar? The truth is that wild, hectic mornings, the pressures of life, and the weight of responsibilities, cannot be avoided entirely. However, the elusive secret is that there are certainly ways that we can get ourselves closer to that sweet, precious morning of our dreams, and at least get little pieces and moments of it every day.
There is a small, family-owned company in California called Honeydew Sleep that not only knows this is possible but has become absolutely devoted and dedicated to their mission of making this happen for you. For all of us.
Imagine how it would feel if you woke up every morning well-rested, full of energy, and pain-free? Getting the quality of sleep that your system so desperately needs to function (all while supporting your body in the correct positions to diminish your aches and pains) can not only change your mornings but your whole life. No matter what your day looks like, or what challenges you face, you will be more calm, more alert, and ready to tackle anything. With a Honeydew pillow, that will be your reality – every single day.
As the owners of Honeydew Sleep would say, "It is time to elevate your sleep and ignite your life. What are you waiting for? You are worth it."
The Honeydew Story – A Perfect Place to Rest your Melon
The key to restorative sleep lies in the perfect balance of comfort and support. The owners of Honeydew Sleep knew this and dedicated their careers to studying it. What began as a passion project between husband & wife Jonathan and Evita Kunke (who initially set out to create the perfect pillow for themselves) became a mission to change people's lives through the power of sleep.
They could see that there weren't any pillows on the market that provided the comfort and support that is crucial to keeping the neck and shoulders in the correct alignment, all while feeling amazing at the same time. They knew that they had the skill and expertise to do better and embarked on a journey to create the perfect pillow.
After dozens of prototypes, and countless combinations of fill materials and formulas, their hard work began to pay off. As the people closest to them began to get their hands, and heads on their pillow, which they had lovingly and accurately dubbed "Scrumptious", they started to hear what a profound difference it was making. This is when they knew they had something truly special and unique, and they had to share it.
In 2017, they founded Honeydew Sleep. When they launched, they had one pillow available for purchase. In the time since, they have expanded their product line to a total of 8 pillows, luxury sheets, and pillowcases available in both 100% silk and organic bamboo fabrics. Today, their products have been featured with rave reviews in such national publications as Allure, Vice, Popsugar, BuzzFeed, Sleep Sherpa, The Sleep Advisor, Today, Travel and Leisure, Muscle & Fitness, Life and Style, and Forbes even calls their flagship pillow "The best pillow for side and back sleepers".
The Power of Quality Sleep and The Science of Alignment
Sleep is one of the most restorative processes for the human body and has an immeasurable impact on your physical and mental health. It works to preserve and strengthen our immune system, helping prevent illnesses.  Even one night of poor sleep can leave you struggling to cope with the demands of your day, making you more anxious, irritable, and lethargic, as well as significantly impacting your mental alertness and coordination.
But how do we give ourselves the best opportunity for quality sleep? One of the most important answers to that question is proper alignment. This means keeping your body in a straight and natural position throughout the night and preventing the physical stress and strain that causes pain, and countless other health issues.
A recent study found that neck pain affects the lives of 30-50% of adults. Approximately 50%–85% do not experience complete resolution of symptoms, and some may go on to experience chronic, impairing pain. Are you one of them?
I always recommend Honeydew pillows to my patients because they are extremely comfortable and customizable. I always know I can help them get the perfect fit for a good night's sleep no matter what position they sleep in.
That quote is from Dr. Nimira Alibhoy an Upper Cervical Spine Specialist.
What Makes the Honeydew Scrumptious Side Sleeper So Special, and Why You Need One in Your Life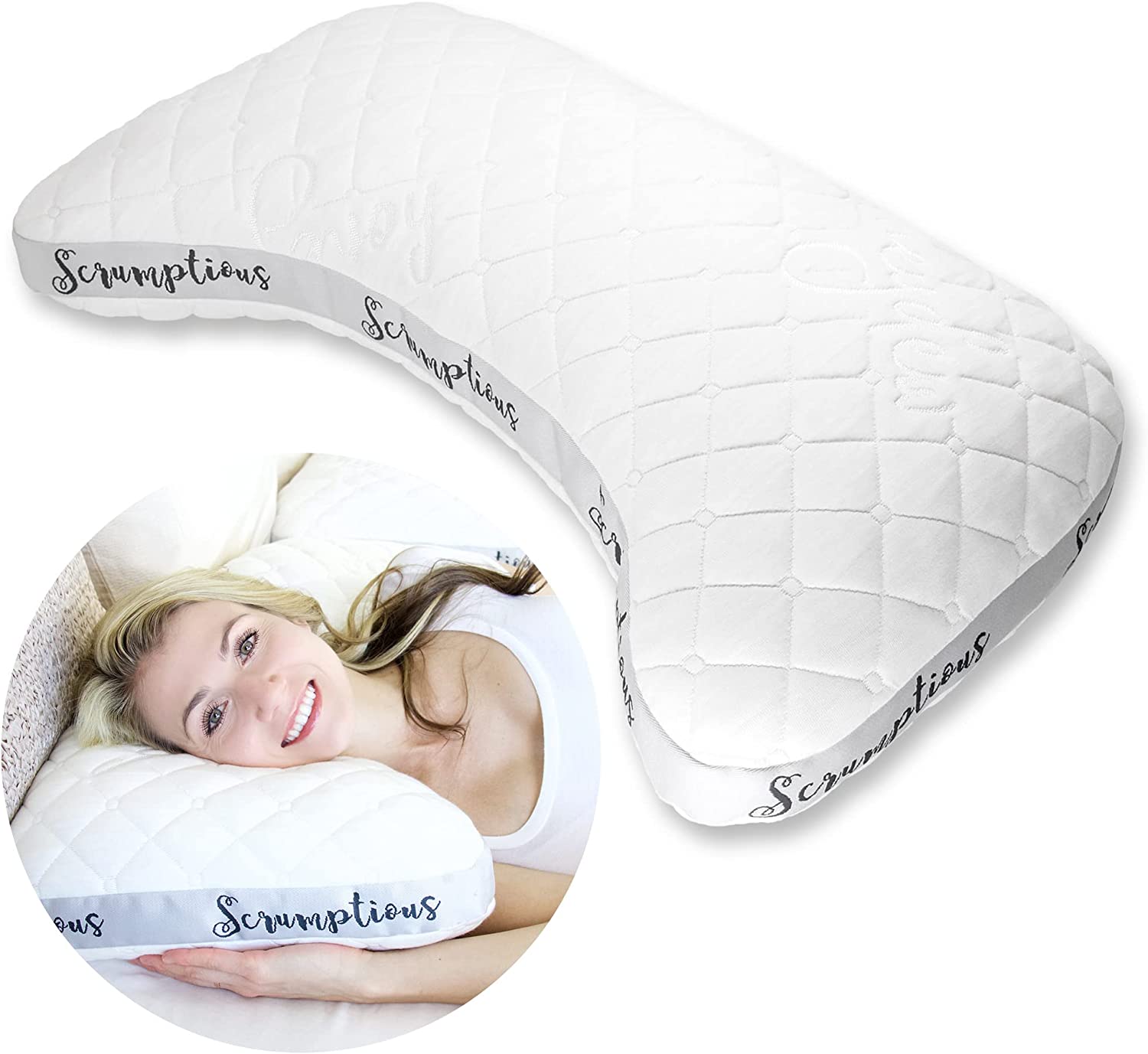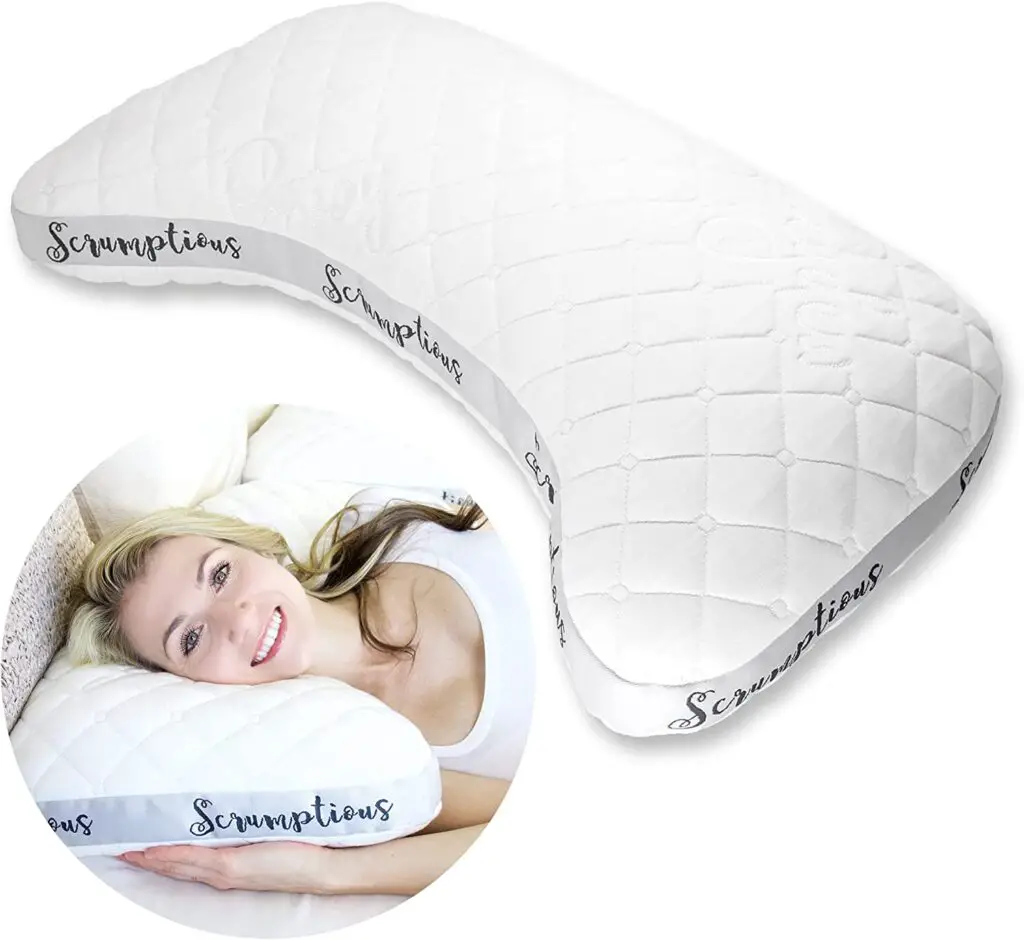 Honeydew Sleep's pillows are handcrafted with only the highest quality materials available. The Scrumptious Side Sleeper Pillow features a unique curved shape that provides superior alignment and support for a variety of sleep positions. Although initially designed as a shoulder cutout for Side Sleepers, this gentle curve cradles your shoulders, naturally keeps your neck aligned while sleeping on your back, and even has some really important benefits for stomach sleepers.
The structural support fabric running along the side of the pillow was specifically chosen for its ideal weight. It is heavy enough to prevent the pillow from collapsing on the edges, yet light enough to remain imperceptible while using the pillow. This allows the pillow to maintain a more even, flat sleep surface, preventing the typical peaks and valleys that cause uneven support while turning throughout the night. The hidden benefit to this is it increases the surface area of your pillow, giving you the feel of a larger, more spacious pillow.
Their unique proprietary fill is what gives this pillow its name. Made exclusively by them in their own factory, this is what allows their pillow to feel so special – it is incredibly soft and luxurious, yet still substantial and supportive. No other pillow in the world feels like this.
In addition, all of their pillows are fully adjustable, allowing you to dial in the precise and loft and firmness for your specific body. They know that everyone changes over time, so to ensure that your pillow is always right for you, Honeydew Pillow owners get a free fill for life.
And if for any reason, you are one of the many people out there that has a closet full of pillows that you hate, and are wary of another possible disappointment, you can take comfort in knowing that Honeydew Sleep is there by phone, email, or social media to guide you to the perfect pillow for your specific needs. They also have a 60-night sleep guarantee, free shipping, and free returns. No risks, only rewards. 
As Kristine L. (one of Honeydew's many happy customers) says, "AMAZING!! After sleeping on this pillow for a few nights, my neck pain is GONE!!!!! Thank You!!!!"
A small investment in your health can lead to monumental changes in your happiness, energy levels, and overall quality of life. Honeydew Sleep products were all created with the company's ultimate mission in mind: to change the world through better sleep. They work tirelessly to help you experience your life at your best – rediscover your most vibrant, your most energetic, your most joyful self. You deserve it.
Honeydew Sleep, bringing us all closer to the perfect day, one morning at a time!  
* In partnership with our friends at Honeydew Sleep® * Photo courtesy of  Honeydew Sleep
* These statements have not been evaluated by the Food and Drug Administration. These products are not intended to diagnose, treat, cure or prevent any disease.
* The information available on ewellnessmag.com, including text, graphics, and other materials is for informational purposes only. Reliance on any information on ewellnessmag.com is at the user's own risk. Sponsored product placement may appear in the article. The visitor of this website acknowledges that the information available on or through ewellnessmag.com is not and is not intended to be a substitute for professional medical advice. Copyright © 2022 Brawo Press, Inc. All rights reserved.