Great skincare is not something to buy into to look good for a particular occasion. Great skincare is an investment in your health and beauty all year round. In particular, during winter, your skin may be prone to drying out and looking dull but the best way to prevent this is simply- investing in your skin!

Secrets of Great Skin Care
Are there any secrets to lovely looking skin? Yes, there are plenty! Perhaps they are not secrets as such, but some research into what's good for you will always uncover something you may not have been aware of.
The important thing is to show interest and some TLC toward your skin. Just as you would input your energy into exercise and eating well, the same should be done for your skin and external appearance.
Here are some tips to help you toward better-looking skin!
Moisturize
Keeping moisture locked into your skin is vital- even more so during winter. You don't need a bag full of products that promise beautifully moisturized skin- just one or two products that you can count on to do the job! If anything, using too many products on your skin can have a detrimental effect- especially if they are chemical-based. Go natural and keep it simple. Skin loves simplicity!
Clear the day
At the end of your day, take some time to cleanse your skin. Cleansing before you moisturize leaves your skin in the best condition to absorb the nutrients from what you are using on your skin so that it feels nurtured and nourished. Again, this works best when you utilize nature for your skin- a simple switch from a chemically enhanced product to a natural one can be all the change you need for healthier-looking skin.
Sleep
Sleep rejuvenates the skin and your body. Without enough sleep, your skin will age far quicker and wrinkles and dark circles will be more prevalent. Cortisol levels are raised when you don't rest adequately, and this directly impacts collagen production. Collagen is the most abundant source of protein in your body. Collagen makes up almost 80% of your skin if your collagen levels are low or impacted through a limited/unhealthy diet and lack of sleep then this will show! When you sleep well (approx 7-9 hours), your body produces hormones that improve collagen production.
Antioxidants
Natural products that are high in antioxidants such as Vitamin C and E can aid in the overnight skin repair that occurs during sleep. Having a strong night-time skincare routine allows for all the goodness from the serums or creams you are using to absorb into your skin.
It's important to use natural and organic ingredients on your skin. Your skin can absorb up to 80% of what you put on it and so maintaining healthy skin is essential to feel good, looking healthy and will also contribute to your overall well being and happiness. Cutis Sanus is in the business of great, natural skincare and can help you toward a healthier you!
Meet Cutis Sanus
Cutis Sanus is based in Vancouver, British Columbia, Canada. Cutis Sanus provides Skin Care Products using 100% Natural & Organic High Quality Ingredients. Their high-quality skincare range is available internationally through their website and Amazon.
"All ingredients used in our products will help treat, protect, and nourish your skin. We do not add water to our products, like water and air work to oxidize any vitamin extracts that may be added to products. We only use ingredients that are rich in natural vitamins, to ensure stability and the effectiveness of these vitamins on your skin"- Cutis Sanus
Here's a peek at two of their products, they are both wholly natural and organic.
100% Organic Vitamin C Serum Face Oil
This Serum is 100% Organic and 100% Natural. Cutis Sanus use a 100% Organic mix of Natural Ingredients that are rich with Vitamin C to help with uneven skin tone, improve fine lines and wrinkles, and increase the skin natural collagen production to give you a much firmer and elastic skin. It is a very specific Anti-Aging Serum that will greatly benefit your skin. Here's why!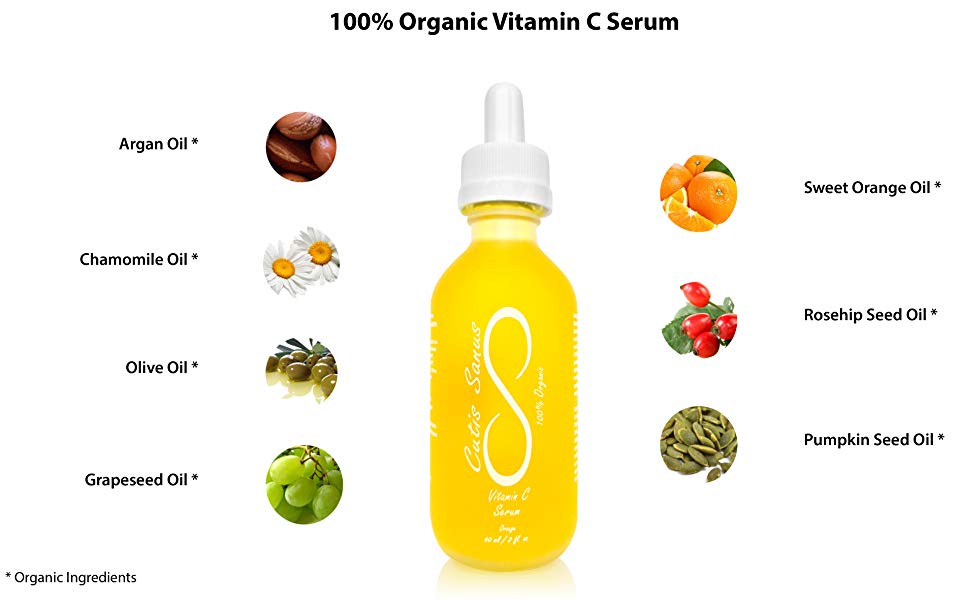 Vitamin C in this serum is still in its natural form which keeps it at its most stable. While most other products use powdered vitamin C mixed with water, our use of natural ingredients allows vitamin C to remain stable and effective when applied to the skin. When extracted into a powder, Vitamin C oxidizes very quickly when exposed to air and water. So, keeping it intact in its natural form makes it more stable and most effective for applying to the skin.
Cutis Sanus use 100% Organic Oils that are high in Vitamin C  
Their serum to maximize the number of natural vitamins and nutrients
It deeply penetrate and fully nourish your skin…Just as a true serum should!
Vitamin C Serum can be used every night, in small amounts, to get the very best for your skin. Your skin will be nourished while you sleep, and you will awaken with smooth, fresh, and plump skin the next morning.
100% Organic Anti Aging Serum and Moisturizer
Cutis Sanus' Organic Anti Aging Serum Moisturizer will deter excessive aging, improve the skin's elasticity, and improve the look of existing wrinkles and fine lines.
It is rich in Anti-oxidants and will nourish the skin as well as help prevent further deterioration of the skin (such as sunspots, and dark circles). Being high in Essential Fatty Acids, this serum will help improve your skin's elasticity and greatly increase your skin's collagen levels to improve the look of fine lines and existing wrinkles, as well as regulate the skins natural pH levels. This Organic Anti Aging Serum is the total package, and is a great addition to anyone's organic skincare regimen- regardless of age!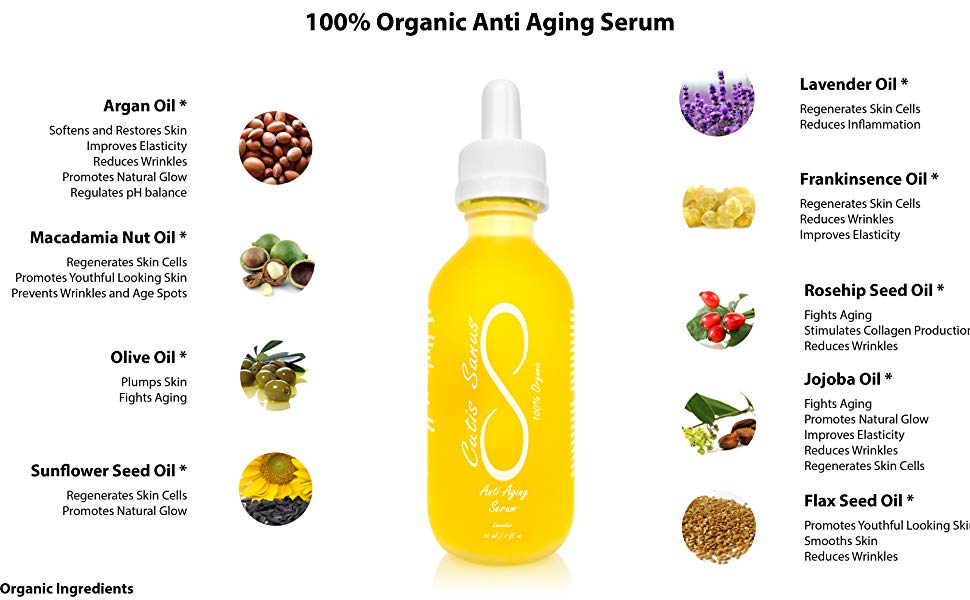 Here's a glance at what this serum contains:
Vitamin A encourages healthy skin cell production
Vitamin B which helps retain moisture for smoother-looking skin
Vitamin C, a potent antioxidant that neutralizes free radicals and helps produce collagen to firm up your skin
Vitamin E fights free radicals to keep your skin youthful-looking and free of lines and wrinkles
Antioxidants which limits the production of free radicals that can damage the skin
Squalane, this is a potent antioxidant and it helps create a barrier to protect the skin
Alpha Linoleic Acid which benefits the skins ability to heal, hydrate, and plump
Palmitoleic Acid which assists in Skin Cell Rejuvenation and helps heals skin
Essential Fatty Acids, these are the building blocks of healthy cell membranes which are critical in hydrating, plumping, and keeping skin looking youthful 
Cutis Sanus' multi-source Organic Anti Aging Serum offers greater diversity and nutritional impact than any single source. The combination allows you to maximize the nourishment of Vitamins and Anti-Oxidants you're feeding your skin.
"Our products have no added chemicals, pharmaceuticals, emulsifiers, preservatives, fillers, or any other products that can irritate or damage your skin. We believe in full transparency of our ingredients, including using ethical source providers of natural ingredients. Our goal is to offer high-quality natural products that will benefit your skin"- Cutis Sanus
* In partnership with our friends at Cutis Sanus * Photo courtesy of Cutis Sanus
* The information available on ewellnessmag.com, including text, graphics, and other materials are for informational purposes only. Reliance on any information in ewellnessmag.com is at the user's own risk. Sponsored product placement may appear in the article. The visitor of this website acknowledges that the information available on or through ewellnessmag.com is not and is not intended to be a substitute for professional medical advice. Copyright © 2019 Brawo Press, Inc. All rights reserved.