Introducing the revolutionary skincare duo from Ayelet® Naturals. Opulence Superfruit Cream with Engelhardita Chrysolepis, the power of nature's best, and Denude Cleansing Balm with Vitamin C, a harmonious blend of science and luxury. Embark on a transformative journey of radiant skin with these two potent products, carefully crafted to elevate your skincare routine to unprecedented heights. Enriched with the rare and precious Engelhardita Chrysolepis extract, and Superfruit, Opulence Cream harnesses the essence of nature's finest while the Cleansing Balm infused with vitamin C brings a refreshing burst of nourishment. Discover the art of skincare with this dynamic duo as we embrace the wonders of nature and cutting-edge technology designed to unleash your skin's true potential. Reveal a luminous, revitalized complexion that radiates beauty within.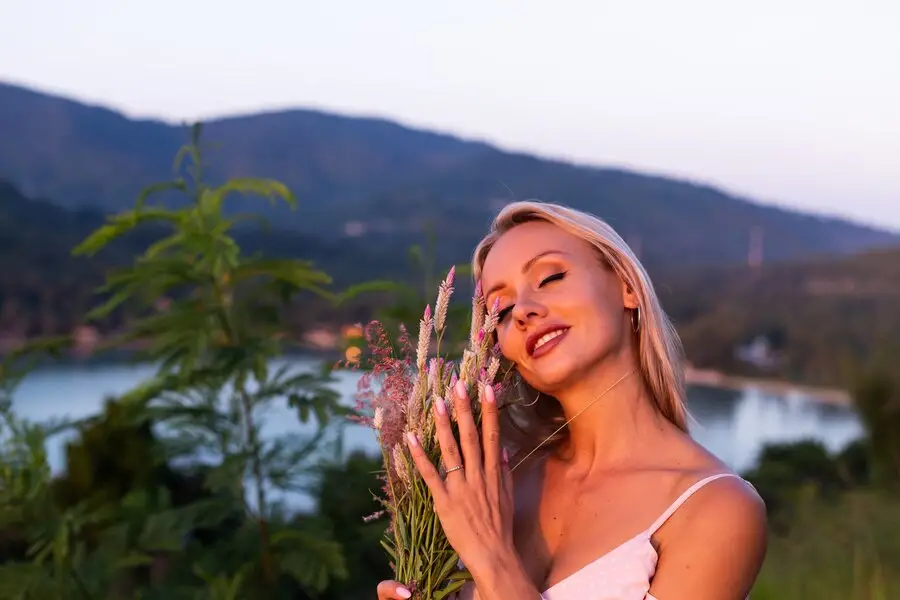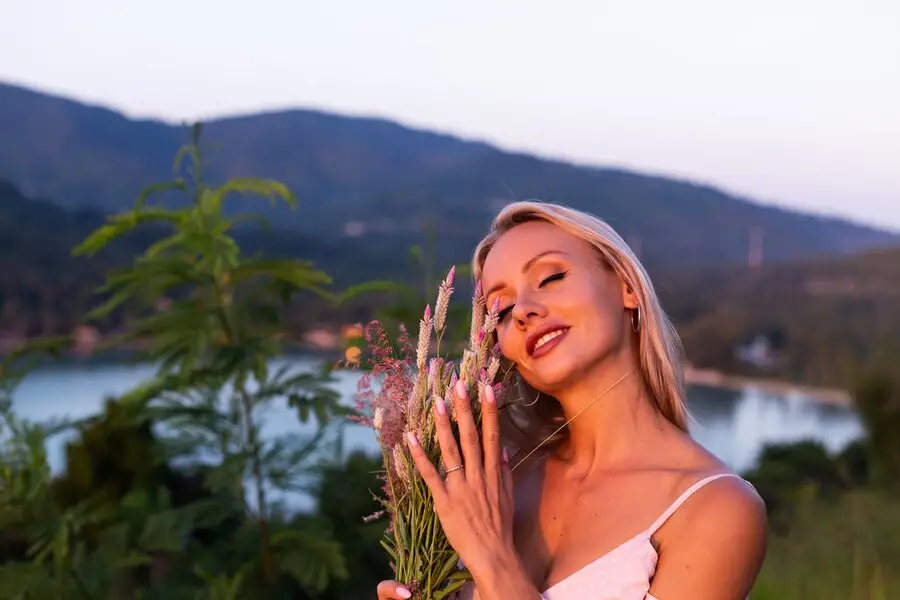 Ayelet® Naturals
The founder of Ayelet® Naturals suffered from serious skin conditions and a serious skin disorder due to a compromised immune system. Traditional treatments didn't agree with her skin. She felt the need to develop green, clean, gentle skin and body products that are effective, immune-boosting, and had noticeable results.  
With a holistic approach and an emphasis on high-performance, non-toxic, certified organic products, Ayelet® Naturals skincare has achieved successful results.
By donating to One Tree, Ayelet® plants a tree with every order, either in a necessary region in the US or the world. As part of Ayelet's efforts to reduce the ecological imprint and have a positive influence, they use glass bottles with aluminum closures as a packaging solution. The company constantly strives to find more sustainable packaging solutions.
Ayelet® is a certified formulator in Advanced Organic Cosmetic Science.
Ayelet® is proud of each of the several award-winning Ayelet® skin care products within their range.
Opulence Superfruits Cream
Natural humectants in Opulence Superfruits Cream help the skin maintain moisture and offer comprehensive beauty advantages. A Mega-Doze of important phytonutrients, essential fatty acids, antioxidants, vitamins, and minerals are present to increase collagen formation. Opulence Superfruits Cream firms, lightens skin discoloration, and revives the complexion for radiant results.
Key Ingredients 
Engelhardita Chrysolepis Leaf Extract
Engelhardita Chrysolepis Leaf Extract is a botanical ingredient derived from the leaves of the Engelhardita Chrysolepis plant, known for its numerous skincare benefits. This extract, revered in the cosmetic industry, has a rich concentration of bioactive compounds, such as antioxidants, flavonoids, and tannins, which are crucial in promoting skin health. These potent components help neutralize harmful free radicals, reducing oxidative stress and protecting the skin from premature aging and environmental damage. Moreover, Engelhardita Chrysolepis Leaf Extract has soothing and anti-inflammatory properties, making it an excellent choice for calming irritated or sensitive skin. When incorporated into skincare products, this natural extract enhances hydration, restores the skin's natural radiance, and supports overall skin vitality, making it a valuable addition to any skincare regime.
 We use a natural, organic, and bioavailable form of sulfur that is GRAS-designated, vegan, non-GMO, and gluten-free. Sulfur is one of the minerals vital to the life of skin cells and is also necessary for collagen creation and elastin, the key structural proteins that hold the skin together.
Dipalmitoyl Hydroxyproline
Based on a collagen amino acid sourced from plants, this product targets skin firmness and wrinkles while preserving the integrity of the skin barrier.
Rosehip Seed Oil delays the onset of early aging symptoms, evens skin tone, reduces the appearance of fine wrinkles, and enhances scar color and texture. Beta-carotene and lycopene, two antioxidants that can withstand environmental stresses, are abundant in rosehip oil.
Panthenol boosts the skin barrier, which helps moisturize and rejuvenate the skin while adding essential moisture. This allows the skin to create hydrate itself from within. It slows natural water loss over time and lowers the risk of dehydration and skin dryness from evaporation.
The vitamin-rich Watermelon Fruit Extract increases your hydration. Collagen and elastin are encouraged to grow by vitamin A, and vitamin C brightens skin. 
The product is ideal for combination skin that is typically dry, dehydrated, dull, lifeless, mature, and sun damaged.
How To Use Opulence Superfruits Cream
After cleansing and toning your skin, use a towel to pat it dry. 
Apply dabs of cream to your forehead, cheeks, chin, and neck. You should then gently glide the cream over the skin in a circular motion, working your way inward from the edges of your face. Ensure it absorbs completely into your skin and doesn't leave any residue. 
Safety First
It is advisable to study the ingredient labels to avoid known sensitivities. Applying new items to a discrete region, such as the inner side of your arm, and waiting 24 hours to see if any irritation develops is also advised.
Products from Ayelet® Naturals are not intended to substitute expert medical diagnoses or treatments or to treat any disease or medical condition. If you have any persistent medical ailments or concerns, please consult a medical expert. If these items or others cause you an allergy or itch, stop using them.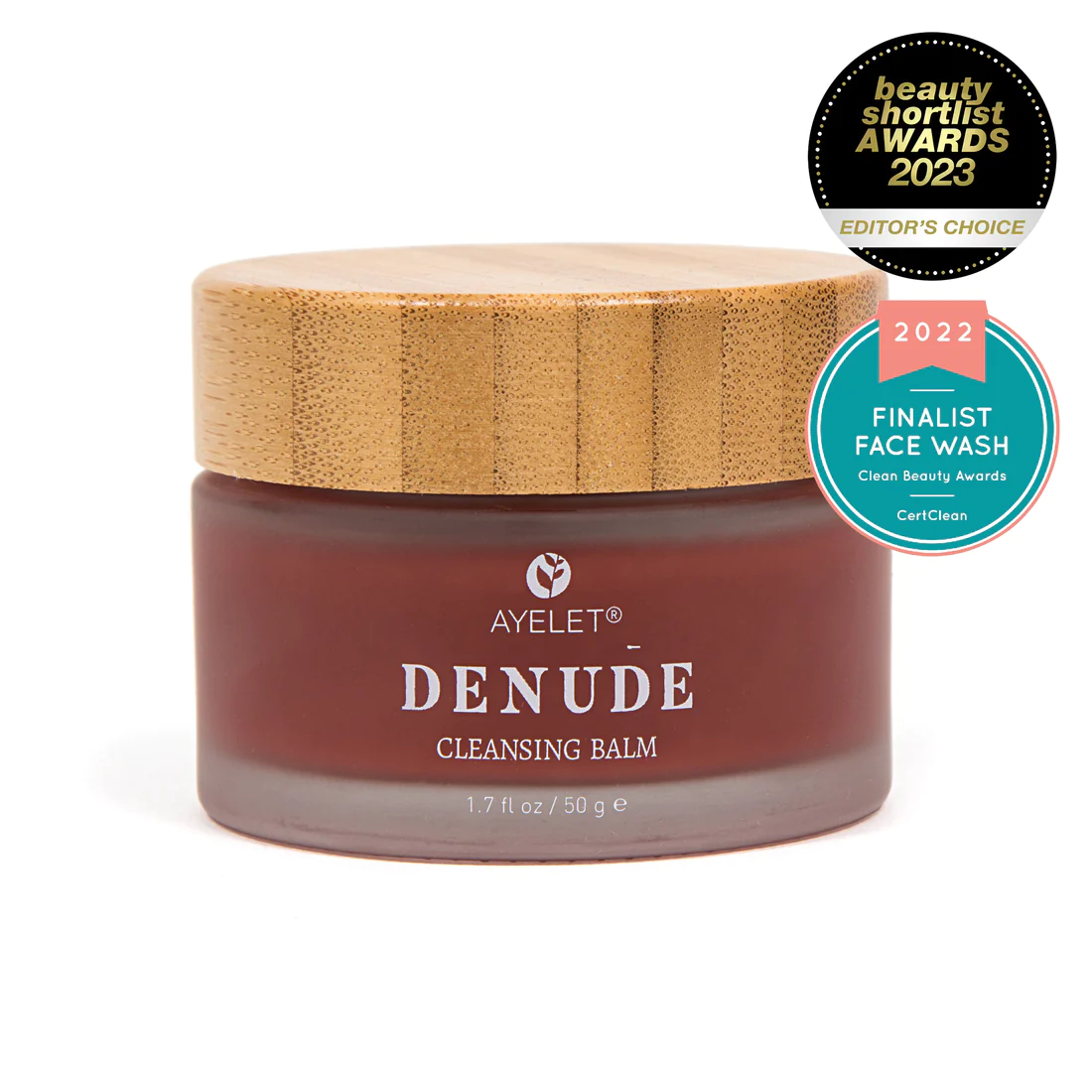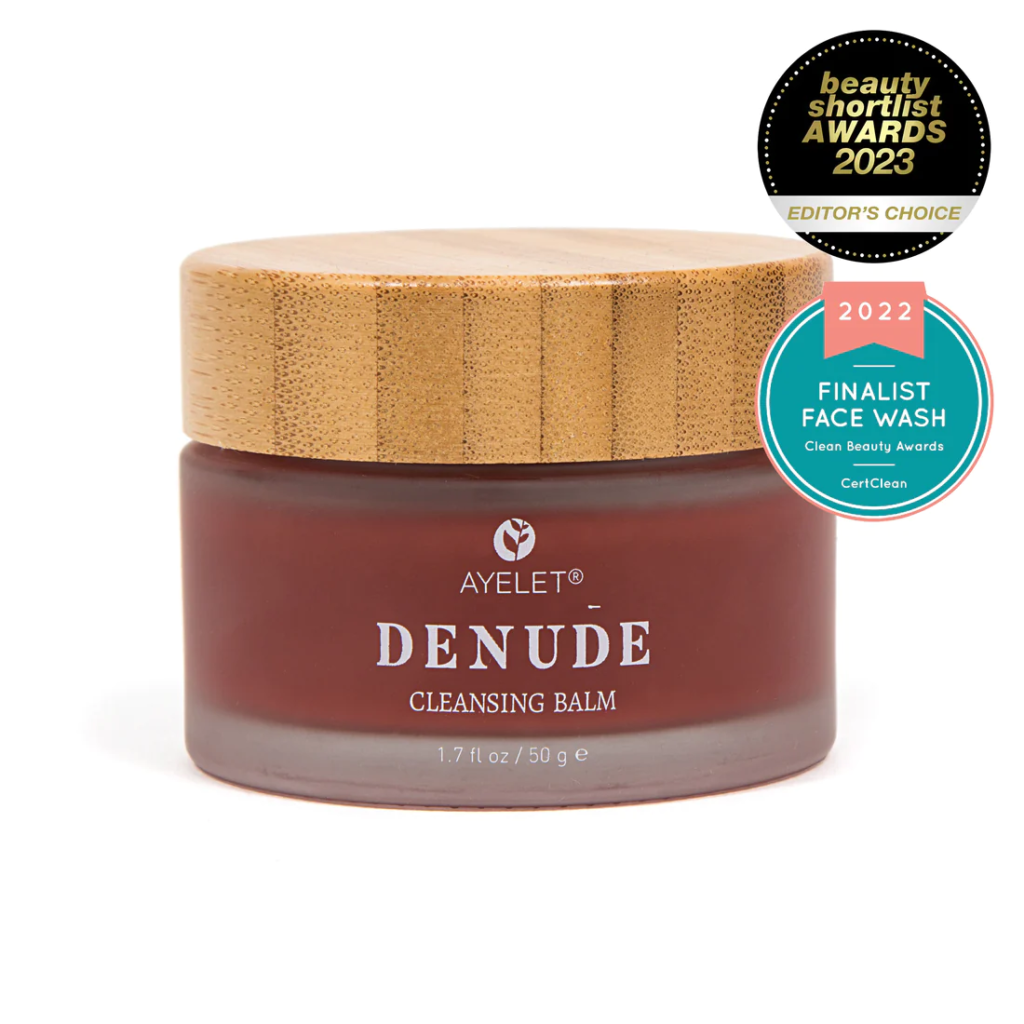 Denude Cleansing Balm
Bestseller Denude Cleansing Balm contains Vitamin C and is made with oils, precious butter, and antioxidants. Without damaging the skin, it dissolves and removes tenacious waterproof mascara, heavy makeup, and sunscreen. 
For a morning light cleansing that will leave your face soft and luminous, Denude is fantastic. Denude Cleansing Balm is the ideal daily cleanser that won't dry out your skin. Additionally, it safeguards the skin's built-in moisture barrier and improves texture with each usage.
Denude also works well as a mask and deep cleanser. Leave it on for approximately 10 minutes in the shower to steam, absorb vitamins and nutrients, and melt and dissolve grime.
A luxurious, emulsifying deep cleanser that can cleanse, nourish, and soothe the skin because of the synergistic combination of antioxidants, fruit, flower, and exotic butter. To reveal a dewy, bright face, gently and smoothly melt makeup and pollution-related grime away.
The most crucial and initial stage in a beauty process is cleansing. The concentrated cleanser with a satiny smooth texture dissolves into a cleansing milk when it encounters the skin. The product is water-free.
The product is ideal for dry, combination, mature, oily, dehydrated, oily, mature, and sensitive skin types.
No cloth or hot towel is needed; this cleanser emulsifies and rinses clean with water. It eliminates pollutants, dirt, and pollution. Decongest pores, boost blood flow, and balance the oils in your skin without causing any irritation. Gently exfoliate, soften, and brighten the skin.
Ingredients
Fatty Acids and Polyphenols
High levels of fatty acids and polyphenols in Denude Cleansing Balm fight free radicals in the tissues and protect the body from them, preserving skin suppleness.
Camelia Seed Oil is a superb emollient with outstanding antioxidant properties. It is rich in oleic, linoleic, squalene, vitamin E, vitamin A, and polyphenols. The oil immediately absorbs into the skin without leaving a greasy feeling and aids in removing makeup and grime. This oil can efficiently restore moisture to the skin.
Murumuru Butter is very nutritious, doesn't make the skin feel oily, and can reach the deeper layers of the skin. Oleic acid, pro-vitamin A, and essential fatty acids (Omega-6 and Omega-3) make up the distinctive composition.
Tetrahexyldecyl Ascorbate (Vitamin C)
An oil-soluble vitamin C ester or THD ascorbate is remarkably stable in comparison to its more familiar vitamin C cousin, L-Ascorbic Acid. Tetrahexyldecyl has a remarkable capacity for skin penetration. Tetrahexyldecyl ascorbate is a favorite within the skincare range because it is gentle yet effective, making it suitable for most skin types, including sensitive skin. Ascorbic Acid Tetrahexyldecyl encourages the development of a glowing, more even skin tone. A winning form of vitamin C.
Elderberry fruit extract is a potent, multipurpose anti-bacterial that works particularly well against fungus-causing germs. Vitamins A, C, and E are abundant in elderberry fruit extract.
Willow Bark Extract calms and firms the skin.
How To Use Denude Cleansing Balm
With your fingertips, scoop a dime-sized amount of cleanser onto dry skin and lightly exfoliate while massaging the cleanser into the skin and neck in a circular motion upward and outward. Take some time to unwind and breathe in the aromas. To emulsify the cleanser, wet your fingertips and add water as needed. Massage the skin while rinsing with warm water. Your skin is now ready for the following phase of your beauty routine. Prevent contamination by scooping the cleanser from the jar with dry hands or a clean cosmetic spoon.
Cleansing Tip of the Day
Apply this to your face just before getting into the shower, give it a good massage, and then step into the water while trying to keep your face dry until you finish. The skin will get softer from the steam, which will also aid in washing. While in the shower, savor the aromas. Rinse your face thoroughly.
Safety Measures
To avoid any known sensitivities, you are advised to carefully read the ingredients labels. Applying any new items to a discrete region, such as the inner side of your arm, and waiting 24 hours to see if any irritation develops is advisable.
Ayelet® Natural products are not intended to be a substitute for expert medical diagnoses or treatments or to treat any disease or medical condition. If you have any persistent medical ailments or concerns, please consult a medical expert. If these items or any others cause you an allergy or itch, stop using them.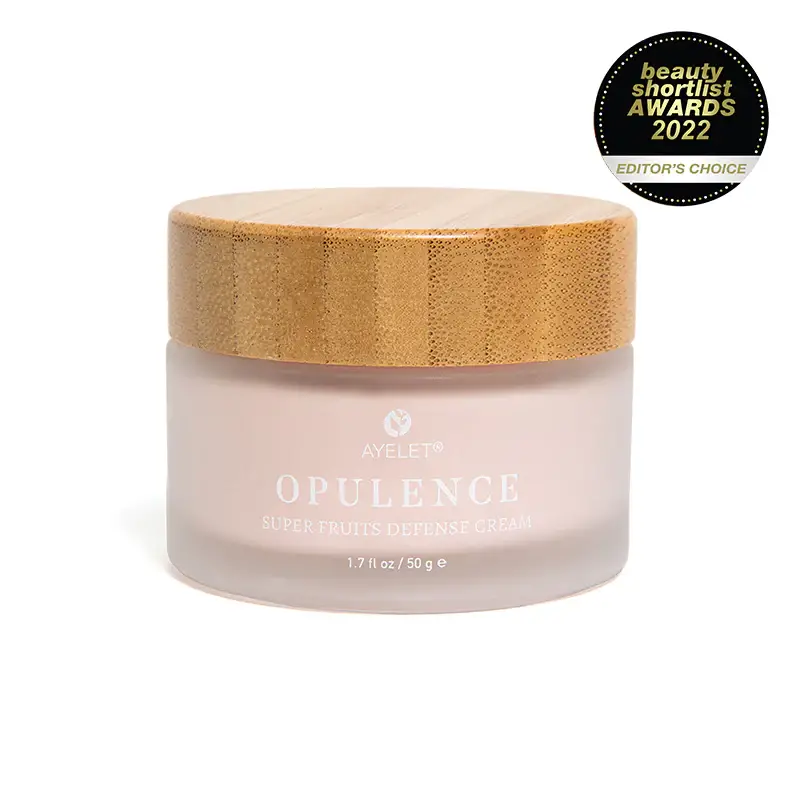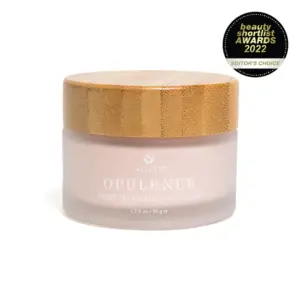 Opulence Cream with its powerful combination of Superfruits and Engelhardita Chrysolepis extract offers a luxurious and effective solution for radiant and youthful skin. Embrace the transformative benefits of nature's finest ingredients and experience a rejuvenating skincare experience like never before. Unlock your skin's true potential and indulge in the opulence of this unique formula. Don't wait any longer, pamper your skin with Opulence Cream and embark on a journey towards a more luminous and age-defying complexion. Bring the quality of your skincare regimen to a new level. Try Opulence Cream today and witness the remarkable results for yourself. Your skin deserves nothing but the best, and with Opulence Cream, you can attain the radiant glow you have always desired. Embrace the beauty of nature and experience the difference with Opulence Cream. Your path to timeless elegance and captivating allure awaits.
Denude Cleansing Balm is not just an ordinary skincare product, it is a transformative experience that nurtures your skin and elevates your self-care routine to new heights. With its innovative formula and luxurious texture, it effortlessly dissolves impurities, leaving your skin refreshed, nourished, and radiant. Take the first steps towards healthier, more luminous skin today and indulge in the ultimate cleansing balm experience. Embrace the power of pure ingredients and the joy of a rejuvenating ritual. Treat yourself to the luxurious touch of the Denude Cleansing Balm and unlock the true potential of your skin. Trust Ayelet® Naturals with your skincare products. Embark on your journey to beautiful skin now.