April is a fit woman obsessed with staying healthy. She is constantly reading up on the latest supplements, products, and research. With two children to care for, she knows it will get harder to keep up with them as they grow.
As they age, so does she. However, over the next decade, she will be in her forties, and they will enter the prime of their life. They will be full of energy and passion. And she wants to meet that energy with her own.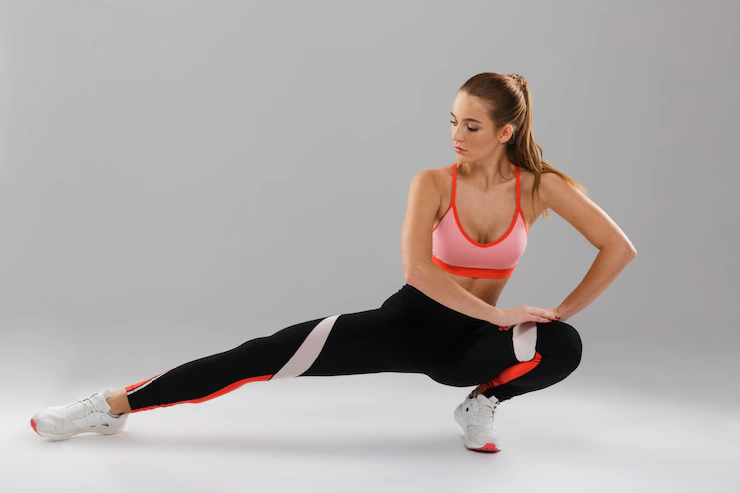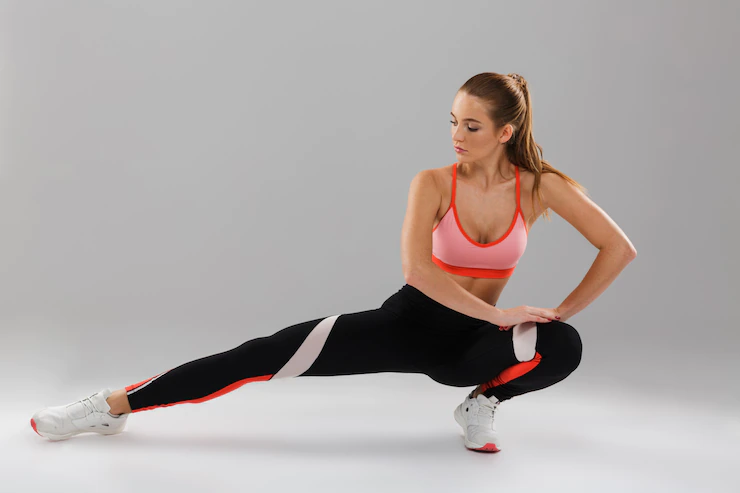 So, April stays up on what is working and what science says she needs. She is a member of several online communities where liked minded individuals share what they are doing and how their progress is going.
April starts every day the same. She wakes up two hours before she must wake her children. She stretches and then performs her yoga routine to clear her mind and warm up. Then she is off, walking/jogging three to four miles.
She understands that the key to mobility, as we age, is to stay mobile. After her outing, she returns home and performs some simple strength-building exercises. This includes dumbbells and resistance bands. April is not interested in having large flexing muscles. She wants to maintain her strength and keep a healthy weight.
Lately, April has encountered some problems. She has found that her joints are stiff, even sore, at certain times. She uses the same weight in her routine and has always walked or jogged about the same amount.
She also has found herself unable to recover as quickly after her workouts. She doesn't feel as full of zest, and her muscle stay aching for longer.
This is confusing to her. She follows a strict diet, drinks very little alcohol, and with such a great morning workout, she feels she should have no problems.
However, she has not considered that aging takes a toll on everyone. And as we age, a specific protein within our body begins to decline. If it's not replaced or supplemented, the problems she is experiencing can happen to anyone.
With the new year rapidly approaching, April is ready to fix this problem once and for all. She digs into her research and learns about the importance of collagen and protein.
Collagen – a critical element for mobility.
Think of collagen as the glue that holds your body together.
This naturally occurring protein in your body plays a vital role in your skin, bones, and connective tissue health. It keeps your joints strong and makes your skin elastic.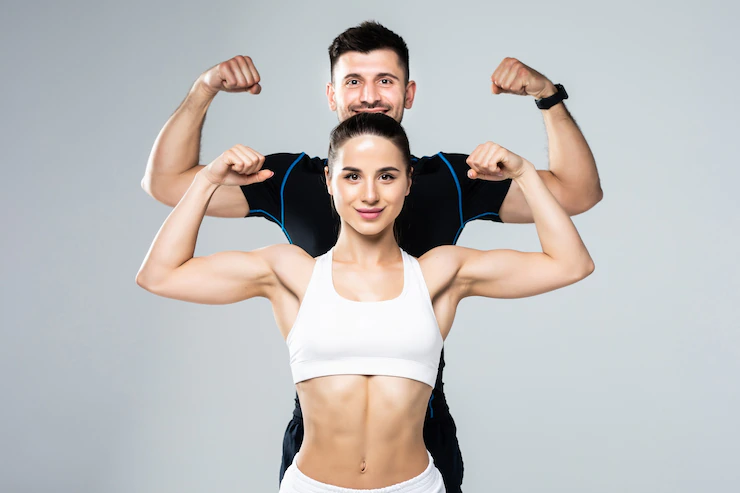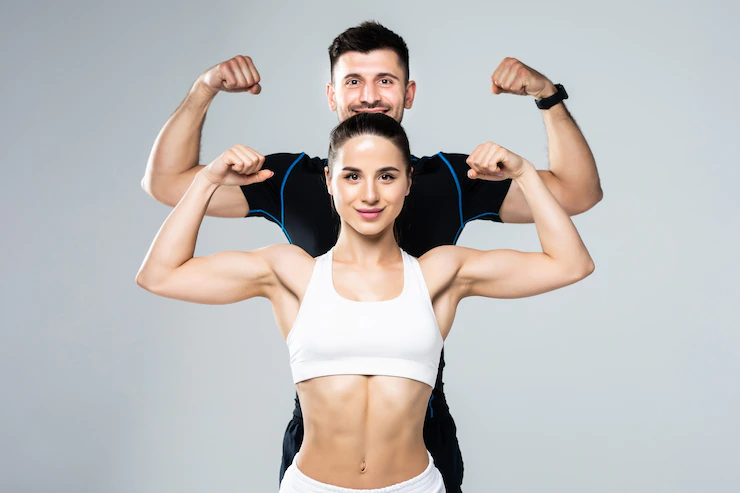 Starting in your 20s, you begin to lose collagen. By the time you are in your 40s, you will likely lose about 1% of your collagen a year. This loss can lead to wrinkles on your skin, stiff joints, worn-out cartilage, and decreased muscle mass.
All is not lost, however. You can replace your lost collagen and reap the rewards of supplementing your diet. Here are a few research-backed benefits of collagen supplements.
Maintain skin elasticity: Our skin gets duller and more wrinkled as we age. Studies have shown that collagen peptides may slow the signs of aging by keeping the skin hydrated – this helps prevent wrinkles.
Strengthen your bones and muscles: Your bones are made primarily of collagen. So, as can be expected, as your body's collagen production declines, your bones begin to weaken. This makes your bones more susceptible to fracture. Studies have shown that taking collagen may help treat and prevent osteoporosis. Also, collagen makes up about 10% of your muscle, and taking collagen may help limit muscle loss as we age.
Eases joint pain: If you have experienced anything like what April is going through, consider adding more collagen to your diet. Collagen keeps your joints stretchy, so as we age, the possibility of joint pain and aches, along with issues like osteoarthritis, can become a real issue. Studies show that collagen significantly reduces joint pain among athletes, the elderly, and those with degenerative joint diseases.
Muscle strengthening: A study recently published showed that an exercise regimen combined with collagen supplements produced more significant strength improvements than exercise alone.
Now that you know collagen's many benefits, where is this vital nutrient's best source in our daily lives? Can you eat more of a specific type of food and get what you need?
Collagen in your food.
The highest source of collagen in your diet comes from animals. Here are the top three things to eat that will naturally boost your collagen levels.
Fish: Fish is an excellent source of collagen, but you must leave the skin on. Most of the collagen found in fish is stored within the skin.
Bone broth: Bone broth is made by simmering animal bones and connective tissue for a long time. The collagen within the bones and skin is extracted through simmering and placed in the broth. The most common bone broth is made with poultry and beef.
Chicken: If you have ever prepared a whole chicken, you know there is much connective tissue in the meat. This makes chicken an excellent option for adding collagen to your diet. Although not a standard meal worldwide, chicken feet are particularly loaded with collagen.
Fruits and vegetables: These foods do not contain collagen. However, they are high in vitamin C, stimulating the body's collagen production. Citrus, blueberries, papaya, and green leafy vegetables are all great sources of vitamin C.
There are your food sources of collagen. Don't worry. If none of those sound appealing to add to your diet, there are some great supplement options out there. But what about your protein levels? Protein is, of course, essential to nearly every process within the body.
Here is what happens as we get older.
Protein loss and age.
Every day our body works to repair and replace protein within our tissues and organs. As we get older, this protein-building process becomes less efficient.
So, as we engage in physical activity and use the protein stored within our bodies, it becomes much more difficult to replace. Thus, once we reach our 40s, we lose about 1% of our muscle mass yearly without regular exercise and the proper amount of protein. A lack of protein in your diet while exercising also makes it very difficult for your muscles to repair themselves after exertion.
The amount of lean muscle you have also impacts your metabolism. According to experts, every time you build strength, you lose weight. Building skeletal muscle increases your resting metabolism, and you can't build lean muscle without enough protein.
So, how much protein should a person consume in a day?
There is a simple formula for figuring out how much protein you need to meet your minimum daily requirements. Multiply your weight in pounds by 0.36. For example, a 140-pound woman who is not active needs 53 grams of protein daily.
Remember, this is for someone not actively working out, and this protein only meets the minimum she needs. That is, the minimum amount to keep from getting sick. If you exercise regularly, you will need more protein than that to offset the protein and amino acids you will burn through.
If you are active, you should consume 1 to 1.6 grams of protein per kilogram of body weight. If you are incredibly active, you should aim for the higher end of 1.6 grams.
So, in the example above, the weight is 63 kilograms. On the lower end of physical activity, this person will need 63 grams of protein a day; if she were highly active, she should be consuming 100 grams a day.
That's a lot of protein when considering the amount found in these food sources.
One cup of cottage cheese has 28 grams of protein.
One cup of whole milk has 6.3 grams.
Lean beef has an enormous amount of protein, providing about .3 grams for every gram of beef.
A chicken breast contains 58 grams of protein.
One large egg provides 6 grams of protein.
There are 11 grams of protein in one cup of oats.
Six ounces of Greek yogurt have 17 grams of protein.
Staying active and keeping yourself healthy can be a bit of work. There is no doubt that if you are actively working out, it would be hard to eat enough protein to meet your needs.
It can be done, but how many meal breaks can you take in a day? And how many chicken breasts can you consume before you are tired of them?
If you want to increase your mobility, lessen your aches and pains, and build and maintain lean muscle mass, consider using a high-quality supplement.
Fantastic Nutrition INC. is a company that offers carefully crafted supplements with strict attention to detail and safety. Their focus is to create innovative, clean, and all-natural products that help meet your fitness and wellness goals.
All their products are non-GMO, gluten-free, soy-free, and manufactured according to Good Manufacturing Practices. Each of their fine products is independently tested by third parties for purity and potency.
With that in mind, here are some great choices for supplementing your diet and promoting stronger joints, less pain, healthier skin and hair, and lean, strong muscles.
Collagen Fantastic!
Boost your collagen levels, ease the pain of achy joints, hydrate your skin and hair, and fight the effects of aging.
These bioactive collagen peptides are sourced from New Zealand grass-fed, pasture-raised, and finished cows. This ensures you only get the cleanest and top-quality collagen.
This powder mixes easily in water, coffee, and tea – hot or cold liquids – it doesn't matter. You can also use it in baked goods. This is an easy way to add collagen to a variety of foods.
It's a Keto and Paleo-friendly way to get your amino acids, peptides and proteins.
This is a top-notch product; here are a few of the many fantastic reviews.
Helps smooth wrinkles – I started using this because I heard collagen may smooth wrinkle and fine lines. I have been using this for about a month and can see a difference. My daughter noticed the improvement and now she is using it too! Loveit!   Roberta Michaels
Love this stuff – Completely flavorless, mixes well in coffee and smoothies – even snuck some into our toddlers bottle! Definitely a staple in the house from now on.   P.A. Segal
Drink it, bake it, or add it to your coffee. Put this flavorless powder into nearly anything to boost your body's supply of collagen peptides.
And if you find it hard to get the protein your body needs every day, consider this fantastic product.
Whey Fantastic!
100% Certified grass-fed whey protein.
72 servings per container – with 25 grams of protein per serving.
This powder is available in unflavored, chocolate, strawberry, or vanilla.
Whey Fantastic has one of the best blends of whey protein isolate, concentrate, and hydrolysate powders. This makes it ideal for those wanting to build and maintain lean muscle.
This powder has no added sugars, artificial sweeteners, or colors. No rBGH or rBST.
It mixes easily into any liquid.
Andrew Oliver had this to say about Whey Fantastic!
Great protein – Used this protein for over two years now super good no complaints.
And Bill Bohr added:
Awesome product – I'm 55 and I never felt so good. Awesome protein powder my opinion the best out there. Thank you
That are just two of the many five-star reviews on the Fantastic Nutrition website.
And if you have any doubts about trying any of their products, Fantastic Nutrition offers one of the best guarantees out there.
If you are not 100% satisfied with their product for any reason within 100 days of your purchase, your entire purchase amount will be quickly refunded.  
There is no risk in trying these great products. And there is only an increase in your health and well-being to gain.
Click the link today and start having fewer aches and pains, healthier skin, and a healthier, happier you.
* In partnership with our friends at Fantastic Nutrition Inc.* Photo courtesy of Fantastic Nutrition Inc.
* These statements have not been evaluated by the Food and Drug Administration. These products are not intended to diagnose, treat, cure or prevent any disease.
* The information available on ewellnessmag.com, including text, graphics, and other materials is for informational purposes only. Reliance on any information in ewellnessmag.com is at the user's own risk. Sponsored product placement may appear in the article. The visitor of this website acknowledges that the information available on or through ewellnessmag.com is not and is not intended to be a substitute for professional medical advice. Copyright © 2022 Brawo Press, Inc. All rights reserved.