The Cultural Olive
Arab countries: Muncachita salad is made from the pulp of oranges, sliced onions, and halved olives. Mix the ingredients with olive oil and spice with salt and pepper.
Greece: The famous Greek salad is made from pulpy black olives, lettuce, tomatoes, and feta cheese.
Italy: Olives are chopped into small pieces and boiled with broccoli and cauliflower to make the Sicilian sauce putanesca, which is added to spaghetti.
South America: Onion and sweet peppers are oiled and added to a puree of stewed tomatoes. Crushed olives are added to the mix and boiled for 10 to 15 minutes. Season the "Creole" sauce to taste with wine, salt, and pepper and usually served with meat.
Turkey: Olives are used as pie filling.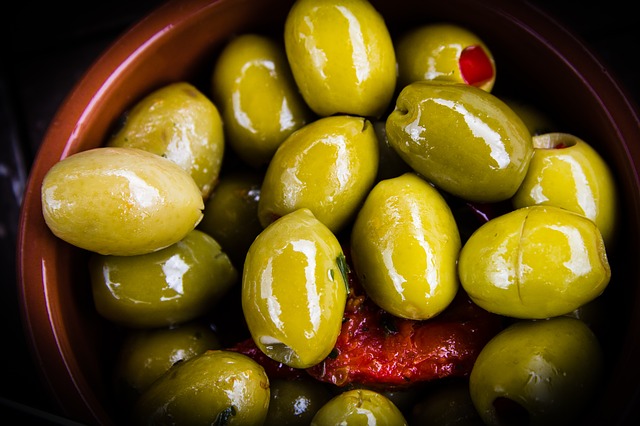 Herb-Encrusted Lamb Lion
You can easily prepare Carlo Cavallo's elegant and flavorful lamb lion dish to impress any dinner crowd. This winning recipe will have guests asking for more. Serve it with roasted vegetable terrine and a cabernet reduction sauce.                                                                                            
Roasted Vegetable Terrine                                                       
1 eggplant, cubed
2 zucchinis, cubed
2 Roma tomatoes, cubed
1 red onion, cubed
2 red bell peppers
1/2 cup of goat cheese 1/4 cup olive oil
1/2 cup julienne basil Salt and pepper
Preheat oven to 400 degrees. On a sheet pan, add all the vegetables and oil. Roast until vegetables are al dente, approximately 20 minutes. Remove from heat and let cool. In a mixing bowl, combine the goat cheese, basil, salt, and pepper to taste. Place in six oil-brushed ramekins (six ounces) and keep warm.
Lamb Loin
3 lamb noisettes
Salt and fresh ground pepper to taste
3 tablespoons of fresh chopped rosemary 4 garlic cloves, chopped
Encrust the meat with rosemary and garlic, sprinkle with salt and pepper. Grill for three to four minutes on each side. Set aside, covered with aluminum foil.
Cabernet Reduction Sauce
3 chopped shallots
3 tablespoons of olive oil
1 bunch thyme
1 1/2 cups of Cabernet Sauvignon
1/2 cup chopped Kalamata olives
In a saucepan on medium low heat, caramelize the shallots in olive oil with the thyme. After about seven minutes (be sure not to let the shallots burn), add the Cabernet Sauvignon and the olives. Increase the heat to high and reduce the volume by three quarters. Add the demiglaze and strain through a sieve.
Plating the Final Dish
Slice the lamb loin on a diagonal bias on a 12-inch plate, unmold the vegetable terrines, feather the lamb slices, and top with Cabernet reduction sauce. Serves six.
Garlic Parmesan Caesar Dressing by Olivelle The Art of Flavor
2 large eggs, at room temperature
1 tsp Roasted Garlic Sea Salt or Habanero Sea Salt
3 Tbsp Parmesan Asiago Dipper
½  tsp Fresh Ground Black Pepper
2 Tbsp Series 4 White Balsamic Vinegar
2 tsp Mustard
½ cup Garlic & Herb EV Olive Oil
¼ cup Parmesan Cheese, grated
2 tsp Worcestershire Sauce
In a food processor or blender, on low speed, combine the eggs, sea salt, lemon juice, and mustard, processing until well combined. While still processing, slowly add the garlic and herb olive oil and grape seed oil in a steady stream to create an emulsification.Pulse in the cheese and Worcestershire. Taste and season with salt and pepper to your liking.Toss with crisp romaine and croutons for a Caesar like salad, pasta and veggies for a delicious side dish, or spoon over chicken or seafood to make it a meal. Serves 4-6
Striped Bass Baked in Parchment
Carlo Cavallo's pleasing entrée is cooked with Kalamata olives and extra virgin olive oil. You can't go wrong with this robust favorite.
4 pieces of parchment 18 x 18 inches (aluminum foil can be substituted)
4 striped bass, whole, 1 1/2 pound each (cleaned and scaled; 2 pounds of fillets can be substituted for the whole fish) Salt and pepper to taste
8 cloves garlic
4 sprigs fresh thyme
3 lemons
1/2 cup pitted Kalamata olives
1 basket of heirloom cherry tomatoes
4 baby artichokes, cleaned, trimmed, and quartered
(you can substitute artichoke hearts)
1 fennel bulb, thinly sliced
1/2 cup white wine
1/4 cup lemon juice
1/4 bunch of chopped Italian parsley
1/4 cup extra virgin olive oil
Preheat oven to 450 degrees. Start by folding the parchment paper in half; open it up like a book. In the center of the right side, place the bass and salt and pepper the cavity. Stuff each bass with two cloves garlic, thyme sprig, and lemon slices. Top each bass with Kalamata olives, tomatoes, artichokes, and fennel. Drizzle with white wine and fold the parchment by closing it like a book. Pinch and roll the edges in until you get a calzone-shaped parchment that is sealed. Place in the oven and bake for at least 20 minutes or until the parchment turns a toasted color. In a small bowl, add the lemon juice and parsley. Slowly whisk in the extra virgin olive oil until an infusion forms. Add salt and pepper to taste. Remove the fish from the oven and serve immediately. Take the fish out of parchment and place on plate, drizzle the fish with olive oil and lemon infusion Place the vegetable topping on plate. Serves four.
Kalamata Olive Hummus
Beverly Lynn Bennett, a vegan chef, food writer, and author who prefers to cook with organics, raw foods, and alternative grains, created this tasty appetizer and spread that can also be used as a filling for sandwiches or veggies. The slight saltiness of the Kalamata olives and pungent richness of aged balsamic vinegar combine to provide a wonderful contrast to the flavors of a traditional Middle Eastern hummus.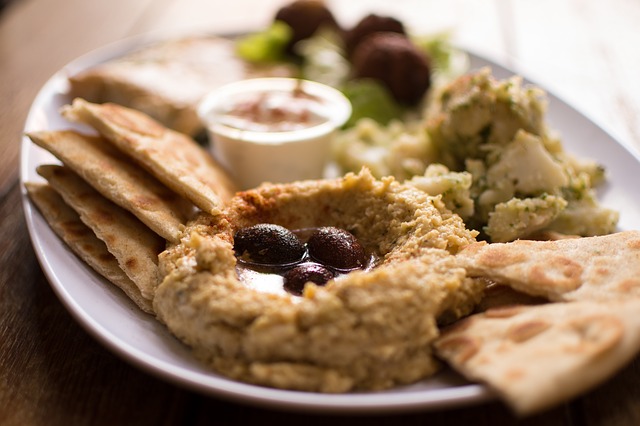 1 cup Kalamata olives, pitted 2 15-ounce cans chickpeas, rinsed and drained
6-8 large cloves garlic
1/3 cup balsamic vinegar
1/4 cup lemon juice
3 tablespoons filtered water
3 tablespoons raw tahini
2 tablespoons olive oil
1 teaspoon ground cumin
1/2 teaspoon sea salt
1/4 teaspoon freshly ground black pepper
1/4 cup fresh chopped parsley
Roughly chop the olives and set aside cup. In a food processor, place the remaining chopped olives, chick- peas, garlic, balsamic vinegar, lemon juice, water, tahini, olive oil, and seasonings and process one to two minutes until smooth and creamy. Scrape down the sides of the container, add parsley, and process an additional 30 seconds. Transfer hummus to a medium bowl, stir in reserved chopped olives, and serve. Serve with pita bread or assorted raw vegetables for a snack or appetizer, or use as a filling for sandwiches, wraps, or hollowed-out or sliced vegetables. Store hummus in an air- tight container in the refrigerator for up to one week or in the freezer for several months. Yield: 4 cups.
Green Olive and Almond Relish
Joanne Weir is a James Beard award-winning cookbook author, a cooking teacher, and a chef. She was awarded the first IACP (International Association of Culinary Professionals) Julia Child Cooking Teacher Award of Excellence. Her green olive and almond relish is delicious with grilled chicken, fish, and vegetables, and works equally well as a dip with pita. It's perfect to have on hand when guests arrive.
2 anchovy fillets, soaked in cold
water for ten minutes and patted dry. 1/2 cup pitted and finely chopped green olives
1/2 cup toasted and chopped almonds 1 clove garlic, minced
1/2 cup chopped fresh flat leaf parsley 1 tablespoon white wine vinegar
2 tablespoons lemon juice
4 tablespoons extra virgin olive oil
Salt and freshly ground black pepper
Mash the anchovies and place in a small bowl. Add the olives, almonds, minced garlic, parsley, white wine vinegar, lemon juice, and olive oil. Mix well. Season with salt, pepper, and additional lemon juice for taste. Makes approximately 1 1/2 cup. Serves six