road trips
A road trip is perhaps the easiest way to take your pet on vacation, but it's important to know how to make her feel comfortable during the trip.
Be sure to take your pet on short excursions in the weeks leading up to the trip, gradually increasing the length of the trip so your dog or cat gets used to car travel.
Make frequent stops and for a longer time. Many service areas have a designated area for pets where they can get some fresh air and stretch their legs.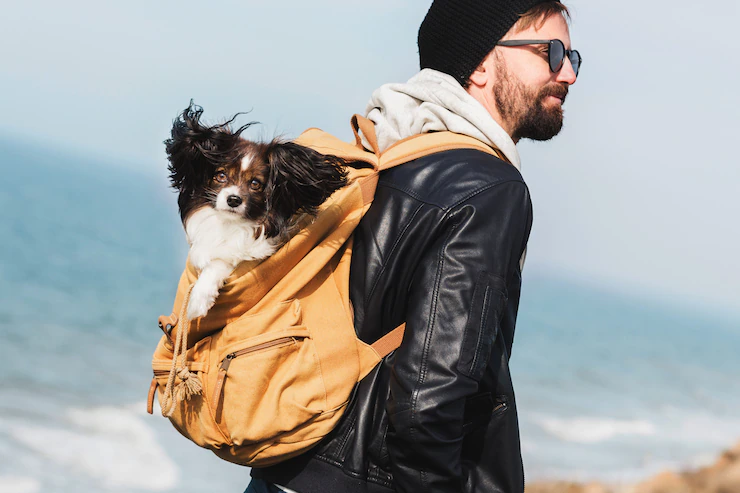 Be sure to bring water (your pet needs to be hydrated at all times!), food, treats, toys, poop bags or a litter box, harness and leash, a water bowl, identification and medical documentation, a bed or blanket, and any medication you may need.
control your pet
Not everyone is an animal lover, so be considerate when traveling with your pet, especially around busy airports and train stations.

Try taking your pet on road trips. If you want her to travel with you by train or plane, socialize her early and enroll her in obedience classes. This will help your pet become a calm travel companion and well behaved during the trip.
Do not let your pet climb on top of anyone, unless she is going to be welcome. We know your dog is the cutest dog in the world, but there may be people who aren't in the mood to stop and cuddle. Others might even be allergic or afraid of them.
If you are going to take your pet by train, bus or plane, keep your pet in its carrier. There are some with very good ventilation that will help keep your pet cool during the trip. Place two absorbent pee mats at the bottom so you only have to lift it up and throw one away if your pet has to use it.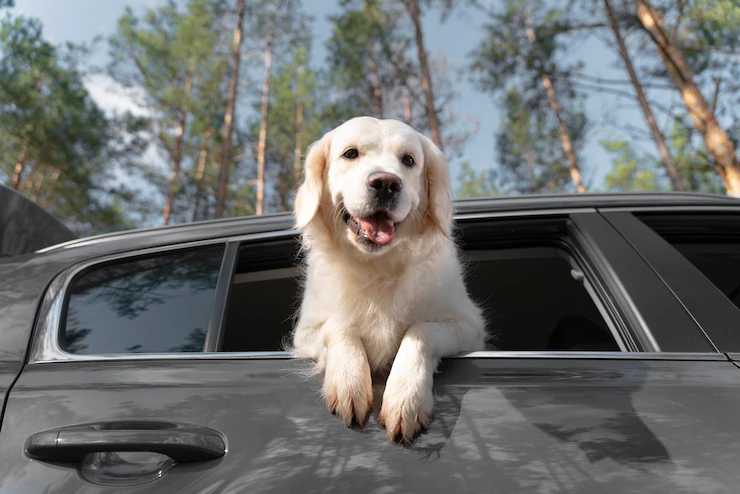 Travel safely with your pet
Your pet needs to be insured during the trip, but that's not all. As a driver you have to take into account the security problems that you may have if you do not insure your pet.
Use harnesses, carriers or barriers when you take your pet in the car. Just like humans, they need to wear a seat belt.

Keep your pet in the back seat and don't drive if you're distracted. In the event of an accident, pets traveling in the front seat can face serious injuries from airbags or impact with the windshield. Putting your pet in the back seat is much safer for both the animal and the driver.

Keep your pet calm during the trip
Whether you are with your pet on a plane, train, car or boat, there will always be hundreds of distractions and new places to explore. Keeping your pet calm can be quite a challenge.
Your pet will appreciate taking something familiar with him during the trip. Make sure to bring his favorite toy or a blanket that smells like you. This will help relax and comfort her.
In some cases, it may be a good idea to medicate your pet. Visit your veterinarian before the trip to consult the different alternatives.

Stick to your routine
Perhaps one of the most important things to consider is your pet's routine. Travel can make it complicated, with busy days away from the hotel, so make sure to allocate extra time to get on with your routine.

Feed, walk, and play with your pet at the same times you normally do at home to avoid additional stress.

Do not change your pet's diet during the trip.
Keep your dog or cat controlled in the new environment. Many pets get lost during the holidays when they get lost in an unknown place.
Going through airport security
Make sure you know what to do to get through customs.
Make sure your pet gets plenty of exercise and drinks water, arrive at the airport early and don't forget to bring the vet's health certificate and the updated rabies vaccination record.
Be prepared when you go through customs with your pet and have a safe way to get your pet out of the carrier. You will have to go through the security control just like your luggage. In this case, you will need a metal-free leash and harness to get through the scanner. If you don't want to take your pet out
carrier, you can request a secondary inspection.

International travel
Each country has its own laws and regulations regarding pets, so do your research before taking your pet abroad.
Some countries have very strict quarantine requirements to ensure that animals do not carry rabies. Check with your veterinarian, who will need to provide an international health certificate to travel. Plan ahead and make an appointment 30 days before your trip.
In some cases, it's best to give your pet some medication to help him stay calm during trips, especially longer ones. The safest drug is Benadryl. It is vital that you choose a form of Benadryl that does not contain other medications for cold or sinus symptoms; only the pure form of Diphenhydramine Hydrochloride is safe for your pet. Talk to your vet before your trip to find out how much you can give your pet or if he needs a stronger option.
Hire medical insurance before your trip to cover veterinary expenses in case you suffer any illness or injury during the trip. Check that the policy allows you to go to a veterinarian outside your home country if your pet needs one.

flights
Flying with your pet is sometimes unavoidable and needs extra care and attention.
Visit your veterinarian before your trip, preferably 10 days before departure, and ask for a health certificate. Many airlines require a certificate to travel with pets. Consult your veterinarian about proper procedures, including the pros and cons of going in the cabin or hold, and medication options.

Choose an airline-approved carrier that is comfortable for your pet. Both soft and hard carriers are available at most pet stores. Make sure it has adequate ventilation and that your pet fits comfortably and has the ability to stand up and turn around inside the carrier. Give your pet some time before you travel to get used to the new carrier and don't forget to put your name, address and phone number.
Bring a current photo of your pet as a precaution. If your pet is separated from you, with a recent photo it will be easier for you to identify it when it is found.
hotel stays
If you're staying at a pet-friendly hotel, there are still some rules you need to follow with your furry friend.

Please call ahead to verify the hotel's pet policy. Many hotels allow pets, but that doesn't necessarily mean they're prepared for it. Do not assume that all the information that appears on the hotel's website is exhaustive. Check the pet fees, the policy on leaving pets alone in the room and if there are any size or breed restrictions. Ask the hotel to mail you the information so you can have it in writing.
If you're going to be leaving your pet alone for a while, consider hiring a pet sitter to keep your dog or cat entertained during your absence. Most hotels forbid leaving pets alone in rooms.

Look for a hotel with a large lawn nearby for you to play with your pet, or one that offers additional services, such as dog-walking services.
leave your pet at home
In some cases, it's just better to leave your best friend at home. It is important to weigh each option taking into account the duration of the trips and the habits of the animal.
Hire a pet sitter. In-house pet sitters can give your animal a sense of security while you're away. Walking-only sitters can also be an option, as you'll be able to maintain routine at home and your pet will be glad to have company. Many caregivers can also pick up the mail, take out the trash, and generally keep the home more secure by making it appear occupied. You could make arrangements with a friend, neighbor or family member if you don't know of a trusted professional caregiver.

Hospitalize your pet: Look for an animal hotel with a good reputation. Start by asking pet-owning friends about their experiences leaving their pets in kennels or kennels. Probably your veterinarian will also be able to recommend one that you trust. Visit the enclosure before leaving your pet. Take a look at the facilities and see where I would sleep, eat and play. Checking out the facilities first hand is the best way to really know where your pet is staying and how they are going to be treated. Is the residence in good condition and smell clean? Do the staff seem careful and know their job well? Do the pets look happy?
*The information available on ewellnessmag.com, including text, graphics, and other materials are for informational purposes only. Reliance on any information in ewellnessmag.com is at the user's own risk. Sponsored product placement may appear in the article. The visitor of this website acknowledges that the information available on or through ewellnessmag.com is not and is not intended to be a substitute for professional medical advice. Copyright © 2022 Brawo Press, Inc. All rights reserved.