Julia finally had enough.
She had been unhappy with her weight for years. Sluggish and irritable, she thought about her weight and health more and more.
After having two children and going back to work full-time, fitting in a weight loss plan had become impossible in her eyes. Then, one day, Julia committed to doing something about it.
She pulled the trigger, hired a personal trainer, figured out extended daycare for her children, and began working out. Julia started out slow, as recommended by nearly all fitness professionals. She worked out two days a week for the first month and then bumped it up to three days a week.
She saw little progress in the first month besides being sore and tired. Then, something began to change. Julia began to look forward to her workouts; she found that she enjoyed them, had more energy, and improved her mood.
Julia began to see change – not just feel it. After the second month, she was down seven pounds. Her clothes fit a little better, and Julia became more motivated. The intensity of her workouts continued to climb, and she saw a bit more weight loss. After three months of working out religiously, Julia was down ten pounds.
However, going into the fourth month of this routine, she stopped losing weight. Every day she would step on the scale and be disappointed. Julia's weight loss had hit a plateau; she leveled out and made no more progress towards her goal.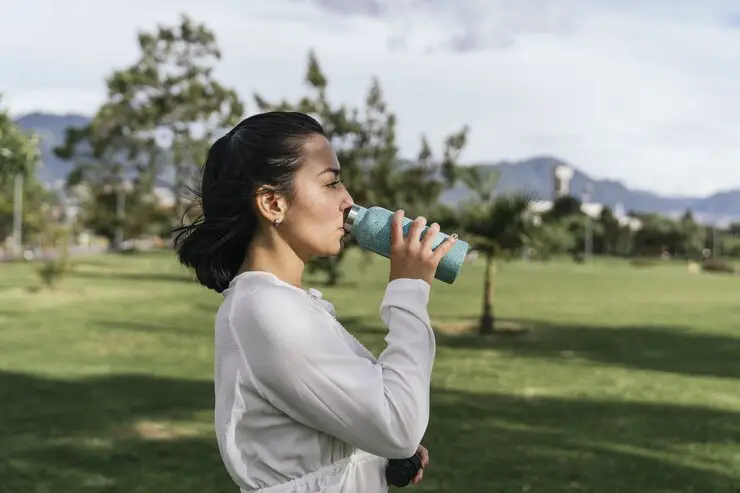 None of this was getting her to the weight she wanted.
She attempted to skip breakfast every day. This led to her being hungrier in the evening and consuming more significant portions during the meals she did eat.
Months passed, with Julia trying multiple diets, low carb, Mediterranean, calorie counting, and intermittent fasting. None of these produced the long-term success she craved. She would begin a diet and eventually succumb to her cravings.
After nine months of this back and forth, Julia found her weight almost identical to where she started.
Exhausted and troubled, Julia gave up. She quit the gym, and her weight loss and fitness dreams vanished.
Can you relate to Julia's story?
The odds are high that you can.
In the United States alone, 69% of the population is obese or overweight. Obesity affects nearly 100 million people and takes a devastating toll on your health.
Just being overweight can increase your risk of severe health problems.
High blood pressure.
Mental disorders such as anxiety and depression.
Stroke.
Heart disease.
Type 2 diabetes.
Breathing problems and sleep apnea.
Osteoarthritis.
These are just a few conditions that can be directly linked to being obese or overweight. On the other side of the coin, resolving your issues with weight and fitness can help to remedy these problems.
The biggest problem lies in long-term sustained weight loss. A 2018 study found that 66.7% of people that are obese tried to lose weight and that 49% of people who are overweight gave weight loss a try.
Of those that tried, only 20% could keep weight off after twelve months.
Exercise is one-half of the equation.
Even light to moderate exercise such as walking has been shown to promote weight loss. Just 40 minutes a day, 3 to 4 times a week, can be enough.
Where some individuals miss out is that their diet must change also. If you continue to eat the same foods and consume the same calories, you will see little to no results.
Like Juia, individuals trying to lose weight become discouraged and give up.
It takes a complete change to see change.
A simple solution for losing weight, fewer calories, and increased exercise is incorporated into a lifestyle change. Not just for a week, or a month, including it as your life, day in and day out.
Four habits stood out in a study of 10,000 people who could keep at least 30 pounds off for at least one year.
They weighed themselves at least once a week.
90% exercised for an average of one hour a day.
They watched fewer than 10 hours of TV a week.
Breakfast was eaten every day.
These habits may sound simple, but performing them week in and week out can prove challenging.
By skipping a meal, many think they are controlling their calorie count. On the surface, this seems like sound advice. However, if you miss a meal, you risk yourself.
A skipped meal increases your cravings. This leads to unhealthy snacking and tiring of the constant hunger. In turn, your chances of burnout on your new weight loss program are increased.
The chances of becoming malnourished due to a lack of vital proteins and nutrients become a real problem with missing a meal. Your body works best when it has everything it needs, especially protein.
Protein and all it contains are vital to feeling full, reducing cravings, and maintaining your energy levels.
After protein, the most essential components needed for weight management are:
Fruits and Vegetables
Micronutrients (vitamins and minerals)
Water
Healthy fats from nuts and seeds
Carbohydrate sources.
So, entirely skipping a meal is not the correct answer if you struggle to maintain a full feeling throughout the day.
An excellent choice is a high-protein, nutritious meal replacement, something quick and easy to start your day and help you feel satisfied.
There are some excellent choices out there for meal replacement. The following are two brought to you by the professionals at R-Kane Nutritionals.
With a wonderful chocolate flavor, only 100 calories, 15 grams of protein, and ready in two minutes, this is a high protein, vitamin, and mineral-packed meal replacement.
Available in four great flavors – Chocolate, Vanilla, Strawberry, and Mocha.
Best tasting protein shake with no aftertaste – as reported by one user.
TLP said – It tastes great and is always going to be a definite go-to for me.
And if you desire even more protein.
Packed with a whopping 25 grams of protein and only 140 calories, this meal replacement will help meet your protein needs and leave you feeling satisfied.
Available in chocolate, vanilla, strawberry, and indulgent red velvet.
Dan had this to say – Tastes great and works awesome.
And John Kirkman added – Works really well for my diet.
Easily mixed with water into a shake or pudding, with no need for refrigeration, these meal replacements will leave you satisfied. They reduce your cravings and provide you with all the nutrition you need for energy and motivation to meet your weight loss goals.
R-Kane products are packed with the right amount of vitamins and minerals. You get complete nutrition in every packet.
These high-quality meal replacements are ideal for controlling blood sugar levels when used with a plan of several smaller meals and easily fit into 800, 1000, and 1200-calorie diets.
They are ideal for bariatric patients who have received a gastric bypass,  sleeve, or other bariatric procedure where meal capacity is challenging.
Since 1977 R-Kane Nutritionals has been producing top-quality, innovative meal replacements trusted and recommended by weight management professionals worldwide.
So! Get a plan, follow it, and watch your health and fitness dreams become a reality!
* In partnership with our friends at R-Kane Nutritionals, LLC Photo courtesy of R-Kane Nutritionals, LLC
* These statements have not been evaluated by the Food and Drug Administration. These products are not intended to diagnose, treat, cure or prevent any disease.
* The information available on ewellnessmag.com, including text, graphics, and other materials is for informational purposes only. Reliance on any information in ewellnessmag.com is at the user's own risk. Sponsored product placement may appear in the article. The visitor of this website acknowledges that the information available on or through ewellnessmag.com is not and is not intended to be a substitute for professional medical advice. Copyright © 2022 Brawo Press, Inc. All rights reserved.