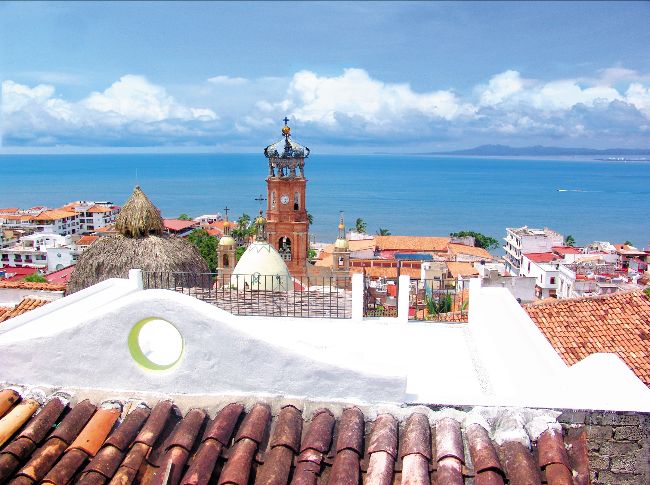 Enjoying oneself on a holiday does not mean abandoning one's wellness goals. In fact, with wellness travel trending so highly lately, picking a destination that emphasizes wellness is a way to marry vacation and fitness in one. Puerto Vallarta is a top destination in Mexico for wellness-minded travelers to stay in touch with their health goals while enjoying one of Mexico's most famous beach destinations. From fitness programs to spas, to healthy dining, and more, Puerto Vallarta is a haven for wellness travel.
Later this month, the destination will host the health and wellness "Free Soul Festival" which will take place from November 29th to December 1st and will feature world-renowned yoga and meditation instructors.
For those who cannot make it to this experience, fear not, Puerto Vallarta has health and wellness offerings year-round, including some truly spectacular hotels and spas. For visitors to Puerto Vallarta who want to incorporate pampering and holistic healing into their getaway, here are a few to know.
The Spa at The Westin Puerto Vallarta drawing upon its serene beachfront setting and featuring a wide array of soothing treatments, creating an oasis to renew the mind, body and spirit. Step into one of its seven peaceful indoor treatment rooms or listen to the sounds of the ocean with a massage in one of the property's outdoor pergolas.
Sheraton Buganvilias Resort & Convention Center's Spa Maiavé is a holistic oasis that has been carefully designed to nurture a physical and mental experience for a balanced lifestyle. With wellness as an inspiration, it combines therapies and health techniques with the great power of natural healing and surrounding elements, including agave extracts, essential oils, floral elixirs and mud to harmonize, revitalize and relax the body and mind.
Boutique in size, with just five treatment rooms, Abja Spa at Casa Velas, sets the tone with trickling fountains, aromatherapy fragrance, and candlelit corridors. Despite its small size, it offers a robust array of services, including separate hydrotherapy areas for men and women, a spa boutique, and a beauty salon. Specialized packages cater to golfers, honeymooners, executives, and more, with luxe treatments that beautify, tone, relax, and invigorate. Floor-to-ceiling windows in the well-equipped fitness center offer pleasant views of the surrounding gardens. Yoga with facial yoga exercises included is offered Monday and Friday at 9:30 a.m. in the garden. The resort also has two 1,350-square-foot duplex Wellness Suites that offer a plethora of fitness and wellness amenities. Casa Velas recently unveiled new spa labyrinths and meditation pods to complement its spa and Wellness Suites. Based on the four elements – Water, Earth, Wind, and Fire – four new labyrinths offer mindful meditation reflection. Several meditation pods have been added to the garden for introspection.
Then there is the Ohtli Spa at Marriott Puerto Vallarta Resort & Spa. This palatial paradise spans 22,000 square feet and offers treatments inspired by the ancient traditions of the Huichol culture. The signature treatment is the "Rebirth" Therapy session, which is performed in a pool of warm water. There is also a Hydrating Tequila Coconut body treatment that combines the nation's signature product with local fruit to restore the hydration of the skin. Guests visiting the spa have access to a variety of hot and cold plunge pools to help stimulate and invigorate the senses before and after their treatment. 
Outdoor enthusiasts can always find something to do in Puerto Vallarta, whether it's hiking, biking, or yoga on the beach. The mountains that frame the city are veined with hiking trails that lead back into the jungle or spill out to secret beaches and waterfalls. Cyclists can hit the pavement or the sand on two wheels with one of the many bike rental companies in the city, like Puerto Vallarta Cycling or PVBikes.

And if it's yoga you're after, there are a variety of yoga studios and retreats within the area. One of the best yoga escapes is Xinalani, which offers an eight-day Ultimate Beach Yoga Retreat, packed with wellness-minded activities, healthy food, space to disconnect, and, of course, plenty of yoga. For something less immersive, Puerto Vallarta has many yoga studios in the city, like Davanna Yoga, which offers Vinyasa, Hatha, Morning Yoga, meditation, and even yoga teacher training courses. Visit The Yogi Bar in the Marina or Kupuri Yoga on the Malecon to practice some of these teachings.
Finally, just because it is a vacation doesn't mean that the diet has to go out the window. Indulging may be part of the fun but staying true to your clean eating goals is also important. Puerto Vallarta has fantastic dining, and health food is no exception. Salud Super Food, for example, is one of the city's best spots for fresh, clean eating. Located in the Zona Romantica, the natural food cafe serves salads, smoothies, healthy tacos, light breakfasts, wraps, and vegan specialties. Also, in the Zona Romantica is Barra Light, a vegan-friendly restaurant that serves breakfasts, organic salads, sandwiches, smoothies, and juices. Other places to check out are Planeta Vegetariano, The Green Place, Playa Detox and The Yogi Bar
So, when it comes to staying fit and wellness-minded when on vacation, it really comes down to the destination you choose. It's possible to have that gluten-free cake and eat it, too, especially when visiting Puerto Vallarta.