Rest assured, there is an effective solution – Gly Miracle® products, founded in 1992, have been proven to treat dry, irritated skin and restore it to its natural, soft, youthful glow. Moisturizers by Gly Miracle® contain an elixir of glycerin, aloe, chamomile, and other safe, natural ingredients that have been treating dry, flaking, and itchy skin conditions for 30 years and have stood the test of time. Do not continue to let your skin dry and flake – treat it with a Gly Miracle® moisturizer for the best results.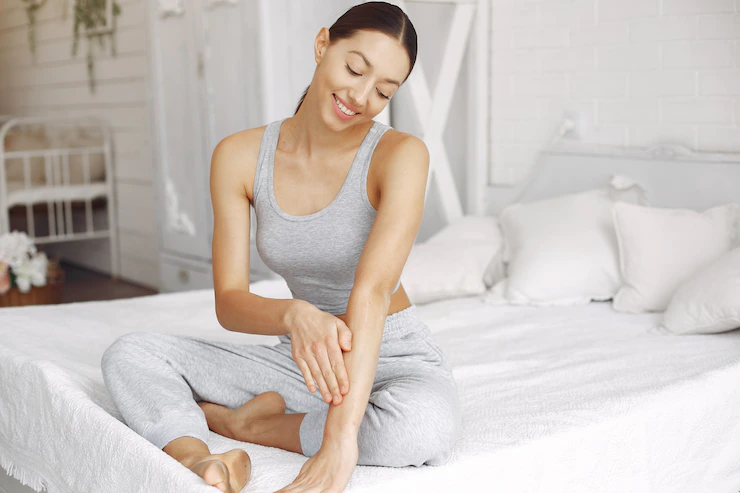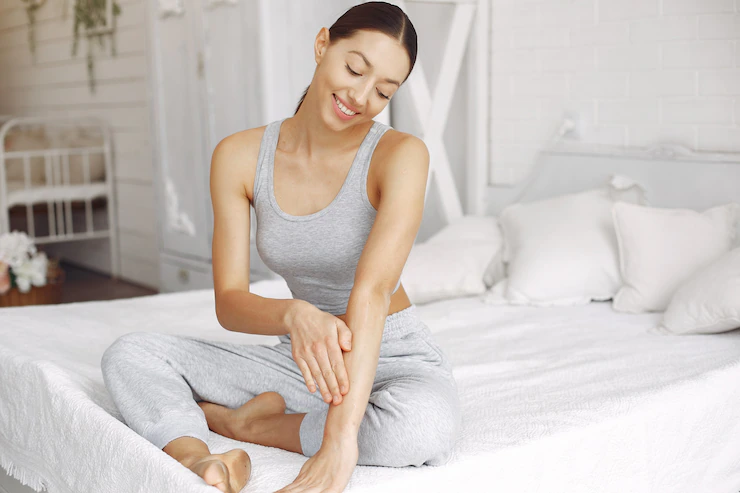 Skin is your body's largest organ. Its most important functions are keeping moisture in and keeping harmful elements out. Whatever we are deprived of on the inside will be evident from the outside. The cells in our skin protect against infection-causing microbes and bacteria, but they are also highly susceptible to dryness and damage. If dryness penetrates too deeply, it affects skin cells, leaving them too weak and underdeveloped to protect from environmental pollutants. It can also lead to visible damage like flaky or irritated skin. This is why sufficient hydration is vital for healthy, hydrated skin. The longer your skin goes without the nourishment it needs, the more damage to our protective skin cells. This is why we recommend treating your skin with an effective Gly Miracle® moisturizer as soon as possible.
Gly Miracle® products add moisture to your skin, while also preventing the loss of further moisture. A large part of having healthy skin means staying hydrated to prevent environmental damage. When you follow a skincare regimen that includes effective moisturizing, you're free from dryness and other pesky symptoms that go with it. Healthy skin looks soft and calm on the outside and feels comfortable from the inside.
Gly Miracle® is the only skincare brand that combines a unique mix of glycerin and water, among other ingredients to keep your skin smooth and healthy. Glycerin is an often overlooked ingredient in skincare products, but its effects on all skin types are astounding. Glycerin is a unique, natural moisturizer that pulls water into the outer layer of your skin  (the epidermis) from deeper layers of your skin, and even the air.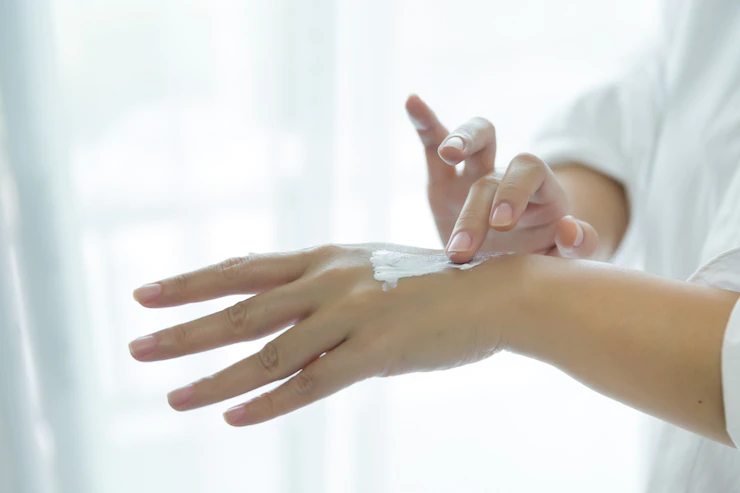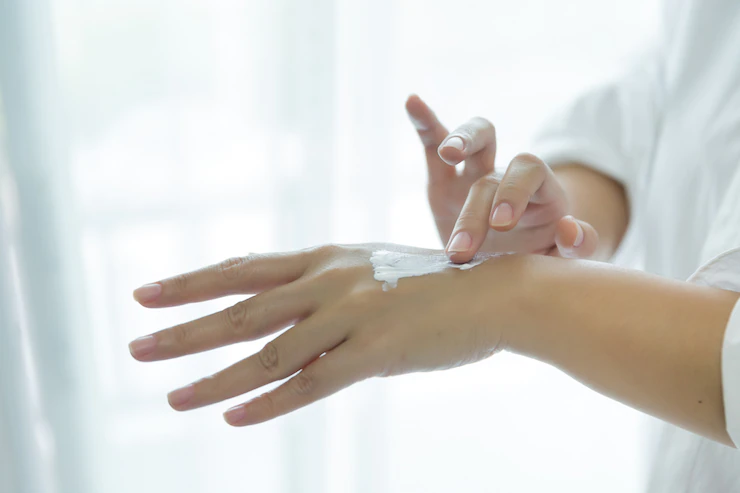 Glycerin can:
prevent moisture loss
fight wrinkles and dark spots
be used as a toner to remove oil and traces of dirt
reduce the appearance of pores
be suitable for all skin types
Gly Miracle® is a trusted, top-of-the-line brand that has been producing professional skincare products for decades. If you want to see effective results, look no further. Along with exercising and eating healthy, caring for your skin is a significant factor in maintaining your health and youthful glow. Keep your skin looking smooth, radiant and healthy by using a daily Gly Miracle® moisturizer.
 
Check out the following Gly Miracle®'s tried and true products to fight moisture loss and bring that healthy glow back to your skin today.:
Gly Miracle® Laboring Hands Skin Humectant 4 oz jar – Unscented
Ingredients:  Water (agua), Glycerin, Cetyl Alcohol, Propylene Glycol, Glyceryl Stearate, Aloe Barbadensis Leaf Juice, Chamomilla Recutita (Matricaria) Extract, Chondrus Crispus (Carrageenan) Extract, Allantoin, Tocopheryl Acetate, Polysorbate 20, Cyclomethicone, Sodium Lauryl Sulfate, Sorbitan Trioleate, Diazolidinyl Urea, Propylparaben, Methylparaben.
Gly Miracle® Corium H2O 16 oz jar – NO Parabens – For Sensitive Skin
Ingredients:  Water (agua), Glycerin, Cetyl Alcohol, Extract of Coconut Kernel, Glyceryl Stearate, Aloe Barbadensis Leaf Juice, Chamomilla Recutita (Matricaria) Extract, Chondrus Crispus (Carrageenan) Extract, Allantoin, Tocopheryl Acetate, Polysorbate 20, Cyclomethicone, Sorbitan Trioleate, Diazolidinyl Urea.
Confused by the names of some of our ingredients? Gly Miracle® is transparent about all ingredients used and wants you as the customer to make the most educated decision about what you put onto your skin. Rest assured that our products are only made with the cleanest, healthiest, and most effective ingredients to restore your skin to look its best:
Propylparaben/Methylparaben – Parabens are one of the most misunderstood ingredients. They are preservative ingredients used in cosmetics, personal hygiene products, food products and pharmaceuticals. They are highly effective in preventing the growth of fungi, bacteria and yeast that can cause products to spoil.  Since Gly Miracle® products are rich in plant extracts, we consciously use trace amounts to protect the integrity and effectiveness of the products. (Good tolerability, highly researched, and good effects) The U.S. Food and Drug Administration (FDA) continues to allow the use of methyl parabens in various products, including foods.
Cetyl Alcohol is a 95% pure and natural, fatty alcohol from coconut oil. It binds the moisturizer together by helping prevent the liquid and oil in the cream from separating. It also contains emollients that soften and moisturize skin.
Propylene Glycol is a humectant (hydrating) and delivery ingredient used in small amounts to keep products from melting in high heat or from freezing. It also helps active ingredients penetrate the skin.  Because propylene glycol attracts water it functions to enhance the appearance of skin by reducing flaking and restoring suppleness. Propylene glycol is sometimes confused with ethylene glycol, as both have been used in antifreeze due to their low melting points. However, they are not the same substance.
Glyceryl Stearate, (also called glyceryl monostearate), is derived from palm kernels, olives, or coconuts, and is an emollient that keeps products blended. In our product, it is used for its most common purpose — to bind moisture to the skin. The Food and Drug Administration (FDA) includes Glyceryl Stearate in its list of direct food additives affirmed as Generally Recognized as Safe (GRAS).
Aloe Barbadensis Leaf Juice is extracted from the leaves of the aloe plant. Aloe Vera, as it is most commonly known, is a succulent plant which offers many benefits and is suited for all skin types, especially dry, damaged, broken, sensitive, and irritated skin. It offers anti-inflammatory, antimicrobial, antioxidant, humectant, and soothing, anti-itch qualities for the skin.  It has been used medicinally for several thousands of years in many cultures. Scientists have discovered over 200 nutritional substances in aloe barbadensis leaves, including 20 minerals, 20 amino acids, 12 vitamins, and active enzymes.
Chamomilla Recutita (Matricaria) Flower Extract is commonly used to relieve inflammatory skin conditions and calm sensitive skin. It provides some antioxidant protection and can be used to soothe, moisturize and inhibit the growth of bacteria and has anti-allergenic properties.
Chondrus Crispus (Carrageenan) Extract, is extracted from red seaweed (Chondrus Crispus), which is commonly called Irish moss or carrageenan moss. The ingredient isn't exactly Irish moss, though. Rather, it's an extract from the plant that is a skin conditioning agent useful in the control of viscosity in an overall product. Due to it being a seaweed extract, it is packed full of vitamins and minerals which are vital to the maintenance of healthy skin.
Allantoin is extracted from the root of many plants, such as comfrey, horse chestnut and bearberry. It is a non-irritating ingredient that softens and protects the skin and is widely considered beneficial as a supplement.
Tocopheryl Acetate – Alpha-tocopheryl acetate (ATA) is a specific form (synthetic) of vitamin E. It's also known as tocopheryl acetate, tocopheryl acetate, or vitamin E acetate. Vitamin E is known for its antioxidant properties.
Polysorbate 20 – is used as a surfactant (a compound that lowers the surface tension between two ingredients) and emulsifier (stabilizer). It is derived from Lauric Acid found naturally in various plant and animal fats and oils, (a major component of coconut oil and palm kernel oil) and is also a chemical mixture of sorbitol ethylene oxide. Polysorbate 20 can serve as a dispersing agent, mix oil and water, work as a solubilizer and stabilizer, act as a lubricator, and have a soothing effect on the skin.
Cyclomethicone is a synthetic silicone oil that works in a variety of ways, namely as a conditioning agent, solvent, humectant, carrying agent and viscosity-controlling agent. Like all other silicones, this ingredient has a unique fluidity that makes it easily spreadable. When applied to the skin and hair, it gives a silky & slippery feeling to the touch and acts as a mild water repellent by forming a protective barrier on the skin. It can also fill in fine lines/wrinkles, giving the face a temporary "plumper" look.
Sodium Lauryl Sulfate – derived from the vegetable sources of coconut and/or palm kernel oil. The oils can be split into glycerin and the component fatty acids, one of which is lauric acid. The lauric acid is isolated and then hydrogenated to form the lauryl alcohol. The lauryl alcohol is combined with sulphur which then forms the salt, sodium lauryl sulphate. It serves as an emulsifier, helping oil-based and water-based ingredients to stay mixed.
Sorbitan trioleate is a three-component compound of oleic acid and hexanol anhydrides derived from sorbitol. It functions as a surfactant and emulsifying agent.
Diazolidinyl Urea is an antimicrobial preservative releasing small amounts of formaldehyde. It is used in many cosmetics, skin care products, shampoos, and conditioners, as well as a wide range of products including bubble baths, baby wipes, and household detergents to protect personal care products from bacteria, yeast, and mold. Diazolidinyl has gotten some bad press as a preservative because they are proven to release formaldehyde.  Although Diazolidinyl does release it, the amounts are too small to pose a threat to human health. The Cosmetic Ingredient Review (CIR) Expert Panel considers Diazolidinyl Urea safe to be used in cosmetics up to a maximum concentration of 0.5%.
Diazolidinyl Urea can:
regulate our skin's moisture
bind moisture onto the outermost layer of our skin
accelerate the cellular renewal process
strengthen the skin's barrier function, helping to keep it youthful and healthy
be the perfect treatment for dry skin; has anti-itch and anti-microbial properties
kill the bacteria that cause acne
break down the connections between dead skin cells; naturally exfoliating the skin and help ingredients penetrate further
The above ingredients have proven to be not only safe but effective in treating dehydrated skin. From extensive studies and trial and error over decades, Gly Miracle® has found the perfect combination of quantities of the above ingredients to treat dry skin in the most effective way. Having treated dry and flaky skin conditions for decades, millions worldwide have had their skin conditions restored to a nourished, soft and hydrated state. Give your skin the nourishment it needs. Get back to healthy smoothness today by ordering a daily Gly Miracle® moisturizer for your hands, face, and body.
* In partnership with our friends at Gly Miracle® * Photo courtesy of Gly Miracle®
* These statements have not been evaluated by the Food and Drug Administration. These products are not intended to diagnose, treat, cure or prevent any disease.
* The information available on ewellnessmag.com, including text, graphics, and other materials is for informational purposes only. Reliance on any information in ewellnessmag.com is at the user's own risk. Sponsored product placement may appear in the article. The visitor of this website acknowledges that the information available on or through ewellnessmag.com is not and is not intended to be a substitute for professional medical advice. Copyright © 2022 Brawo Press, Inc. All rights reserved.